Many or all of the products featured here are from our partners who compensate us. This may influence which products we write about and where and how the product appears on a page. However, this does not influence our evaluations. Our opinions are our own.
Scotiabank at a glance
Scotiabank was founded in 1832 and is one of Canada's Big Six banks.
Scotiabank account options

Savings
Chequing
Visa, Mastercard and AmEx credit cards
Investing

Other Scotiabank services

Mortgages
Loans and lines of credit
Wealth management
Small business banking
Insurance
Scotiabank overview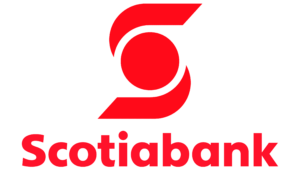 Founded in Halifax in 1832, Scotiabank is one of Canada's oldest and largest banks, a more or less permanent member of the country's Big Six financial institutions. In addition to providing a full range of banking services for individuals and businesses in Canada, Scotiabank also operates in the U.S., Mexico, the Caribbean and parts of Central and South America. As of April 2022, Scotiabank employed more than 90,000 workers and held assets worth approximately $1.3 trillion.
Online banking capabilities at Scotiabank
In addition to operating 900 branches across Canada, Scotiabank also offers its customers the ability to bank digitally.
Scotiabank's online banking portal (www.scotiaonline.scotiabank.com) allows customers to pay bills and transfer money, check their credit score, monitor investments and receive alerts about account activity.
Customers can also do their banking by way of a mobile app, which allows them to check their account balances, deposit cheques, move money and get quick answers to common questions from a cell phone or tablet.
Scotiabank's digital footprint also includes Tangerine, a fully online bank the institution purchased in 2012.
Is your money safe at Scotiabank?
Scotiabank is a member of Canada Deposit Insurance Corporation, or CDIC, which means deposits under the bank's care are protected in the unlikely event it becomes insolvent.
Deposits in chequing and savings accounts, tax-free savings accounts, non-registered accounts, and registered accounts such as retirement, education and disability savings plans are all insured at Scotiabank via the CDIC.
Scotiabank
Find the best Scotiabank bank credit cards or bank accounts that meet your needs
Scotiabank account types
Scotiabank savings accounts
MomentumPlus Savings Account: Earn at least 1.35% interest and pay no monthly account fees or minimum balance.
Money Master Savings Account: Free balance transfers between Scotiabank accounts and no monthly account fees.
Scotia U.S. Dollar Daily Interest Account: Competitive exchange rates and no monthly account fees with a minimum $200 U.S. balance, or if the account-holder is 60 or older.
Scotia Euro Daily Interest Savings Account: Competitive exchange rates and no monthly account fees with a minimum $200 Euro balance, or if the account-holder is 60 or older.
Scotiabank chequing accounts
Ultimate Package: Unlimited debit interactions, no-fee Interac e-transfers and no overdraft protection fee. No monthly account fee if you maintain a minimum daily balance of $5,000 each month.
Preferred Package: Unlimited debit transactions and preferred rates on select GICs. No monthly account fee with a minimum daily balance of $4,000 each month.
Basic Plus Bank Account: 25 free debit transactions per month and free Interac e-transfers. No monthly fee with a minimum daily balance of $3,000 per month.
Getting There: A kids bank account and rewards program for those under age 19.
Student Banking Advantage Plan: A student bank account that earns rewards.
Basic Bank Account: $3.95 monthly account fee, 12 free transactions per month.
Scotiabank credit cards
Scotiabank offers a wide variety of Visa, Mastercard and American Express credit cards in Canada, including:
Scotia Momentum Mastercard.

ScotiaGold Passport Visa Card.

Scotiabank Value Visa Card.
SCENE Visa Card for Students.
Scotiabank Platinum American Express Card.
Scotiabank investing accounts
Other Scotiabank services
StartRight: Banking services and loan products designed for newcomers to Canada.
Senior bank accounts: Discounted services for older Canadians.
Mortgages and home equity lines of credit (HELOCs).
Wealth management.
Small business banking.
Insurance.
Scotiabank fees
Banking fees can vary based on the accounts you have and how you use them. Here are some of the common fees you may encounter using Scotiabank's financial products and services:
Overdraft protection fee: $5
ABM withdrawals outside network: $2-$3
Inactivity fees: $20-$30
Account closed within 90 days of opening: $20
Credit card foreign currency conversion fee: 2.5% is added to the exchange rate
RSP, TFSA or RIF transfer to another institution: $100
Who Scotiabank is best for
Canadians who want to bank with a globally-known institution and don't mind paying some monthly fees.
As a full-service financial institution, Scotiabank has products and services for any consumer. It could be an especially good fit if you plan to scale up your banking needs over the years. The relationship you build as a banking customer could make it easier for you to access other financial products, like loans and lines of credit, down the road.
Pros and Cons of Scotiabank
There's plenty to like about Scotiabank, but no bank or credit union is without its drawbacks. Here's what to consider before you open an account with this banking giant.
Pros of Scotiabank
Ability bank online or in person.
A wide variety of accounts, including specialized products for immigrants, students and seniors.
Some low- or fee-free chequing accounts.
Cons of Scotiabank
A comparatively high insufficient funds fee.
Avoiding monthly fees on chequing accounts requires minimum balances some customers will have difficulty maintaining.
How Scotiabank compares to other big banks
| | Scotiabank | BMO Bank | RBC Bank |
| --- | --- | --- | --- |
| Number of countries served | More than 30 | More than 10 | 29 |
| Number of branches in Canada | 900 | More than 900 | More than 1,200 |
| Mobile app? | Yes | Yes | Yes |
| Are deposits insured? | Yes, by the Canada Deposit Insurance Corporation. | Yes, by the Canada Deposit Insurance Corporation and Canadian Investor Protection Fund. | Yes, by the Canada Deposit Insurance Corporation. |
Scotiabank frequently asked questions
Is Scotiabank a Canadian bank?

Yes. Even though Scotiabank offers services in many countries, including the U.S., China and Peru, it is indeed a Canadian bank. It was founded in Halifax in 1832 and is headquartered in Toronto.

What makes Scotiabank unique?

Because it operates in so many different places, Scotiabank is considered Canada's most international bank. While it doesn't offer a full range of services in every country, Scotiabank can be found throughout North America, parts of Central and South America, Asia and Europe.