Is a Frontier Airlines Discount Den Membership Worth It?
Discount Den can help you save, especially if you fly with family on Frontier Airlines a few times per year.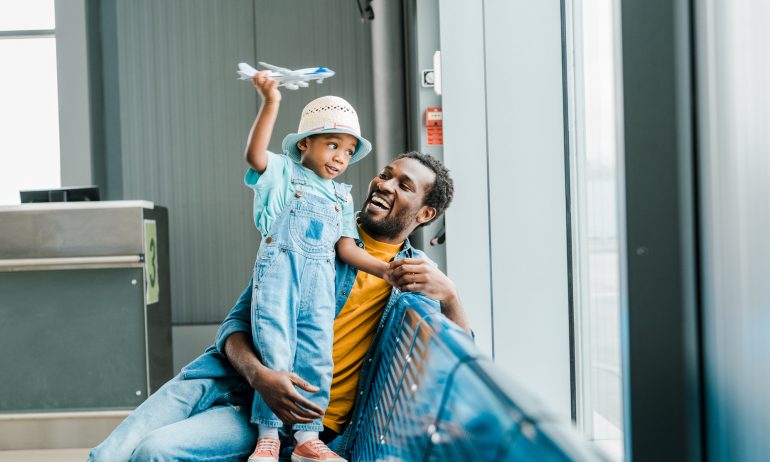 Many or all of the products featured here are from our partners who compensate us. This influences which products we write about and where and how the product appears on a page. However, this does not influence our evaluations. Our opinions are our own. Here is a list of our partners and here's how we make money.
Frontier Airlines is known for offering some of the lowest priced flights out there — and you can get even lower prices by becoming a Frontier Discount Den member.
As a Discount Den member, you'll get exclusive deals, the ability to book fares at discounted rates and buy-one-get-one-free tickets for kids on certain flights. And we're not talking about a couple dollars of savings; fares for Discount Den members can often be $30 cheaper each way than standard fares.
The catch? Discount Den membership isn't free. It costs $59.99 a year, and it'll automatically renew for the subsequent year unless you cancel before the final day of your current term.
Frontier Airlines Discount Den is for you if …
You fly with a kid 14 and younger
If you fly with a kid and you're flexible about your schedule, it's tough to beat a buy-one-get-one deal. There are a number of limitations though (more on that later) so pay attention to the fine print.
You don't always fly solo
The best benefit of Discount Den is that you get to book lower-priced airfares for not just you, but also for up to six people on your itinerary. Savings are typically $10 to $30 per flight. Assuming the discount is $10 per ticket, you'd save $60 on your first round trip flight for a group of six, once you factor in the membership fee. If the savings amount to $30 per flight, that's an incredible $300 saved off that one round-trip group adventure.
You fly at least three times a year with Frontier
Maybe your local airport is a Frontier hub. Perhaps you pack light (though you leave room to pack your own snacks) and don't mind that Frontier charges for extras like refreshments and checked bags. If that's you and you're already flying with Frontier a few times per year, a membership can be beneficial.
Skip Frontier Airlines Discount Den if …
You hate being nickeled and dimed
Frontier is all about fees. You pay for seat assignments, checked bags, carry-on luggage and the in-flight food and drinks that come complimentary on many other airlines. If that sort of behavior is going to rub you the wrong way, find another airline (Southwest is a low-cost carrier that has among the fewest fees of any airline).
You'll only fly Frontier once or twice per year
There's a good chance you'll end up in the positive even after just two round-trip flights but given the $60 annual fee, it might not be that much of a gain.
The automatic annual renewal is annoying, and you might end up kicking yourself if you pay for it and forget to cancel when the next year rolls around.
Plus if you're not that into flying Frontier anyway, you might feel obligated to fly with them just to maximize your savings — even if another airline offers a flight that fits better in your schedule (or just won't charge for a soda).
Frontier's Discount Den benefits
Here's everything you get once you sign up for Frontier Discount Den:
Lower fares than everyone else (six per reservation)
When booking flights, there's the price Discount Den members pay, and there's the price everyone else pays. Discount Den airfares vary, but generally, expect savings of $10 to $30 per one-way flight.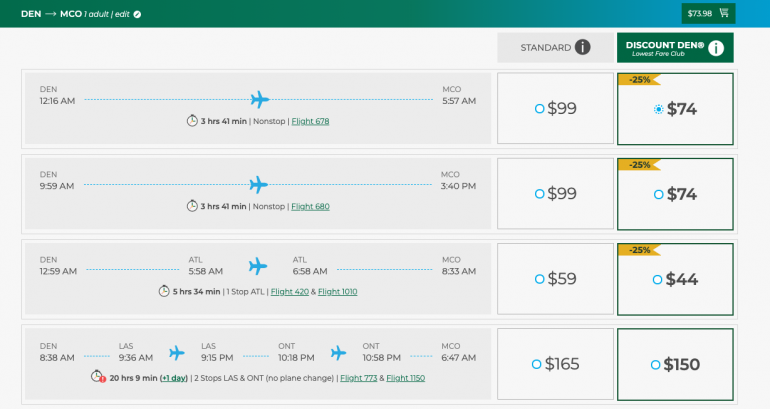 The fares are available for up to six people on your reservation, as long as you are on the same reservation with the other passengers.
For a Denver to Orlando reservation, you'd pay $594 before taxes and fees to fly a party of six one-way. But with Discount Den, it's just $444 — a $150 savings right there (or a net $90 after account for the Discount Den annual membership fee).
Free airfare for kids on some flights
Flights booked with your Discount Den membership for travel on Tuesdays and Wednesdays entitle you to a free ticket for any kid 14 and younger.
But if it seems too good to be true, it might actually be. There are tons of limitations to the "Kids Fly Free" offer. You must purchase the tickets at least 14 days in advance. You must have booked a round-trip flight (so one-way flights won't count). International trips don't qualify, so hopefully, your family vacation isn't to Mexico, Canada or South America.
And then, there are a bunch of blackout dates — and blackout routes. You cannot take advantage of the deal on any of the below dates or routes:
A bunch of family-friendly destinations are on this list. If you're heading to, say, Orlando, which is served by Orlando International Airport, you might not actually be able to fly your kids for free.
Among the other caveats: Your kid's free airfare won't earn Frontier miles, and you'll lose the BOGO airfare if you change your ticket. And, you'll still have to pay for the standard Frontier add-ons like bags or seat selection.
Access to other deals and promotions
Frontier also promises "exclusive promotions" for members, though the value of those varies. We've seen some ridiculously good promotions; one of the best was a $100 flight voucher for anyone who signed up for Discount Den before March 20, 2020 (which was the early days of the pandemic). Otherwise, it's common to see member-only deals on certain flights on specific dates which may or may not be useful for you.
How to get Discount Den membership for free (or cheap)
With Frontier's Elite 50k status (earned by accumulating 50,000 qualifying miles or 50 qualifying flight segments annually from Jan. 1 through Dec. 31 of the same year), you'll receive a 50% discount on your membership.
With Elite 100k status (earned by accumulating 100,000 qualifying miles or 100 qualifying flight segments annually from Jan. 1 through Dec. 31 of the same year), you'll get Discount Den membership completely free.
The other Frontier program: Frontier Miles
Annoyingly, those miles normally expire after 180 days if there's no activity on your account, although Frontier has temporarily paused all expirations due to the COVID-19 pandemic.
Ways to earn Frontier miles to maintain activity include spending on the Frontier Airlines World Mastercard® or booking with Frontier's mileage partners which includes rental car companies, hotel brands and online retailers like Alamo car rental, Radisson hotels or Teleflora. You also earn 1 mile for every mile you fly.
If you're considering joining the Discount Den
Discount Den can easily be worth it if you take just a few flights a year, and particularly if you travel with at least one other person. But temper your expectations of just how much you'll actually be able to take advantage of the discounts.
If you're only flying Frontier once, you still might consider it — but likely should skip it. You could certainly save about $60 on a single roundtrip flight, but it might not be worth the headache of signing up (and remembering to cancel before the automatic renewal date) to ultimately just break even.
But if you travel with children (or even just other adults and you'll book their airfare), or you fly Frontier at least a few times a year, then Discount Den not only pays for itself, but could result in hundreds of dollars in savings.
And remember, Frontier airfares likely won't turn out to be as cheap as they seem once you factor in the cost of bags or inflight drinks. If you're already committed to Frontier, then Discount Den can mean big savings. But if you're averse to hidden fees and lots of fine print, you might find out that the Frontier membership program you just paid for turns out to be a bear for punishment.
---
How to maximize your rewards
Get more smart money moves – straight to your inbox
Sign up and we'll send you Nerdy articles about the money topics that matter most to you along with other ways to help you get more from your money.