Whenever you travel outside your home province or territory, it's recommended that you have travel insurance. It'll protect you if you ever need to seek medical attention. This is especially important since the cost of health care in some countries can be astronomical.
Unfortunately, many people don't use travel insurance for various reasons, like they may not realize they're not covered or may not want to pay the premiums.
But there's a simple solution: credit card travel insurance is often free, and it can provide you with strong coverage. That said, every credit card provider and policy is different, so you need to know how credit card travel insurance works.
What is credit card travel insurance?
Credit card travel insurance is nearly identical to regular travel insurance. The only difference would be the terms and conditions, but that would apply to any policy.
There are two different types of policies when discussing travel insurance: travel medical and trip protection.
Travel medical insurance covers you for expenses related to your health. That would include things from a quick trip to the hospital to medical evacuation.
Trip protection gives you additional travel insurance, such as trip cancellation, lost luggage, auto rental collision/loss damage and more.
Some credit cards give you both travel medical and trip protection, while others provide just travel medical. How long you're covered for and how much you get depends on the individual policy.
It's important to note that there are strict conditions for your travel insurance to apply. Assuming your card has travel medical insurance, you get it no matter what. Whereas your trip protection may require you to charge a certain amount of your trip or hotel to your card for your policy to apply. For example, you may need to charge a percentage of your flight to your credit card to get trip cancellation and lost luggage. In that case, you can pay for the rest by redeeming points from a loyalty program, like Aeroplan, as long as you get a good value for the redemption.
Best Travel Credit Cards in Canada
Compare all different travel credit cards side-by-side and find out the best card that will meet your need with special perks and benefits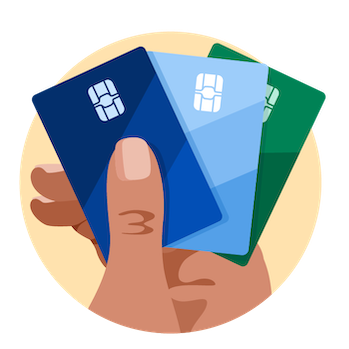 What does credit card travel insurance cover?
Credit card travel insurance will cover you for just about every scenario related to your health or trip. Generally speaking, travel insurance is broken down into the following categories:
Travel medical. You're covered for a number of days based on your age and up to a set amount.
Trip cancellation/trip interruption. If you need to cancel your trip or return home for a qualifying reason, you'll be reimbursed for a set amount.
Flight/trip delay. You'll be reimbursed for some expenses if your trip is delayed (usually a minimum of 4 hours).
Delayed and lost baggage. When your luggage is delayed (usually a minimum of 4 hours) or lost, your insurance will pay you.
Common carrier travel accident. If you're seriously injured when travelling, you'll be paid a set amount based on the accident.
Auto rental collision/loss damage. Any damage to your rental car will be reimbursed.
Hotel/motel burglary. Any personal items stolen from your hotel/motel will be reimbursed.
» PREPARE: The best way to use a credit card overseas
Check your policy details
Not to sound like a broken record here, but you really need to pay attention to your policy details.
For example, with your auto rental insurance, most credit card travel insurance policies state that you must charge the entire amount of the rental to your card. You also need to decline the rental car company's collision insurance. It's also worth noting that your credit card travel insurance doesn't include third-party liability insurance. In other words, if you're in an accident, you could still be liable.
» MORE: Do you need credit card roadside assistance?
Note the length of coverage
You'll also notice that every policy has defined lengths. For example, you could be covered for up to 14 days if you're under the age of 65 or 3 days if you're over 65. That's not nearly enough coverage for many travellers. If you need additional days, you would need to purchase a supplemental travel insurance policy from your credit card's travel insurance provider or another insurance company.
» TRAVELLING?: Learn how to get airport lounge access with a credit card
What credit cards come with travel insurance?
Not every credit card comes with travel insurance. Generally speaking, travel rewards credit cards will typically include some travel insurance.
Higher-tier travel credit cards, including some of the best metal credit cards, usually have comprehensive travel insurance that provides both travel medical and trip protection. Even some cash back and rewards cards will offer some basic travel insurance.
» MORE: When is an annual fee worth it?
To find out if your card has travel insurance, look at the website or go through your cardholder benefits guide. Both of these sources will have all the details about any policies included.
Assuming you meet all the conditions and the benefits provided by the policy are acceptable, then credit card travel insurance is good enough. That said, some people still prefer to get a separate travel insurance policy as there are fewer conditions.
How to compare travel insurance benefits and choose the right credit card
First, decide what types of insurance coverage are most important to you. That makes it easier to compare cards, since there are so many kinds of credit card insurance. But most people don't get credit cards just for the insurance. What other perks does the card offer that you'd enjoy or make use of?
Lastly, how do the annual fees compare between the cards you're considering? The best insurance tends to come with premium credit cards, and if you don't optimize those cards' perks, it's probably cheaper to get a separate travel insurance policy.
Questions to ask when comparing credit card travel insurance
Getting the answers to these questions will help you choose the right card. And they're imperative for whatever cards you own if you plan on using them for insurance. You can find the answers in the insurance policy documentation online, or by calling the credit card company.
What forms of travel insurance do you provide?
What do I need to do to qualify? (For example, do I need to pay for the trip in full with the card?)
Does it cover travel partners?
What are the limitations and exceptions?
What is the maximum amount of coverage?
What is the maximum length of trip covered?
For a medical emergency, are pre-existing medical conditions covered? Does age affect coverage?
What insurance company is this policy with, and what is their contact information?
What do I do in the event of a claim?
Here are some additional questions for car rental insurance:
What countries am I covered to drive in?
What is the maximum rental period covered?
What kind of vehicles are covered, and what is the maximum value?
What types of coverage are offered? (Eg.: collision/loss/damage, personal accident, third party liability.)
What is the deductible?
Who is insured to drive? (For example, only the cardholder may be covered.)
Are there age restrictions?
Are there any types of roads that I can't drive on?