TSA PreCheck vs. Global Entry: Which Is Right for You?
These trusted-traveler programs can get you through airport security and customs more quickly — and your credit card might even cover the application fee.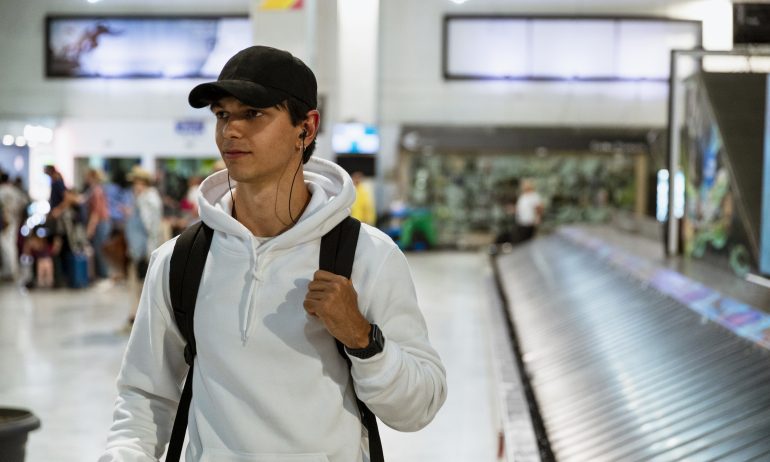 Many or all of the products featured here are from our partners who compensate us. This may influence which products we write about and where and how the product appears on a page. However, this does not influence our evaluations. Our opinions are our own. Here is a list of our partners and here's how we make money.
Federal trusted traveler programs like TSA PreCheck and Global Entry let you go through special security lanes at the airport, which usually means faster and less intrusive screening.
Applying for either option requires time, effort and cost, but some credit cards or frequent flyer programs will cover the expense. Even if you fly only occasionally, an application could be worth it.
Which program is right for you? The decision comes down to convenience at the airport versus the hassle and cost to apply. Consider Global Entry if you plan to travel abroad often and you live near a center for the required interview (more on that later). If you don't live near a Global Entry center, don't have a passport and rarely travel abroad, TSA PreCheck is the better option.
Here's a closer look at the programs and some tips to help when choosing between them.
If you pass a background check that verifies you as a low-risk traveler, the government will issue you a "Known Traveler Number" or KTN. You can use that number when making airline reservations. If you add it to a frequent flyer account, it will automatically be applied to all your reservations with that airline.
When using a KTN, you're very likely — but not guaranteed — to get PreCheck status for your flights. You'll see a PreCheck indicator on your boarding pass, whether paper or electronic. Eligibility is also embedded in the bar code of the boarding pass.
PreCheck status gives you access to security lanes with lighter screening: You can leave your belt and shoes on, your laptop can stay in its case, and you don't have to take the liquids and gels out of your carry-on. Most of the time, that means a quicker line. In January 2020, 94% of PreCheck passengers waited less than five minutes in line, according to the Transportation Security Administration.
Costs $85 to apply. Some credit cards and elite frequent flyer programs reimburse your application fee. Membership lasts five years. This program has one benefit: access to TSA PreCheck lanes. Those lanes are available at , as of December 2019.
Costs $100 to apply. Some credit cards and elite frequent flyer programs reimburse your application fee. Membership lasts five years. This program refers to the Known Traveler Number as PASSID, but the number is used the same way. Global Entry includes TSA PreCheck and its benefits but also gives you expedited customs screening when traveling internationally. Upon returning to the U.S., you can use an airport kiosk that should be far faster than traditional customs inspection lines. It also includes expedited processing at land borders with Mexico and Canada.
The Transportation Security Administration offers an .
For frequent travelers, Global Entry is probably preferable because it offers extra benefits when leaving the U.S. Even if you're paying the application fee yourself, you'll get the added benefits of Global Entry costs for just $15 extra, or $3 a year.
The downside? Applying for Global Entry is more of a hassle than TSA PreCheck. Here's why:
For any trusted traveler program, a potential drawback is supplying information about yourself to the government, including fingerprints and a photo. Giving up that personal information is an individual decision.
Children ages 12 and younger can accompany an adult with TSA PreCheck or Global Entry through the quicker airport security lines without having their own PreCheck clearance. However, Global Entry doesn't allow children to go through expedited customs screening without their own enrollment in the program.
The application fees for both programs are nonrefundable, even if your application is denied.
A practical consideration with speedier security and customs lanes is your traveling companions. If they don't have PreCheck status, you may find yourself waiting for a while on the other side of the security screening area for your family or friends.
If you decide PreCheck or Global Entry is right for you, you can get started with these online forms:
These application sites guide you through the process, help you find enrollment center locations and list the documents to bring.
Some credit and charge cards reimburse you the application fee for trusted traveler programs when you charge the fee to the card, mitigating its annual fee. A sampling of cards offering a statement credit for application fees:
Additionally, some will let you use travel credits or rewards points to pay for the application fee. American Express has its own of cards that can help you pay for trusted traveler programs.
For $50, or half the price of Global Entry, you'll get the equivalent of Global Entry privileges for entering Canada. The bad news: An interview is required, and it must take place at a border-crossing facility. So it makes sense to apply only if you live near the Canadian border or will be traveling through and can coordinate the interview with your travel plans.
This is a border-crossing program with Mexico that offers similar benefits to NEXUS, but costs $122.25. Enrollment centers are only on the U.S. southern border.
Available at about 30 airports as of mid-2019, Clear is a prescreening program administered by a private company. It uses biometrics, such as fingerprint and iris scans, to confirm your identity at a kiosk. You must still go through physical security screenings at participating airports, but you can bypass the identification check and get straight to the conveyor belt and security scanners. It doesn't qualify you for the light TSA PreCheck screening. You can use Clear and PreCheck together. Clear also lets you cut the security line at several stadiums, such as Major League Baseball parks.
This option is considerably more expensive at $179 per year. (Remember, the government programs' fees cover five years.) Delta Air Lines and United Airlines have financial stakes in Clear and offer free and discounted memberships to frequent flyers. The offers up to $100 per year in statement credit when you use the card to pay for your Clear membership fee. Terms apply.
PreCheck status is available for U.S. armed forces service members, including those serving in the Coast Guard, Reserves and National Guard.
All information about the has been collected independently by NerdWallet. The is no longer available through NerdWallet.
You want a travel credit card that prioritizes what's important to you. Here are our picks for the , including those best for: