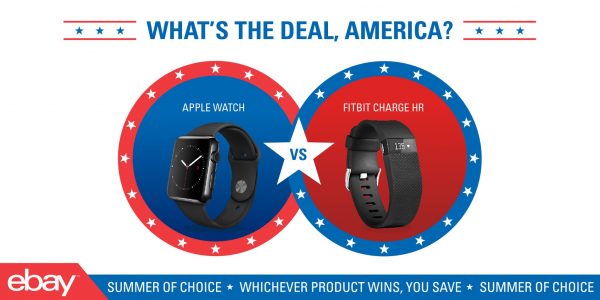 If you've ever wished you could tell your favorite store which item to put on sale, this promotion is for you. In the latest installment of its "Summer of Choice" deal series, eBay is again giving consumers a chance to vote for the deal they want to see.
Deal enthusiasts can take to social media to vote for their preferred bargain. Then, shoppers have a limited window of time to buy the winning deal on the online marketplace.
In this round, shoppers have two choices to vote on — getting 50% off the Apple Watch or 40% off the Fitbit Charge HR. The winning deal will be announced on the eBay's Twitter account on Aug. 17, and it will be available for purchase via the eBay smartphone app for 48 hours.
» MORE: Fitbit comparison
Visit eBay's Twitter poll to cast your vote.
Shopping Dealfinder Newsletter
Get the best deals of the day and more!