Student Loan Forgiveness and Forbearance: Where We Stand
Joe Biden extended payment forbearance and targeted relief, but broad loan forgiveness appears less and less likely.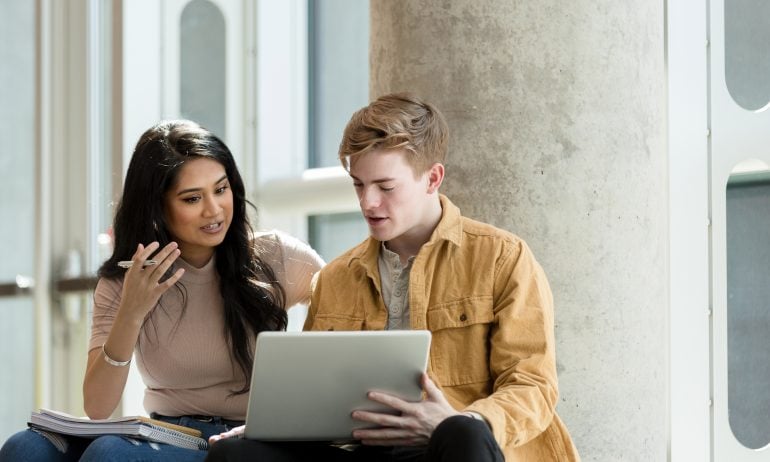 Many or all of the products featured here are from our partners who compensate us. This may influence which products we write about and where and how the product appears on a page. However, this does not influence our evaluations. Our opinions are our own. Here is a list of our partners and here's how we make money.
Federal student loan forbearance ends May 1, 2022. By then, most borrowers will not have made a payment in over two years.
But their debt is still waiting for them, and so are several outstanding questions:
Is forgiveness still on the table?

What about everything else President Biden promised?

What if I can't make my payments once they resume?
By May, most federal student loan borrowers will not have had their loans forgiven; rather, they will resume making monthly payments on their outstanding balance. But some borrowers could see targeted relief come their way, and other elements promised in Biden's campaign platform are included in ongoing budget negotiations. Here's where things currently stand.
Whose debt has been forgiven?
Since Biden took office in January 2021, the administration has extended targeted relief to specific student loan borrowers rather than broad forgiveness for all. The total amount of loan discharges approved since January 2021 reached $9.5 billion as of August, affecting more than 563,000 borrowers, the Department of Education says.
Forgiveness so far has come through changes to rules, including:
Loan discharges totaling $7.1 billion for 364,000 individuals who qualify as disabled. Data-matching against Social Security and Veterans Affairs data will automatically qualify future recipients.

Interest waived retroactively for 47,000 current and former active-duty service members who faced "imminent danger or hostile fire pay" for the period while they served. Data-matching will automatically qualify future service members for this benefit.
In Oct. 2021, the Department of Education announced sweeping changes would be coming to Public Service Loan Forgiveness. A limited waiver would cut through some of the red tape — at least for the next year — that led to high denial rates for loan forgiveness under the program.
Under the limited waiver, a broader set of loan types and repayment plans will be eligible for PSLF including past payments on FFEL or Perkins loans, late payments and payments made on previously non-qualifying repayment plans. Additionally, members of the military with federal student loans will also have any time spent in active duty count toward PSLF, regardless of whether payments were made during that time.
Borrowers must consolidate their loans into a direct loan and submit a PSLF form before Oct. 31, 2022 to benefit from the limited waiver.
As a result of the limited waiver, the Education Department estimates that 22,000 borrowers will automatically become eligible to have their loans discharged and another 27,000 could as well if they certify their employment history. Overall, this could result in over $4.5 billion of loan forgiveness.
Broad forgiveness is in limbo
Although Biden has voiced support for broad student loan forgiveness, he has not yet offered a specific proposal or amount. Depending upon pending legal interpretation, Biden could use executive authority to cancel debt or ask that Congress pass a bill doing so.
Members of Congress have urged Biden to cancel $50,000 in debt per borrower, but the president has reiterated that if he used his authority for broad loan forgiveness, it would not be for more than $10,000 per borrower.
"I expect that any forgiveness issued by Biden, if any, will not be unilateral amongst all student loan borrowers," Jan Miller, president of Miller Student Loan Consulting, said in an email. "The only way broad forgiveness for all is happening is if Biden makes it happen via executive order, [but] ... Biden hasn't been very keen on forgiveness from the start, so I suspect the chances are low."
In addition, a group of Democratic senators called on Biden to waive interest on federal student loans through the duration of the pandemic. Interest has been paused during the current forbearance, which is saving borrowers an additional $5 billion per month, according to a letter sent by the group of senators to Biden on Dec. 6, 2021.
No provision in Biden's 2022 budget proposal included broad student loan forgiveness, lessening the odds it will become reality. He had proposed forgiveness in the following instances during his presidential campaign:
If you attended a public college or university. Attendees of private historically Black colleges and universities and additional minority-serving institutions would also be eligible.

If you used the loans for undergraduate tuition.

If you earn less than $125,000. Biden's plan references a phaseout of this benefit but does not offer further details.
Since there is no formal forgiveness proposal, there remain no details to answer questions about which loans might be canceled, whether forgiven amounts would be taxed and if borrowers would have defaulted loans removed from their credit history.
How broad forgiveness could impact borrowers
Broad student loan forgiveness could affect 45.3 million borrowers with federal student loan debt who owe a total of $1.54 trillion to the government. Wiping out $10,000 each — as Biden called for while campaigning — would result in up to $429 billion canceled. Here's how that could affect borrowers based on their total debt owed:
For 15 million borrowers, a slate wiped clean. More than a third of federal borrowers could see their balances fall to zero with $10,000 in debt cancelation. Among those, 7.9 million owe less than $5,000 in student loans and 7.4 million owe between $5,000 and $10,000, according to federal data. Over half of those who default (52%) have less than $10,000 of federal undergraduate debt, according to an analysis of federal data by The Institute for College Access and Success.
For 19 million borrowers, some breathing room. Nearly 19 million borrowers owe between $10,000 and $40,000 in federal student loans, according to federal data. Without a detailed execution plan, these borrowers face a number of possible outcomes from broad student loan forgiveness. For example, cancellation might not reduce the amount they pay each month, but it could draw their end date closer and lower the total amount they'd pay overall, due to interest. Or it might wipe out one loan completely but leave payments on others intact.
For 11 million borrowers, a drop in the bucket. Households with high student debt are likely to hold advanced degrees and have higher earnings. More than 8 million people owe the government between $40,000 and $100,000 in student loans. An additional 3.2 million borrowers owe more than $100,000 on their federal loans, data show. A borrower repaying $100,000 on the standard federal 10-year plan at 5% interest would pay off the loans 15 months early if $10,000 were forgiven.
Other campaign promises are more likely
Biden's 2022 budget proposal does integrate some plans introduced during his campaign, providing relief for current and future students and borrowers, but would have to pass both houses of Congress to become law. They include:
Pell grant increases: The budget proposes raising the Pell Grant maximum by $400 along with a $1,475 increase in the American Families Plan. The request, if approved, also would enable Deferred Action for Childhood Arrivals, or DACA, recipients to receive Pell Grants.

Free, or lowered, tuition at some colleges: College would become more affordable for students at private and public historically Black colleges and universities, tribal colleges and universities, and additional Minority Serving Institutions, or MSIs. Biden also called for free tuition and fees toward a degree or certificate for two years at a community college, but that proposal is no longer included in the spending plan approved by the House in November and that now awaits a Senate vote.

Revised income-driven repayment and public service loan forgiveness: Biden didn't specify in the budget proposal how IDR and PSLF should be revised, but did lay out more specifics during the campaign. He proposed limiting IDR plans to just undergraduate loans, capping payments at 5% of income, not taxing the forgiven loan amount and automatically enrolling every federal student loan borrower in an IDR plan.
Additionally, Biden campaigned on a plan for a new student loan forgiveness program for borrowers who provide a public service. Under this proposal, up to $50,000 could be forgiven; $10,000 of your debt would be automatically canceled for each year you perform eligible service, for up to five years total. It would not replace PSLF.
Borrowers can expect streamlined student loan services soon
Biden issued an executive order on Dec. 13, 2021, instructing multiple government agencies, including the Department of Education, to make updates to improve the delivery of government services. Details are still emerging, but borrowers can expect these changes:
A single repayment portal. Student loan borrowers with direct loans will be able to use one site to apply for, manage and repay their loans: StudentAid.gov. Anyone who applies for federal student aid, including loans, has an FSA ID to log into their account. Servicers are still managing loans, but borrowers can now make payments on the StudentAid.gov site.

A streamlined Public Service Loan Forgiveness application. Federal student loan borrowers who are eligible for loan forgiveness can apply for the program with less paperwork or without having to fill out forms with information they already completed in the past. Details on what this streamlined application process might look like are as yet unclear.

Recommendations for other benefits and services. Students and student loan borrowers can receive relevant information about benefits and support services they may qualify for, such as subsidies for healthcare, broadband Internet service support and food assistance. It's unclear how these recommendations will be delivered.
What borrowers should do now
The ongoing forbearance period ends after May 1. Borrowers with federal student loans should begin making plans soon to ensure they're prepared for when payments restart in May.
If you have been paying your loans through the forbearance period, there is no reason to stop now unless your financial situation changes. And if you haven't been paying since forbearance began but can afford to restart, consider resuming payments now to save money on interest and help pay off your loans faster.
For those who owed interest at the beginning of the forbearance period, that interest will capitalize, or be added to what is owed on the loans, when the pause ends. But any payments made prior to then will first go toward accrued interest rather than your principal, so paying the accrued interest off now can save you money on interest later on.
If you're unsure whether you'll be able to afford your student loan payments come May 2, start setting aside your monthly student loan payment now to see if you can work it into your budget.
An IDR plan will limit payments to a portion of your income and will extend your payment term. By contacting your servicer prior to May. 2, once your payments do resume, you'll be ready with a payment plan that works for your income.
Through July 31, 2022, you can temporarily self-report income when applying for or recertifying an income driven-repayment plan, according to the Education Department. That means you don't have to submit tax documentation when you submit an IDR application online. The Student Loan Servicing Alliance confirmed in December 2021 that borrowers may also self-certify by phone.
Borrowers with questions about their loans or those in special circumstances should contact their servicer prior to May to ensure a smooth restart to payments.
Spot your saving opportunities
See your spending breakdown to show your top spending trends and where you can cut back.