Joe Biden's Student Loan Plan: What's Happening Now
President Biden extended the student loan payment forbearance to Sept. 30 on his first day in office.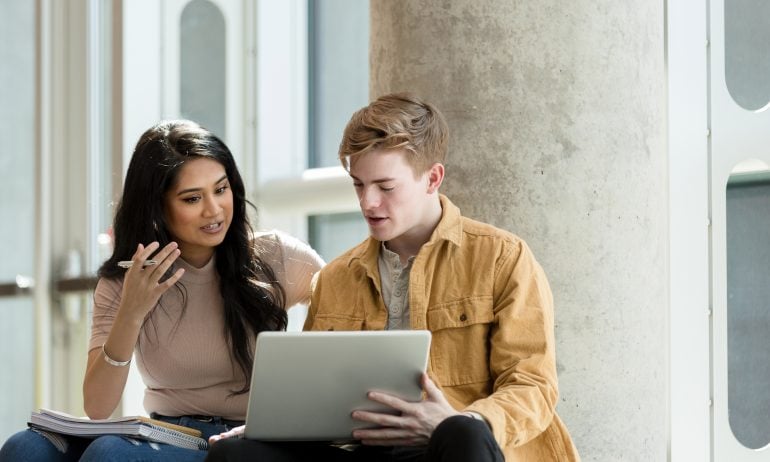 Many or all of the products featured here are from our partners who compensate us. This may influence which products we write about and where and how the product appears on a page. However, this does not influence our evaluations. Our opinions are our own.
President Joe Biden campaigned on a platform that included ambitious changes for higher education as well as relief for student loan borrowers. On Biden's first day in office, he extended the student loan payment pause through Sept. 30, 2021.
Other proposals will take longer. Biden's transition team said Biden would expedite a request to Congress for $10,000 in loan cancellation for all federal borrowers, though he did not include relief for student loan borrowers in his American Rescue Plan released on Jan. 14.
Here's more information on these proposals, as well as others the Biden administration has set forth for higher education issues, including student debt forgiveness, free college and Pell Grants.
Remember: Biden's platform proposals may or may not happen. Those that are passed could evolve significantly between now and then.
Extending automatic forbearance
The current federal student loan forbearance began in March and was extended a second time on Dec. 4, 2020. It was set to end Jan. 31, but Biden immediately called to extend the pause through Sept. 30, 2021 on inauguration day.
The administrative forbearance automatically pauses payments on most federal student loans and waives new interest on the loan balance. It also halts all collection activities on loans in default.
Canceling existing student debt
Biden officials, on Jan. 8, reiterated the president's support for Congress to "immediately" cancel $10,000 of federal student loan debt per person as part of COVID-19 relief. That could wipe out debt completely for nearly 15 million borrowers who owe $10,000 or less, according to federal data. The majority of student loan borrowers (roughly 67%) have more than $10,000 in debt.
In addition, Biden has recommended canceling federal student debt in the following instances:
If you attended a public college or university. Attendees of private historically Black college and universities and additional minority-serving institutions would also be eligible.

If you used the loans for undergraduate tuition. Graduate student debt would not be canceled under Biden's proposal.

If you earn less than $125,000. Biden's plan references a phase-out of this benefit but does not offer further details.
Any broad student debt cancellation plan is likely to face extensive negotiation and headwinds in Congress.
Track your debt the easy way
Sign up with NerdWallet to see your debt breakdown and upcoming payments all in one place.
Revised income-driven repayment
Only undergraduate loans qualify. Graduate student loans — for which the average student debt is $71,000, according to the National Center for Education Statistics — would be ineligible.

You'd pay 5% of discretionary income. Current income-driven options set payments between 10% and 20% of your discretionary income, depending on the plan.

Monthly payments would be $0 if you make less than $25,000. You can currently qualify for $0 payments based on your income, the federal poverty line and your family size.

Forgiveness won't be taxed. Biden's income-based plan would forgive any remaining undergraduate balance tax-free after 20 years. Existing options offer forgiveness after 20 or 25 years, depending on the plan, but tax that amount.

You'd have to opt out. All new and existing borrowers would be automatically enrolled in this new plan with the option to opt out.
These grants, which are available to students who demonstrate financial need, are currently worth up to $6,345. That covers less than 60% of tuition and fees at public four-year colleges, according to a NerdWallet analysis. Biden would also expand eligibility to cover more of the middle class.
Student loan forgiveness programs
Biden would introduce a new student loan forgiveness program for borrowers who provide public service.
Up to $50,000 would be forgiven. Under Biden's plan, $10,000 of your debt would be automatically canceled for each year you perform eligible service, for up to five years total.

It wouldn't replace Public Service Loan Forgiveness. That program, which is available to government workers, teachers and other nonprofit employees, requires borrowers to make 120 eligible payments to have their remaining balance forgiven.

Biden would rework PSLF. Biden proposes qualifying additional federal loans and repayment options for PSLF. Half your balance would also be forgiven after five years. Roughly 98% of PSLF applications have been rejected to date, according to Department of Education data.
Frequently asked questions
Biden has proposed making college tuition-free at some schools:
If you attend a public college or university. Tuition would be free for four years if your family has an income below $125,000.

If you attend a private minority-serving institution. Grants would cover up to two years' tuition at private historically Black colleges and universities, tribal colleges and universities, and additional MSIs.

If you attend a community college. Tuition would be free for two years if you hadn't previously pursued a postsecondary degree. You could also use these funds for a career-training program if it meets to-be-determined graduation and job placement rates.
As with existing free college options, you'd still need to pay non-tuition costs such as room and board and books. Those expenses averaged more than $14,600 and $16,000 in 2019-20 at two-year and four-year schools, respectively, according to the College Board.
Restored borrower defense to repayment rules
Experts say they expect the Biden administration to reinstate rules for borrower defense to repayment that the Trump administration restricted. The rule is used to forgive loans for borrowers who were defrauded by their schools.
Under guidelines effective July 1, 2020, it's more difficult to be eligible for forgiveness since borrowers must prove their school intentionally misled them and they suffered financial harm, among other new requirements.
Biden also hopes to invest $50 billion in workforce training, $8 billion toward community colleges and over $70 billion for minority-serving institutions, among other proposals.
Information in this article is based on the education plan listed on Biden's official website, as well as the former vice president's Unity Task Force Recommendations from July 2020. The Biden campaign did not respond to requests for comment.
Find ways to save with NerdWallet
Really get to know your money and find cash you can put aside and grow.