Apple isn't the only company with new gadgets to show off. Amazon has just rereleased its Kindle Fire HD8 tablet after making a few tweaks. Improvements include a longer battery life, faster processor, more memory and soon to follow, the voice service Alexa.
Are the upgrades enough to suit your needs or should you look to the competition? We're comparing the Fire HD8 to Apple's iPad mini 4 to help you find out.
At a glance
| | Kindle Fire HD8 | iPad mini 4 |
| --- | --- | --- |
| Price | $89.99 | $399 |
| Display | 8 inches | 7.9 inches |
| Resolution | 1280 x 800 | 2048 x 1536 |
| Camera | 2-megapixel rear-facing camera, front-facing VGA camera | 8-megapixel rear-facing camera, 1.2-megapixel front-facing |
| Battery life | 12 hours | 10 hours |
| Colors | Black, blue, magenta, tangerine | Silver, gold, space gray |
| Weight | 12 ounces | 10.4 ounces |
| Capacity | 16GB, 32GB; can add an external microSD card for up to 200GB | 16GB, 32GB, 64GB, 128GB |
| Wi-Fi + cellular version | No | Yes |
| Buy on Amazon | | |
Kindle Fire HD8
NerdWallet takes you shopping: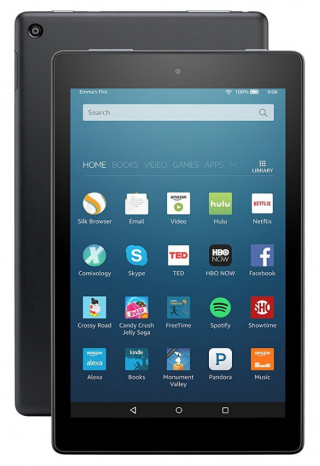 The sixth-generation Fire HD8 is inexpensive for a tablet, priced just under $90. It offers all the basic functions and features despite its low price point and small size. For example, users can access the internet and download or stream music, movies, games, e-books and free apps through Amazon's Underground app store. And with up to 12 hours of battery life, you'll get plenty of use between charges. There is no cellular data option, though, which means the Fire HD8 can connect to the internet only through Wi-Fi.
The Fire HD8 also has a few Amazon-specific features. Amazon Prime members can seamlessly sync their accounts with their tablets, plus they'll get to borrow one free book per month from the Kindle Owners Lending Library — a benefit exclusive to owners of Kindle devices. The tablet supports voice service Alexa, which is available with the latest software update. You can use this feature to ask questions, get alerts, make Prime-eligible purchases and more.
The Fire HD8 comes in a 16GB or 32GB model, but you can use a microSD card to bump the memory up to 200GB. Each version also includes unlimited cloud storage for pictures and Amazon content. Although there'll be ample storage space for your photos, note that they won't be of the highest quality. The Fire HD8 has a low-resolution 2-megapixel rear-facing camera and a VGA front-facing camera that's less than one megapixel.
Good fit for: The Fire HD8 is a good option for first-time tablet owners with a limited budget, because the device itself is inexpensive and all of the content in its Underground app store is free. You'll get all the essential tablet features, they just won't be the most advanced. And if you're an Amazon Prime member, you can easily take advantage of your subscription.
» MORE: iPad Air vs. Kindle Fire
iPad mini 4
NerdWallet takes you shopping: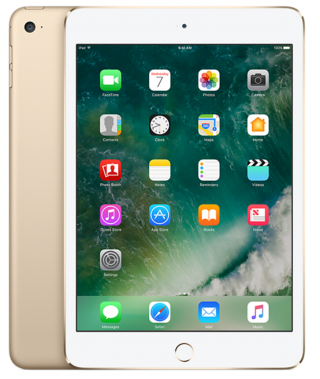 The iPad mini 4 is the lightest tablet in Apple's lineup. At 10.4 ounces, it weighs about an ounce-and-a-half less than the Fire HD8, although it's over $300 more expensive. But with the increased cost come a few advantages. The mini 4 has more advanced cameras, and though its screen is slightly smaller, it has a sharper resolution. It's also better designed for travel, because it's a bit more compact and available in a Wi-Fi + cellular version.
The mini 4 is equipped for entertainment, too. You can find apps for music, games, movies, e-books and more through the App Store. The iPad comes with Apple's own voice service, Siri, which has become more sophisticated since the new iOS 10 software rolled out. It falls short of the Fire HD in terms of battery life, offering up to 10 hours of use on a full charge.
Good fit for: If you're already familiar with Apple products and are looking for a lightweight option, the iPad mini 4 is probably your best bet. It's better suited for visual performance, given its superior display and camera.
More from NerdWallet
Follow these tips to ensure the best deal when you shop online
Kindle comparison: Which Kindle e-reader is right for you?
iPad Pro 9.7-inch vs. iPad Pro 12.9-inch: Which size fits you?
Lauren Schwahn is a staff writer at NerdWallet, a personal finance website. Email: [email protected]. Twitter: @lauren_schwahn.