For a hands-off approach to household cleaning, many consumers opt for a robot vacuum cleaner.
But before you set a machine loose in your house, be sure to purchase a product that's perfect for your needs. To help you decide which brand and model will work for you, we compared two popular options, the iClebo Arte and the Roomba 770.
The vacuums: at a glance
The iClebo Arte and Roomba 770 are designed to clean rooms in your home with the touch of a remote control. Both of these models can remove dust, dirt and other messes from carpet and bare floors.
But while the purpose of these two robot vacuums is the same, their approaches to cleaning differ.
| | | |
| --- | --- | --- |
| | iClebo YCR-M05-10 Arte | iRobot Roomba 770 |
| Price | $599.99 retail price | $499.99 from iRobot |
| Type | Robot | Robot |
| Weight | 6.2 pounds | 8.4 pounds |
| Diameter | 13.8 inches | 13.9 inches |
| Height | 3.5 inches | 3.6 inches |
| Charge time | 110 minutes | 180 minutes |
| Surface type | Carpets and bare floor | Carpets and bare floor |
| Remote control | Yes | Yes |
| Cleaning tools included | Yes | Yes |
[No matter which vacuum you declare the winner, take a look at our list of best robot vacuums for tips on which features you should consider.]
The vacuums: up close and personal
Weight, height and surface type aside, these robots have more features than meet the eye. Read on for more details about each of these high tech vacuum cleaners.
iClebo YCR-M05-10 Arte
NerdWallet takes you shopping: First up is the iClebo YCR-M05-10 Arte, a robot vacuum with a $599.99 price tag, although you can find the cleaner on sale for less than that from some major retail outlets.
While in operation, the vacuum combines a navigation algorithm and camera recognition vision mapping to direct the device around rooms.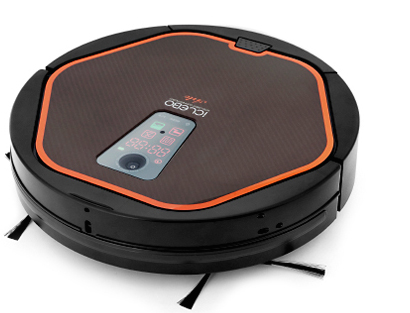 The iClebo Arte's lithium ion battery affords users up to 120 minutes of cleaning time on normal floors. And if you're worried about the sleek device getting hung up around your home, you'll be happy to hear that this robot promises to cross thresholds up to 2 cm.
This robot is packed with accessories, too. It comes complete with a charging station, remote control, two side brushes, adapter, mop plate, cleaning brush, sterilization filter, area boundary tape, double-sided tape, ultra microfiber wet mop and quick guide.
Good fit for: Choose the iClebo Arte for a lightweight robot vacuum that has sophisticated navigation, an easy-to-use remote and a lengthy runtime. Because this device can run on wooden floor and carpet alike, you'll be able to trust it everywhere in your home.
iRobot Roomba 770
NerdWallet takes you shopping: Our next entry is the iClebo Arte is the Roomba 770, a $499.99 model from iRobot.
This robot can clean carpets, hardwood, tile, laminate floors and even beneath furniture. Users can schedule the device to clean up to seven times per week.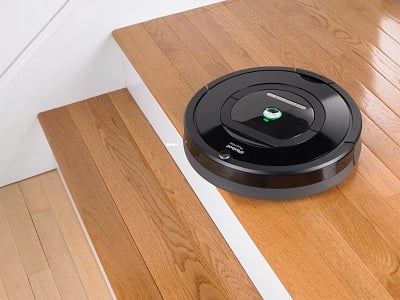 Additional features of the robot include its molded soft-touch bumper, dual HEPA air filters and advanced cleaning head for picking up pet hair.
Consumers who purchase the Roomba 770 will also receive the following accessories: one rechargeable battery, one battery charger, one compact self-charging home base, two auto Virtual Walls, one extra filter, two brush cleaning tools, one remote control and one instructional DVD.
This Roomba is appealing because its regular retail price is $100 less than that of the iClebo, but you'll have to sacrifice some features for that affordability. The Roomba is heavier (8.4 pounds compared to 6.1 pounds) and takes longer to charge (180 minutes compared to 110 minutes).
Good fit for: For a less expensive alternative to the iClebo, opt for the iRobot Roomba 770. This sophisticated device is ideal for consumers who want a robot that boasts scheduled cleanings, can tackle multiple surface types and features a convenience-minded construction.
Compare other popular vacuums here:
For more vacuum buying advice, check out:
Courtney Jespersen is a staff writer at NerdWallet, a personal finance website. Email: [email protected]. Twitter: @courtneynerd.
---
Top image via iStock. Product photos courtesy of iClebo and iRobot.