Travel Diaries: How I Did A 5-Day, $4,000 Disney Trip for Just $1,600
Find out how a Nerd used credit card points and travel perks to make her Disney trip more affordable.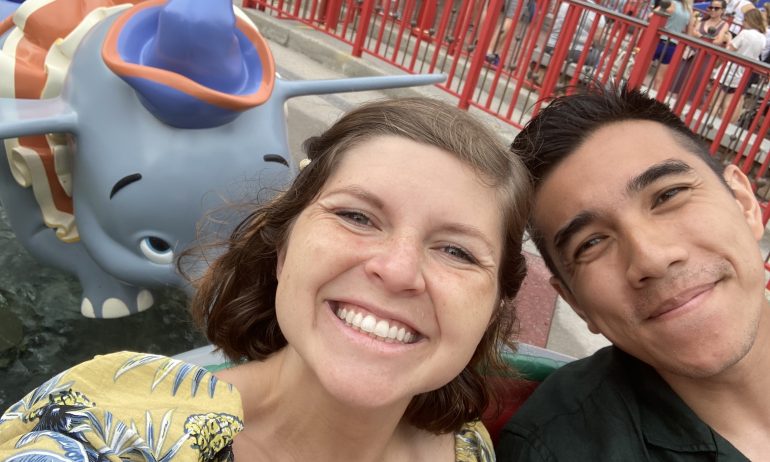 Many or all of the products featured here are from our partners who compensate us. This influences which products we write about and where and how the product appears on a page. However, this does not influence our evaluations. Our opinions are our own. Here is a list of our partners and here's how we make money.
You may think you need a Fairy Godmother to afford a trip to Walt Disney World. However, with the help of points and miles, I spent less than $1,600 cash for two people (including cross-country airfare) on a summer 2021 trip with my boyfriend, who shares my penchant for both Disney and frugality.
Had we paid for everything in cash, our trip would have cost over $4,000. Instead, we did five days at Disney World for just 40% of that in cash thanks in major part to redeeming our points and miles. We valued the points we redeemed at $700, bringing the total we "spent" to around $2,300. Here's how: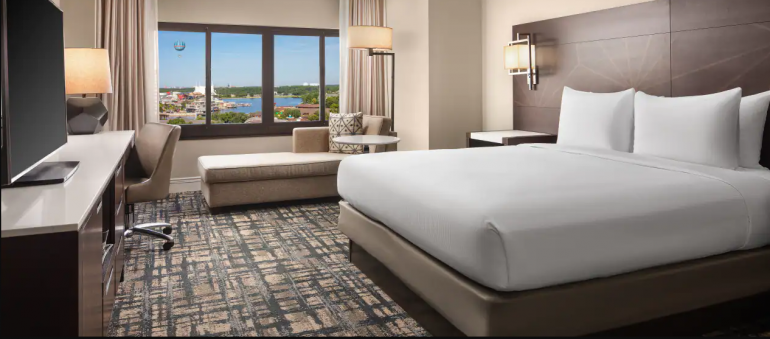 Disney-owned resorts have acclaimed customer service, enchanting theming and close proximity to theme parks. But Disney hotels are expensive, and they won't take points. The next best move is staying at a Disney Springs Resort area hotel, many of which accept points.
I chose the Hilton Orlando Lake Buena Vista, which is adjacent to Disney's shopping center, meaning tons of dining and entertainment within walking distance.
Five nights cost 140,760 points, which I paid with points I earned through the card's welcome offer and minimum spend requirement. NerdWallet values 140,760 Hilton points at $703.80, but get this: The room's cash price, including taxes and fees, would have cost over $1,700.
So how did I fork over only $700 worth of points for a $1,700 room?
Paying with points allowed me to skip resort fees: Resort fees inflate your actual bill, which hotels say covers expenses like internet and telephone access (do people still use the hotel phone?). This hotel's $35 nightly resort fee also covered the theme park shuttle, two daily coffees and water bottles (a nice perk but definitely not worth $35). With Hilton, paying on points lets you skip resort fees.

My fifth night was free: If you have elite status and book a five-night stay, Hilton only charges you for four.

Point values vary: While NerdWallet values a Hilton point at 0.6 cent, it doesn't always mean you'll get that exact value. Point and cash rates might not align because of factors that you can't always predict, including sudden interest in that hotel leading to a spike in cash rates. Luckily for me, the value I got here was favorable because of the high cash price I would have had to pay, if I had not used points.
Cost: $0 cash plus $703.80 worth of Hilton Honors points
I paid my airfare with two sets of separate $98.98 Southwest travel funds from flights canceled in 2020. Southwest has always had one of the best cancellation policies. For this accounting, I'll count my flights as $197.96 roundtrip, since that was cash I paid out of pocket, albeit pre-pandemic.
I charged the remaining $60 per leg to my Hilton Honors American Express Aspire Card since it offers a $250 airline incidental statement credit, which was triggered by the remaining $60 balance as well as my boyfriend's $5.60 in taxes and fees. Bonus: I still have $130 left on my airline fee credit for a future trip. Terms apply.
Getting to/from the airport: To get from my home in downtown San Francisco to the airport, I'd typically take public transit. But since COVID-19, train hours have been slashed, forcing me to ride Uber to and from the airport. And since there's no train from the Orlando airport to Disney, we took Lyft to and from our hotel. This totaled $117.46 for all four rides.
Getting around: Once on Disney property, it's easy to get around. Disney has almost any form of transit imaginable, including buses, boats and a monorail. Transit on the property takes you between theme parks and resorts. Besides being a convenient way to freely get around, it generally serves as free entertainment (for sightseeing and people watching).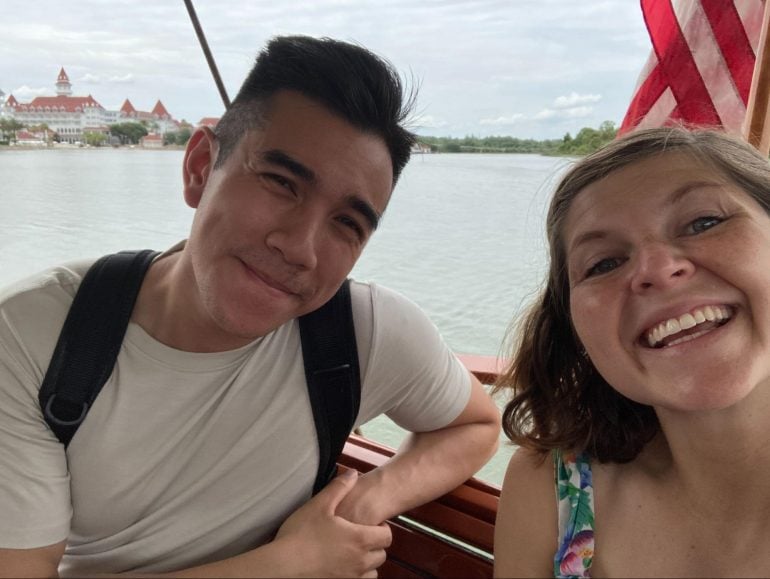 And even though our hotel's $35 daily resort fee would be annoying (we avoided it by paying on points), the ability to shuttle to the theme parks is far cheaper than the cost of theme park parking ($25) plus hotel parking ($22). That would be $47 in daily parking alone, not to mention other costs associated with owning or renting a car.
Here are my best dining finds and money-saving tips:
Go to Epcot during a festival
Since we visited during the Epcot International Flower & Garden Festival, we ordered from temporary outdoor kitchens serving creative foods including a citrus-braised pork belly and a sugarcane shrimp skewer. This was a prime way to sample multiple unique dishes on a budget.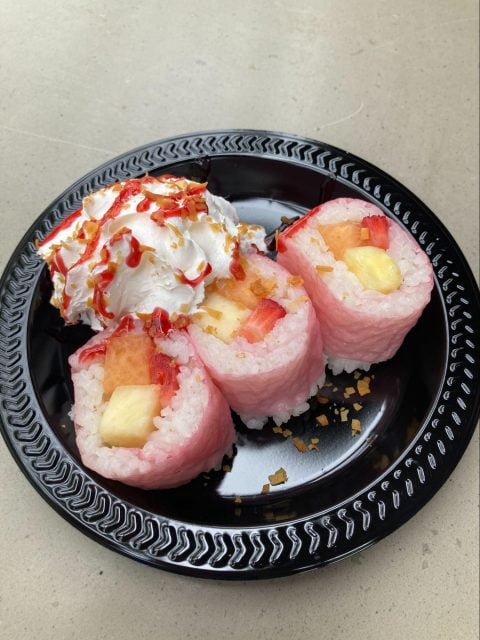 We tried seven items ($43.75), which are served tapas-style and are still large enough to get a solid taste.
Even if you're not heading to Epcot during a festival, the theme park does seem to have the best food of them all. Whether it's school bread from the Norway pavilion or macaron ice cream sandwiches from L'Artisan des Glaces in the France pavilion, the theme park's food is a notch above other theme park staples of burgers and fries. At least if you're going to spend money on food, spend money on the good stuff.
Look for food similar to high-end restaurants, served elsewhere
We found the best deal at Animal Kingdom's Nomad Lounge bar. Though it's located adjacent to the pricey Tiffins Restaurant, we were surprised by Nomad's reasonable prices. We each got a mocktail (about half the price of boozy cocktails) and split the real MVP here — a plate of ribs — for just $8. Main dishes at Tiffins, like short ribs or chicken, can easily run over $40 per item. Maybe I'm jaded by San Francisco's cost of living, but this seemed like a deal ($29 for the meal).
Don't skip free hotel breakfast
Don't overlook whether a hotel offers free breakfast when deciding where to book. In my case, since we stayed at a Hilton and my Hilton Honors American Express Aspire Card comes with automatic elite status, I was entitled to a $30 daily food and beverage credit.
We used it on the admittedly average breakfast buffet once. On future days, we used the credit to load up on fruit, yogurt and packaged sandwiches from the grab-and-go market. That also enabled more opportunities to maximize rides since we weren't waiting in line for food at the theme parks.
Bring snacks from home. Load up on jerky, nuts and protein bars that fit easily in your suitcase and fill you up so you avoid buying an overpriced popcorn bucket you didn't want anyway.
Sharing is caring — and budget-friendly
A key money-saving factor was splitting food with my travel companion. We always consumed our own entrees, but as far as those tasty yet less-than-nourishing snacks — like donuts and churros — we cut costs by sharing.
It's easy to get intoxicated by the smell of waffle cones and buy an individual serving of Dole Whip nachos for everyone in your family. Yet both my wallet and waistline are happy that I didn't try eating an entire one myself.
Plus, your Dole Whip will probably melt before you can finish it anyway.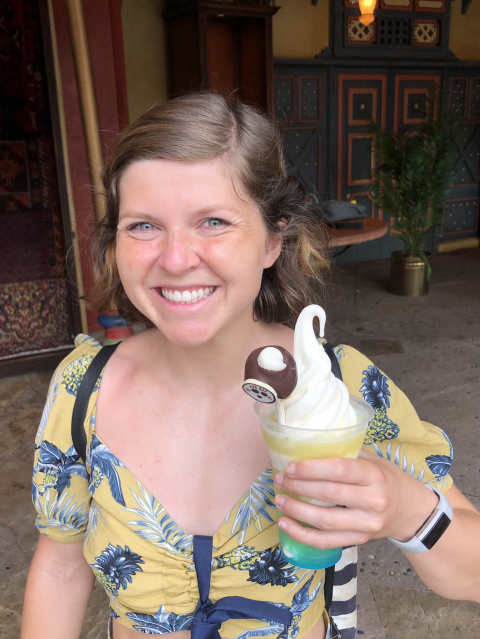 For example, Grubhub had a $5 coupon at Disney Springs' Earl of Sandwich, which I stacked with my $10 monthly dining credit on my American Express® Gold Card for free lunch. Terms apply.
My Hilton Honors American Express Aspire Card gets us into several airport lounges through Priority Pass, including a couple at Orlando International Airport. There, we loaded up on chicken tortilla soup, veggies and hummus. They tasted just OK, but I won't complain about free food.
On the airplane: I purchased Southwest's inflight Wi-Fi, which costs $8 per device. My Southwest® Rapid Rewards® Performance Business Credit Card came in clutch because it offers free Wi-Fi, doled out as 365 $8 credits per year (rather than one per day per account), so my boyfriend got free Wi-Fi, too. That's $32 in value for both legs between us.
The flight there was longer than I remembered (I haven't done a cross country flight in a year!), so we opted to purchase upgraded boarding for the flight home. While I'm 4'10" and don't actually mind the middle, the decision to upgrade was easy because my Southwest® Rapid Rewards® Performance Business Credit Card offers four complimentary seat upgrades per year (otherwise $30 per person).
Theme park tickets: We purchased four-day tickets online from a travel agent, which was slightly cheaper than buying directly from Disney ($477.29 per person).
Souvenirs: I bought one souvenir for myself: an Orange Bird salt and pepper shaker ($10.64). It's utilitarian!
We did get souvenirs for friends, which Hilton paid for. Remember that $30 daily food and beverage credit? The hotel's grab-and-go market sold Disney-themed jelly beans. Most days we still had about $10 remaining of our credit, which allowed us to purchase a few bags per day. The plant-sitter, our neighbor and my niece all got gifts.
American Express® Gold Card: $250 annual fee.

Hilton Honors American Express Aspire Card: $450 annual fee.

Southwest® Rapid Rewards® Performance Business Credit Card: $199 annual fee.
How much we spent: A breakdown
In total, we spent just under $1,600 in cash plus points, based on NerdWallet travel valuations, worth around $700. Here's how that broke down by expense category, in total for two people:
By using points, I not only kept cash costs around $800 per person but also saved over 40% off the actual trip value. That's due in large part to benefits like Hilton's fifth night free, not paying resort fees and the Southwest Companion Pass, which shaved a huge chunk off my trip costs in one fell swoop.
Not to mention, these cards earn high spending rewards. I earned an additional $73.64 in rewards from the spending I did on this trip.
Factor in the value of credit card points
We do want to also factor in the "cost" of using points and miles. Why? The short answer: opportunity cost. We only spent $1,600 cash, but we felt it was important to acknowledge that we actually spent closer to $2,300 given the value of rewards points.
Every point spent here is a point that could be spent somewhere else. Sure, Secretary of the Treasury Janet Yellen won't recognize points as a real currency, but travel companies do.
Two benefits we didn't factor into the cost: There were two credit card benefits I used that have solid value, but that I didn't factor in: TSA PreCheck and Priority Pass. PreCheck requires an $85 application fee, which my credit card covered. But since it typically lasts five years, I didn't feel it fair to factor in here. Editor's note: The TSA PreCheck application fee has since been lowered to $78.
I also didn't factor in the value of Priority Pass, as it didn't cost me anything to begin with (beside my credit card application fee), and its value fluctuates depending on the lounge.
I've long thought that it's easier and more stress-free to use a cash-back credit card and pool those cash-back rewards into my vacation fund. But I've realized — and this trip is proof — that it pays off to use a travel credit card.
If you play your cards right, you'll fork over even fewer points than their actual value. Had I paid for my trip entirely in cash, it would have cost over $4,000. Instead, it "cost" me just over $2,300 in combined cash and points value ($1,600 was cold, hard cash and $700 was the approximate points value).
My mom still balks that I pay for annual fees on credit cards. But the savings here already far exceeded the cards' annual fees, and there are plenty of other valuable perks I get from those cards outside of this single trip.
Even without a royal-sized budget, you can still have your dream Disney vacation, as long as you're creative and flexible. Stretch your budget by not just maximizing credit card points, but being open-minded about what you eat, where you stay and how you get there.
After all, if the Fairy Godmother turned a pumpkin into a glass carriage, you can turn $1,600 and some credit card points into a $4,000 vacation.
---
How to maximize your rewards
Get more smart money moves – straight to your inbox
Sign up and we'll send you Nerdy articles about the money topics that matter most to you along with other ways to help you get more from your money.