Kevin and Barbara joined sororities, and Lori learned how to help nurse twins.
But along the way, there were a pair of bloody battles for a piece of Frill Clothing and the Twin Z pillow on Friday's episode of ABC's "Shark Tank."
Thrills, chills and Frill
Frill introduced the sharks to the world of custom sorority recruitment clothing.
Frill founders Sharon Bui and Kate Steadman, a pair of post-graduate sorority members, pitched their 3-year-old business by talking about Rush Week, when sororities check out potential new members and invite some to join. Many groups like to dress alike as a sign of solidarity for as many as five events.
Too often, they said, it's hard to find a retailer that has enough inventory for a whole sorority. Or — horror of horrors — two sororities on the same campus might show up wearing the same outfits.
Frill meets individually with members of the 3,127 sorority chapters in the United States and Canada, hooking them up with custom outfits.
So far, it's been a hit. They said they've done more than $400,000 in sales, but were seeking $100,000 for a 20% equity stake to help ramp up production.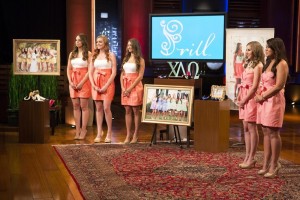 Mark Cuban quickly got out of the way, though not without sharing that, as a college student, he went door-to-door at sorority houses teaching line dancing classes for $25 an hour. (And Robert Herjavec is the one going on "Dancing With the Stars"?)
Then it was on.
Barbara Corcoran opened with an offer of $100,000 for 33% of the company. Kevin O'Leary jumped in with the same offer.
"You can't even entertain that for a moment," Barbara said. "He'd scare everybody away."
"I think my biggest fan base is out there in sororities" Kevin countered. "They love Mr. Wonderful."
Robert jumped in, offering the same $100,000 for only 20%.
"I love it," he said. "This is all about big fish-little pond. If you can capture it, you're going to dominate a niche market."
That spurred Barbara and Kevin to team up, offering their same 33% deal, but with two sharks. Barbara pitched hard, telling the Frill team how she'd taken Grace and Lace, a sock company, from less than $1 million in sales to more than $7 million.
"I work that business, and they lean on me," she said. "You ain't gonna get that from Robert."
Bui and Steadman counteroffered 30% of the company for $100,000, Kevin and Barbara agreed and the deal was done.
"I think I'm in shock," Steadman said afterward.
"And we started with nothing," Bui said. "This is the American dream right here."
Twin Z stirs up the sharks
If Frill got a flurry of offers, the rush for Twin Z required a scorecard to keep up.
Five years ago, Michelle and Jason Barsosky had twin girls. They also both got laid off from their jobs with a pharmaceutical company in Amherst, New Hampshire.
"That's when we decided to take a leap of faith," Michelle said.
Using her mother's 30-year-old sewing machine, she'd fashioned a pillow for herself that helped her nurse both twins at the same time. The couple decided that they'd try to make it a business, and Twin Z was born.
This year, Jason said, they're selling the pillows for $100 and are on track to make $510,000 — a number that clearly got the sharks excited.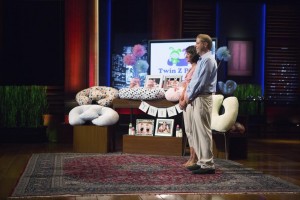 Kevin bit, offering $75,000 for (Surprise! Surprise!) a $10 royalty on each pillow until he makes $225,000, then 2.5% equity in the company.
"Then he eats your children," Barbara tossed in.
Robert channeled Mr. Wonderful with a royalty offer of his own — the same $10 royalty, but only up to $150,000, then the same 2.5% in the company.
"I think you should put their deals in your mental shredder," Lori Greiner said. "Gone."
She offered $150,000 for a $5 royalty that, once her investment was paid back, would turn into 5% equity in the company. Lori pitched her relationships with retailers like Bye Bye Baby, while Robert and Kevin both suggested the company should focus on online sales.
Barbara jumped in with her own offer of $75,000 for 20%.
Then things heated up:
Robert and Kevin decided to go in together, and bump up their offer to $150,000.
Lori switched her offer to the same as Barbara's, $75,000 for 20%. She asked Barbara to team up, but Barbara refused.
The couple counteroffered $75,000 for 15%. Barbara quickly agreed.
Lori immediately said she'd do the same deal.
Not to be outdone, Kevin and Robert then offered to drop their royalty after getting back only 200% their investment, instead of 300%, and reduce their royalty to $7.50 per pillow.
Got all that?
After the mad rush, the Barsoskys picked Lori, saying they could sense her passion for the product.
"A man with money is no match for a woman on a mission," Lori beamed.
Friday's episode also featured an update on Mo's Bows, founded by now-13-year-old Moziah Bridges.
Two years ago, Moziah didn't get a deal for his bow tie company. But he got what he now says was something better — a mentorship offer from FUBU founder Daymond John.
Since then, Mo's Bows has gone from $55,000 in sales to almost $200,000. Not bad for a venture started when Moziah was 9 years old.
"Since coming on 'Shark Tank,' everything has changed in my life," he said.
Doug Gross is a staff writer covering personal finance for NerdWallet. Follow him on Twitter@doug_gross and on Google+.
---
Images courtesy of ABC