Bookkeeping 101: Bookkeeping Basics for Small Businesses
Small-business bookkeeping involves setting up a framework, choosing your method and keeping track of details.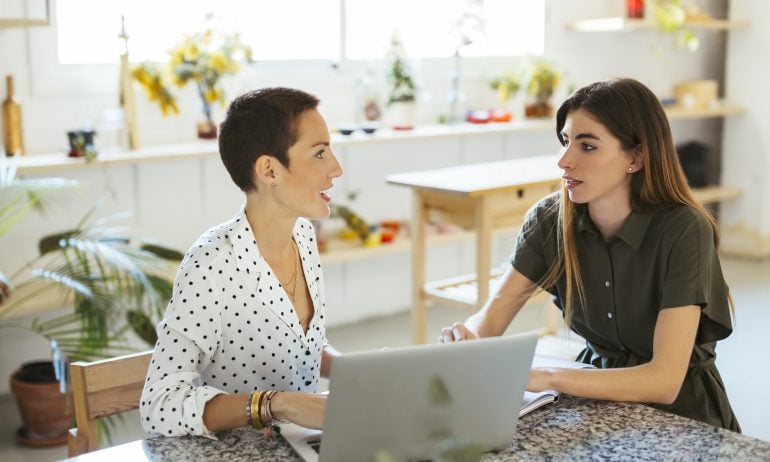 Many or all of the products featured here are from our partners who compensate us. This may influence which products we write about and where and how the product appears on a page. However, this does not influence our evaluations. Our opinions are our own. Here is a list of our partners and here's how we make money.
Bookkeeping is a core part of business finances and can impact the growth and success of your small business. It can encompass a variety of tasks — from basic data entry in a software platform to working with certified public accountants — and is the backbone of your accounting and financial systems.
Bookkeeping basics for small businesses
With the development of bookkeeping and accounting technology, bookkeeping tasks have become more automated. However, this doesn't make it any less important to ensure you set everything up properly from the start.
Setting up accounting software
Setting up bookkeeping or accounting software includes connecting business bank accounts, doing any necessary data entry and reconciling transactions. It also involves checking for errors, learning about your specific software and looking for ways to streamline different parts of your accounting processes.
Single-entry accounting records all of your transactions once, either as an expense or an income. This method is straightforward and suitable for smaller businesses that don't have significant inventory or equipment involved in their finances.
Double-entry accounting enters every transaction twice, as both a debit and a credit, to "balance the books" between accounts. Although more complicated, it can prevent errors in recording transactions.
The entry system you choose impacts how you manage your finances and how your bookkeeping processes will work.
Choosing an accounting method
You'll also choose between cash- or accrual-based accounting.
Cash-based accounting records transactions when money changes hands. This method doesn't record invoices or your company's outstanding bills until they've actually been paid.
Accrual-based accounting records those invoices and bills even if the funds haven't been exchanged. Generally, accrual-based is the recommended accounting method, but the decision is ultimately up to you.
Managing transactions is a day-to-day part of bookkeeping. This includes importing and categorizing transactions properly, reconciling these transactions and making sure they're recorded according to your entry system and accounting method.
Handling accounts receivable and payable
Small businesses also handle aspects of accounts receivable, which ensures your business is paid for its goods or services. This can include estimating the eventual value of a finished project, preparing and sending invoices and providing statements.
Small-business bookkeeping also includes ensuring your business pays bills and invoices on time, which is known as accounts payable.
Some businesses process payroll within their accounting software; others will have a separate payroll software. How you set up and manage payroll will depend on which software you choose.
Coordinating with a tax specialist
A small business needs to identify potential deductions and make tax procedures as seamless as possible. Some accounting software options can connect you with tax specialists. If you don't connect with one through a service or software, you'll likely want to work with one when it comes to filing business taxes.
Managing financial statements and documents
Bookkeeping for small businesses also includes managing important accounting documents and maintaining the information — transactions, assets, income, expenses, etc. — that are used for financial statements. Many software options allow you to store documents and streamline the documentation process as you go.
Bookkeeping vs. accounting: What's the difference?
Accounting and bookkeeping work hand in hand, and although many people refer to bookkeeping and accounting interchangeably, these two operations aren't technically synonymous.
| | | |
| --- | --- | --- |
| | On-the-job training or certifications. | Accounting degrees and might be a CPA. |
| | Specific business-level solutions. | Solutions for tax planning and accounting software. |
| | Maintains general ledger and accounts. | Creates more complex financial statements. |
| | Day-to-day business details. | Higher-level business for broader financial aspects. |
| | | Files business and personal tax returns. |
Why bookkeeping for small businesses is important
Even though accounting software can make bookkeeping processes simpler, it's essential that your small-business bookkeeping is handled properly. Here are a few reasons why bookkeeping is so important:
Separating business and personal finances ensures that you're not personally held liable for any debts or issues related to your business.

Identifying mistakes early by managing transactions and reconciliation avoids financial issues later on.

Simplifying business finances by streamlining tax processes and working with tax professionals can save money.

Keeping an eye on business financial health identifies ways to improve or change processes.

Organizing documents and records simplifies processes such as applying for a business loan or buying new equipment.
How to manage bookkeeping for small businesses
There are three ways to perform bookkeeping for your small business:
1. Manage your own small-business bookkeeping
If you run a very small business, you might be able to manage your bookkeeping with accounting software, saving yourself time and money by using free options.
However, managing your own bookkeeping means you're in charge of keeping your finances in order, storing records and creating necessary statements. Using accounting software simplifies many bookkeeping processes, but you'll still need the tech-based skills to run and streamline your business's software.
2. Use an online bookkeeping service
With an online bookkeeping service, you can communicate completely by email or phone without having to worry about meeting in person. The responsibilities handled by a service will depend on the provider.
3. Hire an in-house bookkeeper
Bringing a part-time or full-time professional into your business gives you access to their expertise and allows them to become more familiar with your business's finances, processes and accounting tools and software.
However, it's important to note that your bookkeeper won't be the only person working on your business finances. So you'll want to understand which tasks your bookkeeper is and isn't responsible for handling.
How to find bookkeeping help for small businesses
If you want to outsource your small-business bookkeeping, there are several ways to find experienced bookkeepers.
Consider asking for a referral from someone you trust. If you work with a certified public accountant, business lawyer or tax advisor, ask if they have recommendations for a bookkeeper or bookkeeping service.
Similarly, you can reach out to other small-business owners to ask about bookkeeping services they recommend. More than likely, someone within your small-business community will be able to point you in the right direction for getting the best bookkeeping assistance for your business.
You can also search for professionals or bookkeeping services online.
To find reliable options, look through your accounting software's directory of certified bookkeeping professionals. You can also consult professional bookkeeping communities, accounting blogs or industry forums for available professionals.
Nerdy tip:
Research potential professionals or services before hiring them. Check out their reviews and talk to them directly before making any final decisions.
NerdWallet writer Whitney Vandiver contributed to this article.
This article originally appeared on JustBusiness, a subsidiary of NerdWallet.