How to Find the Best Virtual Bookkeeping Service for Your Business
Confirming that you and your virtual bookkeeper use the same accounting software product is essential.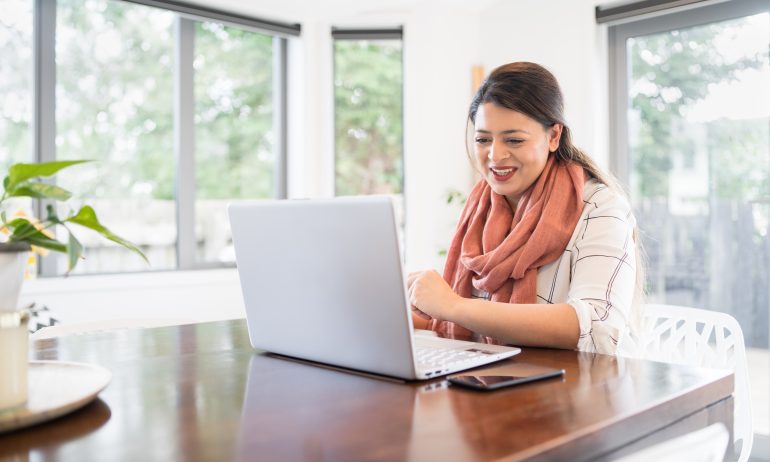 Many or all of the products featured here are from our partners who compensate us. This influences which products we write about and where and how the product appears on a page. However, this does not influence our evaluations. Our opinions are our own. Here is a list of our partners and here's how we make money.
In the world of small-business accounting, virtual bookkeeping services are becoming more and more common — so much so that the practice of bookkeepers traveling to meet with clients is becoming more of the exception than the rule. In fact, I will likely never meet most of my clients in person.
It can be difficult to trust a virtual service with your books, and even harder to know which service to choose. To help ease the process, I'll show you how I run my virtual bookkeeping service and explain what to look for in these services, so you can make the best decision possible.
What is a virtual bookkeeping service?
Virtual bookkeeping, also known as cloud accounting, is when a bookkeeper or accountant works with their client remotely. This is made possible through accounting software that allows you and your bookkeeper to share an account. With a shared account, your bookkeeper can post your financial transactions, review and update your statements, reconcile your accounts and perform other vital accounting functions without having to meet with you in person. In this arrangement, the accountant and business must utilize the same accounting software to ensure the proper transfer and communication of files.
The benefit of using a virtual bookkeeper as a business owner is that it is often cheaper than hiring someone local to work on-site. The bookkeeper can be paid as a contractor and work as little or as much as the business needs. For a bookkeeper, working virtually provides convenience in the form of schedule flexibility and the ability to work from home.
How does virtual bookkeeping work?
Working with remote clients comes with its challenges, but modern technology has made it possible. Here's an example of how I am able to work virtually with clients. It really is all about the apps. The ones I use are:
This is the "ecosystem" that I use to run my virtual bookkeeping service. With these five apps alone I can manage every aspect of my clients' needs.
QuickBooks allows me to do the actual dirty work of bookkeeping, Zoom lets me virtually meet with clients over video, Smartsheet makes remote project management possible, Slack is for messaging about issues that don't need to be resolved over video and finally, G Suite and Google Docs facilitate easy file management.
How to find a virtual bookkeeper
Find out what software they use
You should start by asking them what their application ecosystem is. What apps do they use to help provide their services? They need the following generic structure in place, which is covered by the apps above, in order:
Core accounting/general ledger app (QuickBooks Online).

Remote web conferencing app (Zoom).

Project management (Smartsheet).

File and document management (G Suite).
Some of the apps might be different, but if your prospective virtual bookkeeping service can cover these five bases, then there is a good chance you're covered.
Make sure you use the same accounting software
It will be a lot harder to work with a virtual bookkeeper if you use QuickBooks and they use FreshBooks or Xero. Therefore, make sure you ask them which accounting app they use for their business and why. It's a fair question. If they are using different software and tools, you should figure out why and use that to determine if you really want to work with them.
Evaluate your virtual bookkeeper's online presence
A true cloud-based business, including a virtual bookkeeping service, should be actively using social media. They should be participating in forums on LinkedIn and Facebook. In addition to this, they should be producing content that establishes themselves as a thought leader.
This way you don't have to rely on the claims they make about what they can do for you. If they are offering advice that others find useful, then you will be able to see that rather than simply taking their word for it. If your prospective virtual bookkeeping service understands the value of adding to the conversation, then it is a good sign that they will be genuinely helpful to your business.
So, check up on them. Are they putting out videos? Podcasts? Blog posts? How are they demonstrating their knowledge and expertise?
Does your virtual bookkeeper have experience in your industry?
At my company, one of the specific things we teach accountants and bookkeepers who want to run a virtual bookkeeping service is that they should specialize in a few industries. This is true of any bookkeeper — in person or virtual — that you would hire. It's especially true of virtual bookkeepers, however, because this will determine if the apps they use to do business are relevant to and compatible with your business.
Ask your prospective virtual bookkeeping service if they have experience in your industry, and if so, how many clients they have in your industry. You may even ask for a few customer testimonials to be sure that the service is a good fit.
Learn their process for dealing with clients
A virtual bookkeeping service is all about efficiency. Are you going back and forth with a prospective bookkeeper trying to nail down a time to talk, or do they use a scheduling app? Do they respond quickly? If they're not efficient about this stage of doing business, this may be a sign that they won't be efficient once you are a client.
Ask about their onboarding process. Do they have one? They should be able to provide you with the steps. If they can't, this may be a bad sign.
Ask your virtual bookkeeper about deliverables
In more traditional bookkeeping services, it was more of a process to get reports out. Someone had to be there to run the report, save it in the right format and send it out. In this age of cloud accounting and virtual bookkeeping services, they should be able to have reports sent to you on a schedule. Don't lead them by asking if they send out reports on a schedule. Simply ask them what the deliverables will be each week or month.
Ask about reviewing reports with you. Every virtual bookkeeping service should have an option that includes this. It might (and it should) cost more than their basic level, but the option should be there.
If they are pricing by the hour, this is not a good sign. It means that your virtual bookkeeping service has missed the biggest boat of all when it comes to being a "cloud-based" bookkeeping service. The hourly pricing model doesn't work here. They must offer flat rate pricing — a monthly fee in exchange for a well-defined set of deliverables.
As an insider in the cloud accounting world, I can tell you that many virtual bookkeeping services don't follow the best practices that have been listed above. If you don't walk away from your initial interactions with your prospective virtual bookkeeping service feeling 100% confident that this company has your back, then just say no. Keep looking.
In the end, your virtual bookkeeper should be a partner that can help grow your business affordably. Keep that in mind as you search for the right virtual bookkeeper for your small business.
Bookkeeping and accounting software

Sage 50cloud $48.17 per month (when paid annually) and up.

Wave Financial Free (add-ons available).

Xero $13 per month and up.

Zoho Books $0 per month and up.
A version of this article was first published on Fundera, a subsidiary of NerdWallet