10 of the Best Ways to Promote Your Business on Social Media
Understanding your target audience and creating consistent branding will help you successfully promote your business on social media.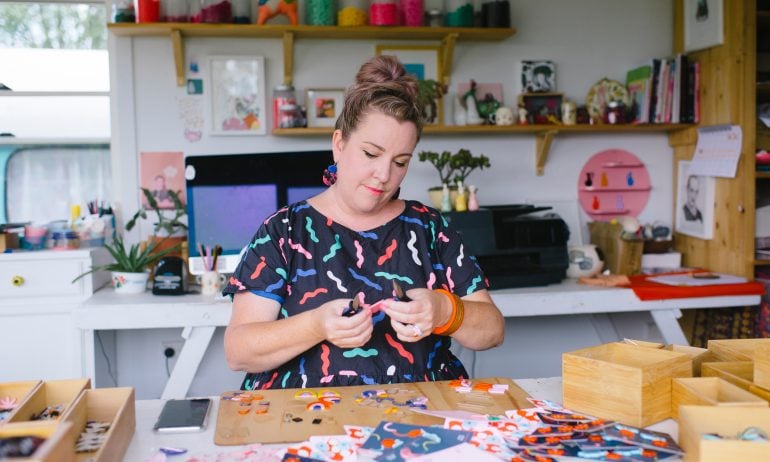 Many or all of the products featured here are from our partners who compensate us. This influences which products we write about and where and how the product appears on a page. However, this does not influence our evaluations. Our opinions are our own. Here is a list of our partners and here's how we make money.
With the surging growth and popularity of social media in recent years, promotion on these platforms has become an essential form of small-business marketing. Therefore, learning how to promote your business on social media involves a number of creative strategies.
If done successfully, social media marketing can help your business reach your target audience and draw them to your website or storefront, hopefully resulting in more sales, and consequently, increased revenue. Since 42% of Americans use social media platforms to find the small businesses they support, according to an October 2022 NerdWallet survey, it's not a strategy you want to skip.
We'll break down some of the best methods you can use to promote your business on social media — from developing a content calendar to working with influencers.
1. Circulate and cross-promote your social media profiles
One of the first steps is to set up your profiles on the various platforms that best-suit your business. These could include Facebook, Instagram, Twitter, LinkedIn, TikTok or YouTube.
However, these profiles won't do your business any good if no one knows they exist. Therefore, you'll want to promote your social media profiles across your business website, email communications and even in your physical store. The more people see your social media profiles, the more likely they are to visit them and interact with your business.
In addition, it's also worth cross-promoting your social media profiles across different channels. For example, you may use your Instagram profile to promote your Facebook business page, or vice versa.
2. Use a content calendar and schedule your posts
One of the most difficult parts of social media promotion is staying organized — especially if you're using multiple platforms. To better streamline your social media efforts, you might consider using a content or social media calendar to plan your posts ahead of time.
You can create a calendar that encompasses all of your different channels and use it to brainstorm, write and edit your posts, as well as track them after they go live to see which posts have the most engagement.
Although you can certainly make a calendar in Google Sheets or Excel, you might also opt to take advantage of social media marketing software, like Hootsuite or Buffer, which allows you to create a calendar of posts and schedule them ahead of time.
3. Leverage trends that relate to your audience
A great way to help your social media platforms gain traction is to capitalize on social media trends, popular hashtags and social media "holidays" that relate to your business, audience and the particular platform you want to leverage.
As an example, if you're building a social media strategy for your restaurant, you might capitalize on Instagram trends like "#thirstythursday," or "National Pizza Day" or even simply "#Instafood." These trends will not only help you connect to your existing followers, but also potential customers that are using those hashtags or topics to search for new businesses.
You'll find that your industry has its own trends that you can participate in. A simple Google search, or search on your social media platform, will help you identify trends and popular posts that may work well for your business.
4. Develop a social media aesthetic
When you started your business, it's likely that you put significant time and energy into creating and developing your small-business branding. As you promote your business on social media, your profiles become a part of your brand.
In order to get the most out of your social media strategy, you'll want to ensure your branding is consistent across all social media platforms. While your business's aesthetic, voice and tone might be slightly different depending on the specific channel, your audience should still recognize your brand across all channels.
5. Embrace user-generated content
Encouraging customers to post on their social media channels about their experience with your business is a great way to gather content for your own channels. This social media strategy, called user-generated content, or UGC, is as simple as it sounds: A customer posts about your brand and tags your business, and then you're able to repost this content (provided their profile is public) to your own channels.
There are two main benefits to this. First, it makes marketing a bit easier for your brand because you're not responsible for creating as many posts yourself. The second, and more important benefit, is it highlights and showcases an active community. The more people post about your business, the greater your brand awareness will become, as not just your followers but the also your customers' followers will be exposed to your business.
6. Use social media as a form of customer service
Although social media is typically considered a marketing or advertising tool, it can also be an extremely useful customer service tool. Consumers often turn to a business's social media platforms when they're experiencing an issue or have questions.
Therefore, using your social media channels to communicate and answer questions from your customers, or potential customers, is a great way to improve your customer service and increase customer retention. Use the comment, chat and messaging functions to answer questions from your customers, provide information and even take orders or appointments in some cases.
7. Work with micro-influencers
Influencer marketing has been a big strategy in social media, with big brands, in particular, finding success working with A-list celebrities and other influential spokespeople and brand ambassadors.
However, small businesses aren't excluded from the potential advantages of influencer marketing. One thing to remember about this social media strategy is that it's not the size of the following that matters, but how engaged and excited that following is.
Market research will help you understand your target audience; then you can look for micro-influencers whose followings align with your target audience. Since these influencers may have a few thousand followers versus millions, they will likely be more willing to partner with and promote your business — and for a more reasonable fee.
8. Focus on unique or compelling visuals
Successful social media hinges on visuals, whether photos or videos, so you'll want to prioritize quality above all else. The good news is almost anyone can take a pretty incredible photo or video using their smartphone, so this strategy doesn't have to be costly.
The type of visuals you highlight will vary based on the social media channel and the type of business you run, but, in general, the more compelling visuals you can post, the more success you'll find. To get a sense of what performs well, you can take a look at what some competitors are doing, as well as explore different hashtags and categories that relate to your business.
9. Run social-specific discounts or giveaways
Take a common promotional strategy, like implementing discounts or giveaways, and apply it to your social media channels. Instead of simply offering discounts through email, on your website or in your store, you can create campaigns that are only run on your social media channels.
With these specific promotions, you'll not only be encouraging potential customers to purchase from your business, but if they do, you'll also easily be able to identify how they found you — making it much easier to evaluate the success of your campaigns.
In addition to discounts or promotions, you can also run social giveaways and encourage participation and interaction amongst users to gather more buzz on your social media account.
10. Use social media paid advertising tools
Virtually every social media channel offers a paid ads platform that allows business owners to run targeted campaigns with money behind them. One of the biggest benefits of social media advertising, like advertising on Facebook, for example, are the tools Facebook provides that allow you to target specific audiences — such as people who have interacted with your business before, users in certain locations, with certain interests, etc.
The channel that will work best for social media ads for your business will largely depend on your audience and what your business does. For instance, if your audience skews older, you'd find much greater success advertising on a platform like Facebook than one like TikTok. Market research will help you determine which platforms most resonate with your customers.
Liz Froment, a freelance writer, contributed to this article.
A version of this article originally appeared on Fundera, a subsidiary of NerdWallet.