What Is Workers' Compensation?
Workers' compensation insurance protects your employees and your business when someone is injured on the job.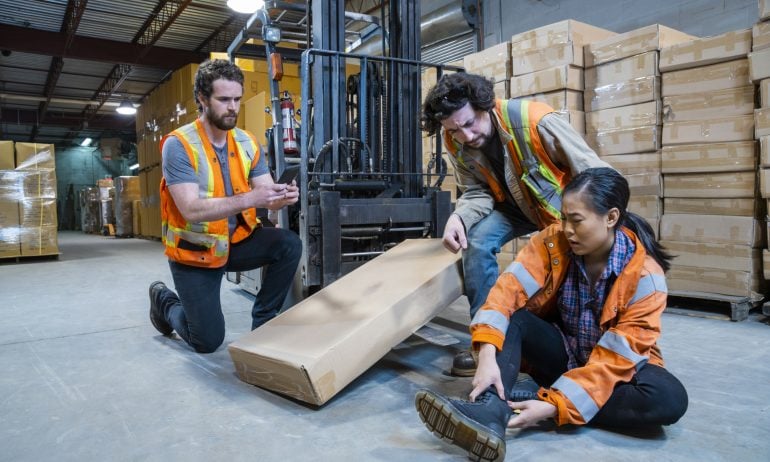 Many or all of the products featured here are from our partners who compensate us. This influences which products we write about and where and how the product appears on a page. However, this does not influence our evaluations. Our opinions are our own. Here is a list of our partners and here's how we make money.
Workers' compensation insurance is coverage that pays for employees' medical expenses and a portion of lost pay after work-related injuries and generally shields companies from employee lawsuits stemming from these injuries.
Most states require some form of workers' comp insurance for companies with employees, including small businesses, though there are exemptions.
How does workers' compensation work?
When an employer provides workers' compensation coverage, employees are guaranteed a certain amount of coverage for workplace injuries and restricted in when they can sue their employers.
Regardless of your policy, how workers' compensation works is similar in every state. When an employee is injured, they are required to report the injury to their employer within a certain timeframe. The employer then files a workers' compensation claim with its insurance carrier so benefits can be granted to the employee.
What does workers' compensation pay for?
An employee's individual benefits will depend on the type and severity of the injury, state requirements and the employer's policy. Check your policy and your state's requirements to see what's covered. Note that if your business operates in multiple states, your policy must meet the requirements for all states in which it operates.
Generally, a workers' compensation policy will cover the costs of an employee's medical care as well as related costs that the employee might incur while they are recovering. Covered costs usually include:
Immediate medical care: These include the costs for treatment of injuries, such as doctor visits, surgeries and medication, and might also include medical equipment like wheelchairs.

Rehabilitation: For an extensive recovery period, benefits often cover physical and other therapies. If an employee is unable to return to work due to long-term effects of their injuries, some workers' comp policies will pay for vocational rehabilitation to train the employee for a new career.

Disability and lost wages: This benefit partially replaces an employee's lost wages if they are unable to work. This can be paid out for partial or total disability as well as temporary and permanent disability and is separate from Social Security disability benefits.

Survivor benefits: If an employee dies because of a work-related injury, workers' comp provides the employee's family with financial support to compensate for their lost income and generally covers some funeral expenses.
If your business provides services in multiple states, your policy must meet the requirements for all states in which it operates.
What isn't covered by workers' compensation insurance?
There are standard situations in which workers' comp won't pay for an employee's medical expenses. A few examples of these situations include when an employee is:
Under the influence of alcohol or illegal drugs at the time of the injury.

On the premises while voluntarily participating in a wellness program or recreational activity.

Eating food that they have prepared for their personal meal.

Commuting to or from the work site to their personal residence or for personal reasons.
Who needs workers' compensation insurance?
Some businesses that have no employees outside of the owners might qualify for an exemption.
Even if you qualify for an exemption or your state doesn't require workers' compensation insurance, you still might want this coverage. Without a workers' comp insurance policy, your company could be sued by an injured employee.
Further, most personal health insurance plans have exclusions when it comes to work-related injuries.
If other companies engage your business as a contractor, they might require you to have workers' compensation insurance so you can't sue them if you or your employees are hurt while working for them. Workers' comp will also protect your business if you hire subcontractors and they're hurt while working for you.
How much does workers' compensation insurance cost?
In 2018, workers' comp premiums ranged from 70 cents to $2.25 per month per $100 of payroll, according to the National Academy of Social Insurance.
But how much workers' comp costs is determined by multiple factors, including the type of work your employees do, business location, number of employees and history of claims.
Like other types of business insurance, employers that purchase workers' comp insurance policies and pay monthly or annual premiums. Most major insurance carriers offer workers' comp coverage, but in certain states, you'll purchase coverage from a state entity rather than a private company.
Workers' compensation, which covers on-the-job injuries, is not the same as disability insurance, which pays for disabilities that can occur outside of work.
How do I get workers' compensation coverage?
Workers' comp is a common policy available through most major insurance providers. You'll need to submit information about your business and employees to ensure you qualify for your requested coverage, and the type of coverage you'll be required to have is determined by the states in which you do business.
In certain states, you'll need to buy coverage directly from the state office of workers' compensation. In Ohio, for example, business owners submit an application and security deposit to the state Bureau of Workers' Compensation. The office reviews their application and issues a policy number.
If you work in a state that allows your business to purchase workers' comp insurance, you'll need to understand your state's requirements and research providers to find the best workers' compensation insurance for your business.
Frequently asked questions
Am I required to have workers' comp?
Does workers' comp cover all employee injuries?
Is workers' comp the same as business liability insurance?
What happens if I don't have workers' comp?