How to Get a Business License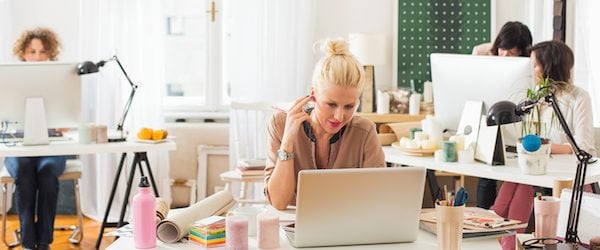 Many or all of the products featured here are from our partners who compensate us. This may influence which products we write about and where and how the product appears on a page. However, this does not influence our evaluations. Our opinions are our own. Here is a list of our partners and here's how we make money.
When you're running a small business, you need to make sure every "i" is dotted and every "t" is crossed. This is especially true when it comes to getting the appropriate licenses and permits to run your business legally.
We've outlined broad guidelines on how to get those licenses and permits, but it's important to note that the process is highly local.
How to get a business license
1. Find out if you need a federal and/or state license
Getting a business license or permit means you've received approval from government entities to run your business. Based on the type of business and industry, you may need to register with federal, state or local government agencies. (Often it will be a combination of the three. More on that later.)
Each industry in each state is different, but you may need to renew your license every one or two years.
Here's a breakdown of federal and state licenses:
Federal: Certain industries monitored by the government require a federal license. While some are fairly obvious — firearms, aviation, nuclear energy — it's worth reviewing this list to make sure that your business doesn't wade into murky territory, like driving oversized vehicles or working with wildlife. You'll also need one if your business will be operating across state lines.
State: Licenses and permits on the state level are much more common.
For many states, a sales tax permit is a commonly referred to as a business license, says Cliff Ennico, author of "Small Business Survival Guide." He recommends doing an internet search for your state and "department of revenue." Once on your state agency's website, you can look for a section with forms or search for "business registration."
Restaurants, for instance, need multiple state and local licenses pertaining to food safety, occupancy and even the placement of waste bins.
"Here's my rule of thumb," Ennico says. "If you are engaged in an activity with the potential to hurt someone if it's not done right, you probably require a license."
2. Go to the appropriate agency
Federal: If your industry requires a federal license, register with the appropriate agencies. For instance, if your business deals with radio or broadcasting, you'll need a license from the Federal Communications Commission.
State: Most states have a business licensing center that can help you determine which agencies you'll need to register with. To find it, search your state name and "business licensing center" on a web browser. The Small Business Administration also has a list of links to state business license offices. The site can direct you toward next steps and online applications and help you determine whether you'll need to visit an office in person.
"There's a lot of confusion about this," Ennico says. "In some states, you have to have a license to engage in specific types of businesses." You'll have to get these from specific government agencies, like the health department or the department of labor.
Ennico also recommends consulting with a business lawyer to make sure your business doesn't need to be registered with multiple agencies. Food trucks, for example will likely require a license from the department of motor vehicles and the health department.
Confused? A quick call to someone in one of your state agencies can help you understand your requirements. "These are nice people," he says.
Want to start a business?
NerdWallet has rounded up some of our best information on starting a business, including structuring and naming your company, creating a solid plan and much more. We'll help you do your homework and get started on the right foot.