It took one Kickstarter campaign, four loans, contributions from friends and a recent $1.5 million equity deal to get Hip Chick Farms to where it is today.
Not to mention a lot of chicken.
The Sebastopol, California-based business sells all-natural frozen poultry products — chicken fingers, nuggets, meatballs and wings — made with humanely raised birds from Pitman Farms in Sanger, California. Started in 2012, the products are now available in more than 450 stores, including Whole Foods Market locations in five regions. The company is growing quickly, planning to add around 800 new grocery locations in the next few months.
But the business' success hasn't come without challenges. It has grown so rapidly that it's tough for owners Serafina Palandech and Jennifer Johnson to produce enough to meet demand. Like many small businesses, they struggle with cash flow: having enough money to pay for production upfront until they later get paid by their buyers. That's why they've needed so much outside financing.
But it hasn't all come from the outside. Palandech and Johnson, who married in 2009, have made personal sacrifices in the name of the business. They don't pay themselves a salary. They have a second mortgage on their home. Until this year, their office was their living room. Palandech often works with their 4-year-old daughter, Rubyrose, on her hip. Setting an example for their daughter is part of the reason they started the business in the first place.
"It was all about living our beliefs around sustainable food systems," Palandech tells NerdWallet. "We want our daughter to understand the connection between food and agriculture."
When it comes to the business, Palandech rules the roost. She works for Hip Chick Farms full time, managing the company's five employees, and handling sales and marketing. The recipes and the family's income come from Johnson, a private chef for billionaire Gordon Getty and his wife, Ann. Johnson previously worked at Chez Panisse, an upscale restaurant in Berkeley, California, founded by chef Alice Waters, an early proponent of local cooking. Johnson has applied that experience to Hip Chick Farms, creating recipes that taste good to kids and are easy for parents, but also use high-quality, healthy ingredients.
Hatching the business
In March 2012, Hip Chick Farms ran a Kickstarter campaign and raised $25,308 for commercial kitchen equipment. Palandech also spent much of 2012 writing a business plan, making financial projections and finding co-packers, or companies to manufacture and package the products. Unfamiliar with entrepreneurship, she took a class at the Napa-Sonoma Small Business Development Center called "From Kitchen to Market" to learn about business planning, food production, distribution and marketing. She also worked one-on-one with the class's instructor and SBDC business consultant, Anni Minuzzo, for help pricing the products.
"The critical thing for Serafina was just understanding the importance of building in enough profit," Minuzzo tells NerdWallet. Minuzzo explains that for companies to be successful in food distribution, they need to make sure their products are priced low enough to compete with other wholesalers, but high enough to make money.
Determined to build a national brand, Palandech began pitching the products to Whole Foods Market almost immediately. Brands have to pitch their items to regional buyers and meet the grocer's quality standards, which mandate that the foods have no artificial ingredients or preservatives, and that meat is raised humanely and without hormones.
Finding funding
Whole Foods Market approved the products in August 2012, and the poultry launched in stores the following January. That gave Hip Chick Farms just five months to ramp up production and find money to pay for it.
Palandech took out a $150,000 U.S. Small Business Administration loan in December 2012 from OBDC Small Business Finance, a community lender based in Oakland, California. The group provides loans to small businesses that can't get traditional bank loans. Johnson's private catering income helped Hip Chick Farms get approved for the loan, says the lender's San Francisco market manager, Darius Mahajer.
"A secondary source of repayment is something we look for in a startup investment so they can cover household expenses, business expenses and loan repayments," Mahajer tells NerdWallet.
In April 2013, Hip Chick Farms got a $25,000 loan to pay for more chicken from Working Solutions, a San Francisco Bay Area microlender that offers up to $50,000 to businesses that can't get bank loans. It's common for companies like Hip Chick Farms, that have high levels of factory production, to need large amounts of cash, says Working Solutions' Business Development Officer Laurie O'Hara.
"As they have more demand, they have an increased need for capital in order to manufacture their product," O'Hara says.
Help from Whole Foods
In summer 2014, Hip Chick Farms got another $30,000 from Working Solutions and a $35,000 loan from Whole Foods Market through the grocer's Local Producer Loan Program. The program offers Whole Foods Market vendors up to $100,000 with 5% to 9% interest rates, and also acts as an informal accelerator by providing mentorship, retail expertise and brokerage, says Harvindar Singh, regional local forager at Whole Foods Market.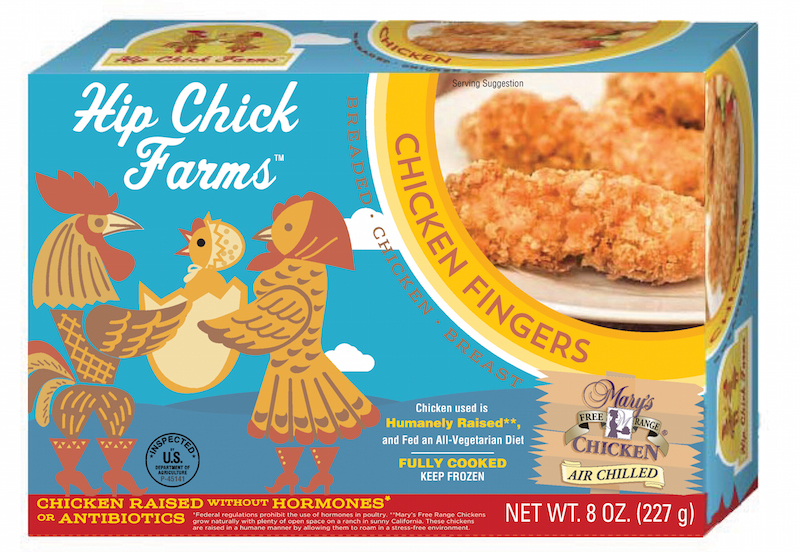 "Sometimes we will help them with the cost of goods, with sourcing ingredients at competitive prices," Singh says. "It's more than giving you money. We really do charter your growth within Whole Foods Market."
This loan funded a redesign of Hip Chick Farms' packaging, replacing awkward tubs with stackable, brightly colored cardboard boxes. After the packaging relaunch, sales of Hip Chick Farms' products in Whole Foods Market increased significantly.
"As part of the loan program, we work with recipients to place their items prominently in the store and put their items on special," says Dan Neuerberg, Whole Foods Market's meat coordinator for Northern California.
Although Hip Chick Farms had raised more than $265,000 through the four loans and the Kickstarter donations, it wasn't enough. Palandech spent months looking for investors to raise more capital, and recently signed a $1.5 million deal with an equity group, due to close in June 2015.
Advice for small business owners
For all of her successes, Palandech has had plenty of failures, too. Like many small businesses, she's applied for bank loans and has been rejected. Eager for capital and more importantly, exposure, she applied for the ABC reality show "Shark Tank" and got denied — twice. Finally, she applied for the Food Network's "Food Fortunes" — a similar reality show focused on food entrepreneurship — and made it. Their episode aired in April 2015.
Palandech's advice for budding entrepreneurs is to reach out to more-seasoned business owners for mentorship. She's cold-called companies including Three Twins Ice Cream, Cowgirl Creamery and Amy's Kitchen to ask for advice.
Her second piece of advice is simple: "Just don't take no for an answer," she says. "There's always a way."
For more information about how to start and run a business, visit NerdWallet's Small Business Guide. For free, personalized answers to questions about starting and financing your business, visit the Small Business section of NerdWallet's Ask an Advisor page.
Teddy Nykiel is a staff writer covering personal finance for NerdWallet. Follow her on Twitter @teddynykiel and on Google+. Contact her at [email protected].
---
Images via Hip Chick Farms.