Everyone's talking about the Federal Reserve's short-term rate hike, the first since 2006, and its impact on home buying. But mortgage rates have ticked only a little higher in the past week.
Freddie Mac's just-released weekly survey of lenders shows the following average rates for the most popular home loan terms:
30-year fixed-rate mortgages averaged 3.97% with an average 0.6 point for the week ending Dec. 17, 2015.  A year ago, the rate averaged 3.8%.
15-year fixed rates averaged 3.22% with an average 0.5 point. The same term priced at 3.09% a year ago.
5-year adjustable-rate mortgages priced at 3.03% with an average 0.4 point. Last year at this time, the same ARM averaged 2.95%.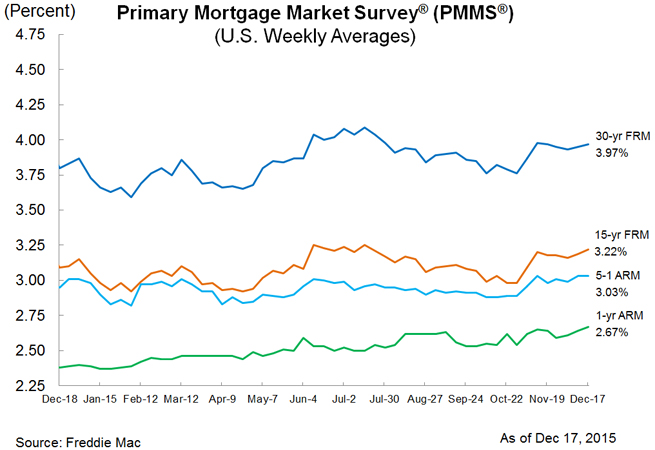 "We take the Fed at its word that monetary tightening in 2016 will be gradual, and we expect only a modest increase in longer-term rates. Mortgage rates will tick higher but remain at historically low levels in 2016," Sean Becketti, chief economist for Freddie Mac, said in a release. "Home sales will remain strong, but refinance activity should cool somewhat. Novel policy approaches such as quantitative easing injected significant liquidity in the economy over the past seven years. As a result, the Fed is forced to employ some new tools, such as reverse repos, as it tightens monetary policy. We are likely to see some short-term volatility in fixed-income markets as market participants adjust to these new tools."
Mortgage applications are also down slightly, decreasing 1.1% on a seasonally adjusted basis from one week earlier, according to data from the Mortgage Bankers Association's weekly report.
One area that's seeing an uptick in activity is refinancing, which increased to 60.7% of total mortgage applications from 58.7% the previous week, according to the MBA's survey. The adjustable-rate mortgage share of activity decreased to 6% of total applications.
Housing data shows promising signs for 2016
The Fed's move to hike short-term interest rates by 0.25% doesn't mean that long-term rates — like mortgage interest rates — will immediately rise. But they will eventually, and economic and housing data suggest that the market is ready for it.
New construction, for example, is showing promising signs going into 2016. Nationwide housing starts rose 10.5%, or 1.173 million units, in November, according to data released Thursday by the U.S. Department of Housing and Urban Development and the Commerce Department. Single-family production increased 7.6% to a seasonally adjusted annual rate of 768,000 units, its highest reading since January 2008.
"Single-family production this month has reached levels last seen before the Great Recession, an indicator that we are making gradual headway back to a normal housing market," David Crowe, chief economist for the National Association of Home Builders, said in a release. "As we close out the year, we can see that the housing sector has made headway in 2015, and we expect the recovery to continue at a modest pace."
The Fed's rate hike and the gradual rise in mortgage rates will likely bring a gradual return to stabilized home prices, especially in hot markets such as Denver, Dallas, and Raleigh, North Carolina.
Another promising sign is the fact that young renters still want to own a home, according to the National Association of Realtors' new quarterly household survey. What's more, an increasing share of the households surveyed believe their personal financial situation will improve in the months ahead, the survey found.
The optimism is tempered slightly by the fact that Americans are still concerned about the country's economic recovery. Only half of the survey's respondents believe the economy is currently improving, and 45% think the economy is actually in a recession.
More from NerdWallet:
Deborah Kearns is a staff writer at NerdWallet, a personal finance website. Email: [email protected] Twitter: @debbie_kearns
---
Image via iStock.