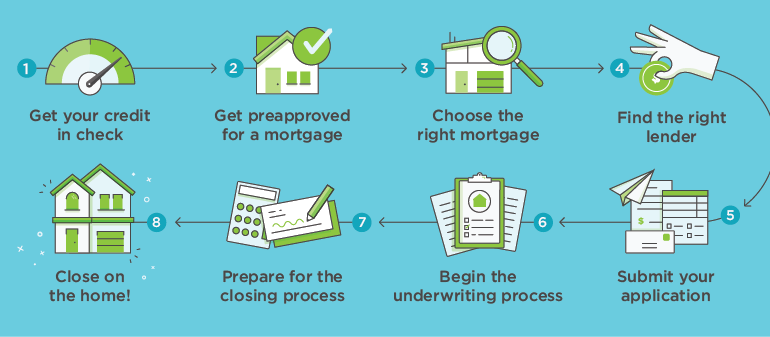 Many or all of the products featured here are from our partners who compensate us. This may influence which products we write about and where and how the product appears on a page. However, this does not influence our evaluations. Our opinions are our own.
With all the people, paperwork and time-intensive steps involved, getting a mortgage can seem a little like running an obstacle course. But if you take the time to understand the homebuying process and come to it with a strong sense of your own finances, you can hurdle, balance and sprint your way around the course without a scratch.
Here's how to get a mortgage, step by step.
1. Get your credit in check
Before you set off to get a mortgage, make sure you're financially prepared for homeownership. Do you have a lot of debt? Do you have plenty saved for a down payment? What about closing costs?
Additionally, know that lenders look closely at your credit score when determining your eligibility for a mortgage loan. Check your credit score and do anything you can to improve it, such as lowering outstanding debt, disputing any errors and holding off on applying for any other loans or credit cards. Once you've thoroughly assessed your finances and gotten your credit in tiptop shape, you're ready to research and choose the best mortgage type for you.
Know where your credit stands
Check your credit score for free. Your info updates every week to help you track your progress.
2. Get preapproved for a mortgage
After you've checked your credit, getting preapproved for a mortgage will tell you how much the lender is comfortable letting you borrow for a home. Once you have your price range, you're ready to look at houses. Getting preapproved also gives you a leg up when you start looking, because it shows sellers that you can make a solid offer up to a specific price.
You don't have to stick with the same lender once you're ready to apply for the loan. But if you do, the process will go a little quicker since you've started the ball rolling with paperwork and a credit check.
3. Choose the right mortgage
The most important factors in determining which type of mortgage is best for you include:
Conventional or government-backed loan: Government-backed loans, such as Federal Housing Administration loans, can make it easier for you to buy a home if your credit score isn't great or if you don't have money for a big down payment. Conventional loans come from banks, credit unions or online lenders, and usually require larger down payments than government-backed loans. If saving up a down payment is difficult, look for assistance programs in your state.

Mortgage term: Do you want a 10-year, 20-year or 30-year mortgage? With a 30-year term, your monthly payments probably will be smaller, but you'll pay more interest over the life of the loan.

Know your annual percentage rate, or APR. This likely will be higher than the quoted interest rate because the APR includes all the associated costs such as origination fees and points. We'll get into points later.
Just like you want to get the home that best suits your needs, you'll want to find a lender that best suits you. If you shopped around before getting preapproved, you're already one step ahead.
Consider using a broker to help you find a lender

Talk to your real estate agent

Ask friends and family for referrals

Compare at least three lenders. Ask about fees and down payment requirements.

Check current mortgage rates to get the best deal
5. Submit your application
If you're using the same lender that preapproved you, you'll have to submit your most recent financial information. If you're going with a new lender, here's the information you'll need:
W-2 forms from the past two years

Pay stubs from the past 30 days

Federal tax returns from the past two years

Proof of other sources of income

Details on long-term debts such as car or student loans

ID and Social Security number
There may be other kinds of documentation required, depending on the type of mortgage you're getting.
If you're self-employed, you'll have to provide extra proof of your financial stability, including having a higher credit score or large cash reserves, and possibly providing business tax returns.
Within three days of receiving your application, your lender will give you a loan estimate, which includes:
How much the loan will cost

Associated fees and closing costs

Interest rate, and possibly information on obtaining a rate lock
What's next? Keep an eye on mortgage interest rates. If they start going up, you may want to lock your rate quickly. If they go down, consider waiting.
6. Begin the underwriting process
This part can be the most nerve-wracking, even if you've been preapproved. It's more waiting, this time to get officially approved for the loan.
During the underwriting process, the lender determines whether you're eligible for the loan. Factors evaluated include:
The lender then orders a property appraisal and credit report. An appraisal tells the lender the market value of your home, which it matches against the loan amount to see if what you're asking for makes sense.
Meanwhile, you will schedule a home inspection, which will look for any defects in the home. Then you may negotiate repairs or a lower sale price before closing.
During the underwriting process, you'll want to avoid making changes such as switching jobs or taking out another line of credit. Also avoid large purchases that increase your debt. Increasing your debt can lower your credit score, which could make the loan more costly.
7. Prepare for the closing process
Finally, your loan is approved. But you've got a few more steps to take before the process is complete.
Decide if you should get discount points. Do you want to pay an upfront fee — known as points — to lower your interest rate? This could be a good option if you plan on staying in your home for at least seven years.

Purchase homeowners insurance. Your lender will require you to do this. Shop around for the best policies. If you don't have insurance by closing, your lender might choose a more expensive policy for you.

Buy a lender's title policy. And while it's not required, it's wise to also purchase owner's title insurance. Both policies protect the lender and you in case there are problems with the title to the property down the road.

Do a final walk-through of the home. Make sure nothing has changed — and the agreed-upon repairs have been made — since the home inspection.

Receive a closing disclosure. You'll get this three days before the scheduled closing date, which lists all the closing costs.

Get a cashier's check. This will be from your bank to cover closing costs.
You're almost done! Here's how the last step usually unfolds.
New mortgage closing rules set up by the Consumer Financial Protection Bureau might extend the closing process with the intention of simplifying all the paperwork before closing and avoiding any surprises.
Typically, you'll pay between 2% and 5% of the home's purchase price in closing costs. You can estimate your expenses using a closing costs calculator.
You'll also probably have to pay for private mortgage insurance if your down payment is less than 20% of the home's purchase price. This monthly expense is typical on low-down-payment mortgages to protect lenders in case the borrower fails to repay their loan. Once you get up to 20% equity in the home, you can take steps to cancel your PMI.
If you start having second thoughts at this point — maybe it's all much more expensive than you thought it would be — you can still walk away. You might lose your deposit — also called earnest money — if you decide not to close. Keep in mind that some fees are negotiable. It's also not unusual for sellers and lenders to pay some of the closing costs.
State laws will determine who's present at closing. These people may include:
A title company representative

The seller and the seller's agent
Don't be afraid to ask questions. Getting a mortgage comes with a lot of paperwork. Take the time to understand it all. Know what you're signing and what you're paying.
And that's it — you made it through the mortgage obstacle course, and the loan is yours. It's finally time to move into your new home!
We want to hear from you and encourage a lively discussion among our users. Please help us keep our site clean and safe by following our
posting guidelines
, and avoid disclosing personal or sensitive information such as bank account or phone numbers. Any comments posted under NerdWallet's official account are not reviewed or endorsed by representatives of financial institutions affiliated with the reviewed products, unless explicitly stated otherwise.