Mortgage Market Roundup: Interest Rates (8/13/15)
Mortgage rates crept higher but remained near 4% as mixed economic data and a troubled economy in China pressured Treasury rates.
"The jobs report for July showed that the economy added 215,000 jobs, in line with expectations. Wage growth remains modest at 2.1% compared to the same time last year, and another solid if not stellar employment report leaves a potential Fed rate hike on the table for September. However, this year's theme of overseas economic turbulence continues with the focus shifting east to China," Sean Becketti, chief economist for Freddie Mac, said in a release. "Headed into the fall, we'll likely see continued interest rate tension, with dollar appreciation weighing against possible Fed rate hikes leaving the rate outlook clouded."
[Read More: Compare Mortgage Rates]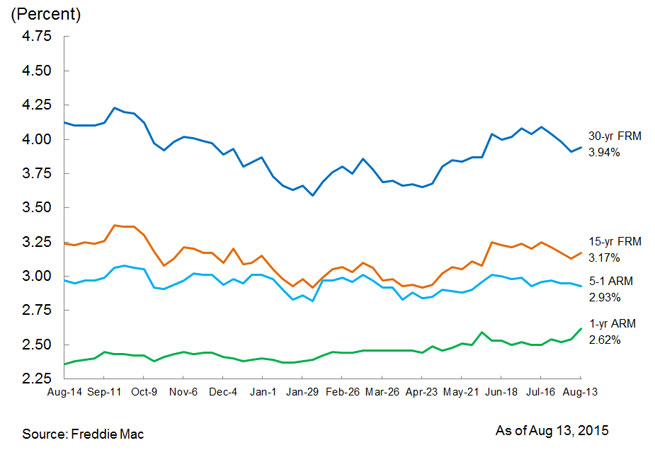 Home loan lending standards continue to loosen
Mortgage applications increased incrementally, up 0.1% from the previous week, according to the Mortgage Bankers Association. However, refinance activity was at its highest level since May of this year, up 3% for the week ending Aug. 7.
The MBA says lenders are continuing to loosen credit standards, as reflected in its Mortgage Credit Availability Index. Benchmarked to a baseline of 100, the index increased 2.9% to 125.5 in July. A higher index indicates looser lending standards while a decline would signal tighter lending restrictions.
Mike Fratantoni, MBA's chief economist, said greater credit availability was driven mostly by higher-balance loan programs (called "jumbo" loans), increased demand for home equity financing and by low down payment loan programs.
Affording a home is getting tougher in most cities
Home prices were higher in 93% of measured metropolitan markets during the second quarter — with nearly one in five cities notching double-digit increases.
The National Association of Realtors says the median existing single-family home price nationally was up 8.2% from the second quarter of 2014, to $229,400.
"With home prices and rents continuing to rise and wages showing only modest growth, declining affordability remains a hurdle for renters considering homeownership — especially in higher-priced markets," Lawrence Yun, NAR chief economist, said in a statement.
Yun said increased home values are benefiting existing owners by "increasing their household wealth," yet the gains are going to fewer households, fueling a growing inequality in America.
More from NerdWallet:
Hal Bundrick is a staff writer at NerdWallet, a personal finance website. Email: [email protected]. Twitter: @halmbundrick
---
Image via iStock.