Thirty-year fixed rates moved higher today, 15-year fixed rates slipped slightly, while 5/1 ARM rates ticked up a notch, according to a NerdWallet survey of current mortgage rates published by national lenders Monday morning.
Friday's U.S. jobs report delivered solid employment growth but disappointing wages, and as a result lenders were often repricing their loans in opposite directions today. Mortgage rates are continuing to bounce up and down a narrow path.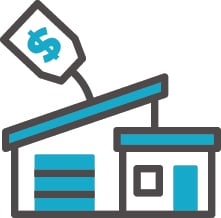 Housing affordability suffers as mortgage rates rise
The recent rise in mortgage rates is making it harder to buy a home. In fact, home affordability is the worst it's been since 2010, according to data analytics company Black Knight Financial Services.
In its monthly mortgage report, Black Knight said making the principal and interest payments on a median-priced home requires more than 22% of a home buyer's median income. Rising unaffordability can be blamed on higher interest rates and continued home price appreciation, the research firm said.
>> MORE: How much home can you afford?
"In total, the monthly P&I payment required to purchase the median-priced home increased 10% in Q4 2016 alone," the Black Knight report said. "Nationally, homes remain more affordable than pre-bubble 'norms,' but it's clear that the market is now experiencing the most pressure — from an affordability perspective — since the housing recovery began."
The report also reveals that in recent years nearly 300,000 borrowers brought their mortgage payments up to date in February and March — likely by using at least a portion of their income tax refunds.

Homeowners looking to lower their mortgage rate can shop for refinance lenders here.
NerdWallet daily mortgage rates are an average of the published annual percentage rate with the lowest points for each loan term offered by a sampling of major national lenders. APR quotes reflect an interest rate plus points, fees and other expenses, providing the most accurate view of the costs a borrower might pay.
More from NerdWallet
Calculate your mortgage payment
Compare mortgage refinance rates
Hal Bundrick is a staff writer at NerdWallet, a personal finance website. Email: [email protected]. Twitter: @halmbundrick.