Thirty-year fixed mortgage rates were unchanged, while 15-year fixed and 5/1 ARM rates were lower Friday, according to a NerdWallet survey of mortgage rates published by national lenders this morning.
Rates on 30-year mortgages have held firm for three days, but 15-year fixed loans took a solid turn lower today. Adjustable rate loans have also taken a break over the past couple of days from their steady climb.
---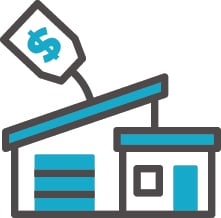 Homeownership rates still sinking, but millennials may launch turnaround
The national homeownership rate has declined for more than a decade, but a demographic powerhouse may be the catalyst to reverse that course — Gen Y. In an analysis released this week, Sean Becketti, chief economist for Freddie Mac, said the forecasts for homeownership rates to sink below 60% may be too pessimistic.
It's likely that millennials will soon marry, start families and buy homes at a faster pace than previous generations, Becketti said. And as America becomes a "majority minority" country, income and education gaps may narrow or be eliminated, feeding additional housing growth, he added.
"And as these types of potential homebuyers comprise a larger and larger share of the population, it will become increasingly expensive to overlook them. Profit-oriented financial institutions will be motivated to find better ways to serve them," Becketti concluded.
Homeowners looking to lower their mortgage rate can shop for refinance lenders here.
NerdWallet daily mortgage rates are an average of the published APR with the lowest points for each loan term offered by a sampling of major national lenders. Annual percentage rate quotes reflect an interest rate plus points, fees and other expenses, providing the most accurate view of the costs a borrower might pay.
More from NerdWallet
Compare online mortgage refinance lenders
Compare mortgage refinance rates
Find a mortgage broker
Hal Bundrick is a staff writer at NerdWallet, a personal finance website. Email: [email protected]. Twitter: @halmbundrick.