Thirty-year and 15-year fixed mortgage rates went down a little more on Monday, while 5/1 ARM loan rates remained the same, according to a NerdWallet survey of mortgage rates published by national lenders this morning.
---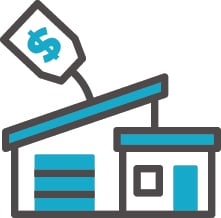 Home values expected to continue rising, according to Zillow report
High demand from buyers in a low-inventory market is contributing to increasing home values, according to a report released by Zillow last week. But even with 6% fewer homes for sale this year, last month saw home sales increase by a modest 0.6% compared to the previous September.
"For the 50th month in a row, the median U.S. home value rose year-over-year in September, to a Zillow Home Value Index of $189,400 — up 0.5% from August and 5.5% from a year ago," Svenja Gudell, Zillow's chief economist, said in a news release. "The 5.5% annual rate of appreciation recorded in September represents notable acceleration from prior months. Between December 2015 and August, annual home value growth never fell below 5% nor exceeded 5.3% in any given month. Annual home value growth in September was the fastest recorded since July 2014."
Rents also rose over the past year by 1.5% to a Zillow Rent Index of $1,403. But the pace is slowing. In September 2015, median rents were up by 5.3% from the previous year. The slowdown in rent increases this year and a small 1.7% bump through next September could help more hopeful homebuyers enter the market.
Zillow also expects the pace of rising home values to slow slightly over the next year. It forecasts another 2.9% bump through September 2017 to a Zillow Home Value Index of $194,864.
"Increasingly strong demand has been contributing to dwindling inventory across the nation," Gudell said. "While building more homes would certainly be a step in the right direction, it's healthy demand for for-sale homes that has been driving the market — another sign that the housing market is recovering nicely."
Homeowners looking to lower their mortgage rate can shop for refinance lenders here.
NerdWallet daily mortgage rates are an average of the published APR with the lowest points for each loan term offered by a sampling of major national lenders. Annual percentage rate quotes reflect an interest rate plus points, fees and other expenses, providing the most accurate view of the costs a borrower might pay.
More from NerdWallet
Compare online mortgage refinance lenders
Compare mortgage refinance rates
Find a mortgage broker
Michael Burge is a staff writer at NerdWallet, a personal finance website. Email: [email protected].