Thirty-year loan rates remain unchanged while 15-year and 5/1 ARM loans saw slight bumps, according to a NerdWallet survey of mortgage rates published by national lenders Monday.
---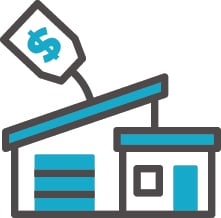 Distressed sales dip to lowest level since recession
It's been a long, rocky road for housing but the good news is that foreclosures and short sales are still on the decline. Distressed sales, which made up 7.8% of all home sales nationally in June, dropped by 2.2% year over year and 0.8% from May levels, according to CoreLogic.
Real estate owned sales (REOs) accounted for 4.9% of the distressed sales and 2.9% of total home sales in June. This is a notable drop of 1.9% from June 2015, and is the lowest for any month since September 2007 when the housing downturn began.
That's a far cry from January 2009 when foreclosures and short sales accounted for 32.4% of home sales. REOs made up 27.9% of that share. In all, more than 9.3 million homeowners lost a home through a distressed property sale from 2006 through 2014, according to the National Association of Realtors.
There are still pockets of the country where homeowners are grappling with losing their homes. Maryland, for instance, saw the largest share of distressed sales at 19.4%. Close behind are Connecticut (18.4%), Michigan (17.6%), Illinois (15.8%) and New Jersey (15.3%).
Homeowners looking to lower their mortgage rate can shop for refinance lenders here.
NerdWallet daily mortgage rates are an average of the published APR with the lowest points for each loan term offered by a sampling of major national lenders. Annual percentage rate quotes reflect an interest rate plus points, fees and other expenses, providing the most accurate view of the costs a borrower might pay.
More from NerdWallet
How to refinance your mortgage
Compare mortgage refinance rates
Find a mortgage broker
Deborah Kearns is a staff writer at NerdWallet, a personal finance website. Email: [email protected]. Twitter: @debbie_kearns.