Thirty-year fixed, 15-year fixed and 5/1 ARM rates all are slightly lower Monday, according to a NerdWallet survey of mortgage rates published by national lenders this morning.
Mortgage rates are still near the elevated levels previously reached in June, according to the NerdWallet Mortgage Rate Index. Thirty-year home loan rates hit all-time lows in July.
---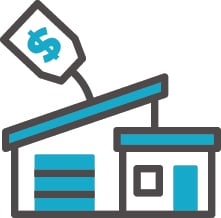 Recovering economy likely to spur higher mortgage rates
With the U.S. economy expanding at a 2.9% annualized rate in the third quarter, beating forecasts, expectations of rising interest rates are growing. Steve Hovland, director of research at HomeUnion, said a rate hike by the Federal Reserve in December is "highly probable." The increase in short-term rates would be the first since December 2015.
"A resumption of normalizing monetary policy after a year-long hiatus is highly probable. Therefore, the era of record-low mortgage rates will begin to come to a close in the coming months," Hovland said in a research note released Friday.
The bond market is already giving signals of such a move, as 10-year Treasury rates recently climbed to their highest levels in five months, "putting upward pressure on mortgage rates," he added.
"For both single-family rental investors and first-time buyers, higher interest rates will further tighten inventory across the nation," Hovland said. The recent increase in the homeownership rate will be "a blip on a downward trend that extends into 2017."
Homeowners looking to lower their mortgage rate can shop for refinance lenders here.
NerdWallet daily mortgage rates are an average of the published APR with the lowest points for each loan term offered by a sampling of major national lenders. Annual percentage rate quotes reflect an interest rate plus points, fees and other expenses, providing the most accurate view of the costs a borrower might pay.
More from NerdWallet
Calculate your mortgage payment
Compare mortgage rates
How much home can you afford?
Hal Bundrick is a staff writer at NerdWallet, a personal finance website. Email: [email protected]. Twitter: @halmbundrick