As we enter Week 2 after Donald Trump's election win, mortgage rates are climbing higher yet again. Thirty-year and 15-year fixed rates both jumped by 11 basis points, while 5/1 ARM loans increased by a smaller margin on Monday, according to a NerdWallet survey of mortgage rates published by national lenders this morning.
It's unclear what President-elect Trump and his forming administration will (or won't) do about key finance and housing policy issues when he takes power in January.
---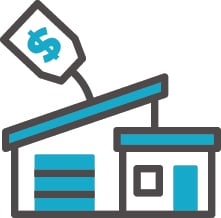 Refinances to slow; expect to see more ARMs
As we enter the holiday season, when homebuying activity slows to a crawl in most places, rising mortgage rates are likely to bring refinances to a trickle, says Michael Fratantoni, chief economist and senior vice president of research and industry technology with the Mortgage Bankers Association.
In an interview with NerdWallet Monday, Fratantoni says that 10-year Treasury yields are up 40 basis points from before the election. The market hasn't seen this kind of movement since the "taper tantrum" of mid-2013, when U.S. Treasury yields surged after the Fed gradually reduced the amount of money it was pumping into the economy following the Great Recession.
For refinance activity, this means a rapid drop in applications, because most refinance activity is directly tied to mortgage rates, Fratantoni says. The real test for the purchase market, which is more dependent upon buyers' situations rather than rates, is where mortgage rates land in the spring, when homebuying activity typically picks up, he adds.
"It's too early to tell if rates will keep going up, but we'll probably be north of 4%," Fratantoni says. "We're all watching and waiting, and we're curious to see how [Trump's] policies get fleshed out."
One thing's for sure: As rates rise, borrowers will likely see more offers for adjustable-rate mortgages, Fratantoni says. Historically, when mortgage rates go up, there are more applications for ARMs, which offer a low rate for an initial period of a few years before resetting to a variable rate for the remainder of the loan term, Fratantoni says.
Currently, ARMs account for about 5% of mortgage applications, but in 2005-2006 (just prior to the housing crisis), ARMs reached a high 35% share of overall mortgage applications, Fratantoni says.
"Given all of the regulatory changes we've had, I don't think we'll be back at that level again," Fratantoni says.
Homeowners looking to lower their mortgage rate can shop for refinance lenders here.
NerdWallet daily mortgage rates are an average of the published APR with the lowest points for each loan term offered by a sampling of major national lenders. Annual percentage rate quotes reflect an interest rate plus points, fees and other expenses, providing the most accurate view of the costs a borrower might pay.
More from NerdWallet
Calculate your mortgage payment
Compare mortgage rates
How much home can you afford?
Deborah Kearns is a staff writer at NerdWallet, a personal finance website. Email: [email protected]. Twitter: @debbie_kearns.