Thirty-year fixed and 15-year fixed mortgage rates were higher, while 5/1 ARM rates dropped fractionally Tuesday, according to a NerdWallet survey of mortgage rates published by national lenders this morning.
---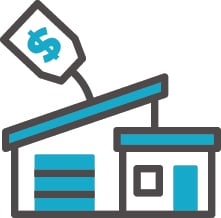 First-time homebuyers and single women gain higher shares of the market
First-time homebuyers are finally gaining a foothold into the housing market. After three years of declines, the share of sales to first-time homebuyers rose to 35%, according to an annual survey fielded by the National Association of Realtors. It's the highest share of sales to entry-level buyers since 2013.
"Even with the affordability challenges many buyers face, the allure of homeownership is not lost among the younger generation. Those under age 35 made up 61% of first-time buyer transactions," Lawrence Yun, NAR chief economist, said in a news release.
Though the positive uptick is a good sign for the housing industry, first-time homebuyers' share of the market is still below the historical average of 40% over the past 35 years of the survey.
Single women are also accounting for more home purchases, according to the NAR report, comprising 17% of buyers — their highest share of the market since 2011.
"Despite having a much lower income ($55,300) than single male buyers ($69,600), female buyers made up over double the amount of men (7%)," said Yun. "With job growth holding steady and credit conditions becoming somewhat less stringent than in past years, the willingness and opportunity to buy is becoming more feasible for many single women."
Homeowners looking to lower their mortgage rate can shop for refinance lenders here.
NerdWallet daily mortgage rates are an average of the published APR with the lowest points for each loan term offered by a sampling of major national lenders. Annual percentage rate quotes reflect an interest rate plus points, fees and other expenses, providing the most accurate view of the costs a borrower might pay.
More from NerdWallet
Calculate your mortgage payment
Compare mortgage rates
How much home can you afford?
Hal Bundrick is a staff writer at NerdWallet, a personal finance website. Email: [email protected]. Twitter: @halmbundrick