Mortgage rates just keep going lower. Thirty-year and 15-year fixed mortgage rates as well as 5/1 ARM rates saw notable dips, according to a NerdWallet survey of mortgage rates published by national lenders Tuesday.
---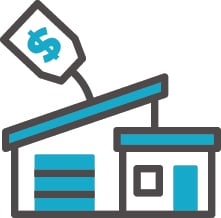 New home sales on the rise
What do you do when there's not enough existing starter homes for sale? New data suggests homebuyers are increasingly choosing new construction. Sales of new single-family houses in August 2016 rose year-over-year to 609,000 units, according to estimates released jointly by the Census Bureau and the Department of Housing and Urban Development.
"New home sales for August were almost 21% stronger than August of 2015, and on a year-to-date basis, sales of new single-family homes are 13.3% higher than this time last year," Robert Dietz, chief economist for the National Association of Home Builders, said in a news release. "The trend is rising for new home sales, and NAHB expects continued growth in the year ahead given tight new and existing home inventories."
The NAHB reported that there were only 56,000 completed, move-in ready new homes on the market as of August, which isn't enough to keep pace with the demand from buyers facing inventory shortages of affordable existing homes for sale in many metro markets.
Homeowners looking to lower their mortgage rate can shop for refinance lenders here.
NerdWallet daily mortgage rates are an average of the published APR with the lowest points for each loan term offered by a sampling of major national lenders. Annual percentage rate quotes reflect an interest rate plus points, fees and other expenses, providing the most accurate view of the costs a borrower might pay.
More from NerdWallet
Compare online mortgage refinance lenders
Compare mortgage refinance rates
Find a mortgage broker
Deborah Kearns is a staff writer at NerdWallet, a personal finance website. Email: [email protected]. Twitter: @debbie_kearns.