Thirty-year fixed, 15-year fixed and 5/1 ARM rates were all higher Wednesday, according to a NerdWallet survey of mortgage rates published by national lenders this morning.
Some lenders were aggressively repricing their loans while others fine-tuned; no lender was discounting today. This continues a rising mortgage rate trend that began at the end of September.
"On an optimistic note, when losing streaks get this long in rates markets, we're increasingly likely to see at least one day of relief in the near term future," Matthew Graham, COO of Mortgage News Daily, wrote in an analysis late Tuesday. "That said, it will take more than a day or two of strength to call the current trend into question."
---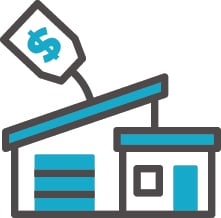 Rising mortgage rates cause loan applications to tumble
Rising home loan rates are causing would-be buyers and refinancers to put their plans on hold. Mortgage applications plummeted 6% from one week prior, according to the Mortgage Bankers Association.
"As incoming economic data reassured investors regarding U.S. growth, and financial markets returned to viewing a December Fed hike as increasingly likely, mortgage rates rose to their highest level in a month last week," Michael Fratantoni, chief economist of the MBA, told CNBC. "Total and refinance application volume dropped to their lowest levels since June as a result."
Refinance applications were hit especially hard, dropping 8% from the previous week. Purchase loan applications fell 3% but were still 27% higher than the same week one year ago.
Homeowners looking to lower their mortgage rate can shop for refinance lenders here.
NerdWallet daily mortgage rates are an average of the published APR with the lowest points for each loan term offered by a sampling of major national lenders. Annual percentage rate quotes reflect an interest rate plus points, fees and other expenses, providing the most accurate view of the costs a borrower might pay.
More from NerdWallet
Compare online mortgage refinance lenders
Compare mortgage refinance rates
Find a mortgage broker
Hal Bundrick is a staff writer at NerdWallet, a personal finance website. Email: [email protected]. Twitter: @halmbundrick