Mortgage Market Roundup: Interest Rates (10/8/15)
Lenders did brisk business as home loan applications rose 25% in the past week and cash-out refinancing grew at its fastest clip in five years. Continued low interest rates are fueling mortgage demand as Freddie Mac's weekly survey of lenders showed only small moves in the most popular loan terms:
30-year fixed-rate mortgages fell to 3.76% with an average 0.6 point for the week ending Oct. 8, 2015.  A year ago, the rate averaged 4.19%.
15-year fixed rates averaged 2.99% with an average 0.6 point. The same term priced at 3.36% a year ago.
5-year adjustable-rate mortgages priced at 2.88% with an average 0.4 point. Last year at this time, the same ARM averaged 3.06%.
"Calling the September jobs disappointing is an understatement. The sputtering U.S. economy added only 142,000 jobs. To make matters worse, there were downward revisions to the prior two months," Sean Becketti, chief economist for Freddie Mac, said in a release. "In response, Treasury yields dipped below 2%, triggering a 9 basis point tumble in the 30-year mortgage rate to 3.76%."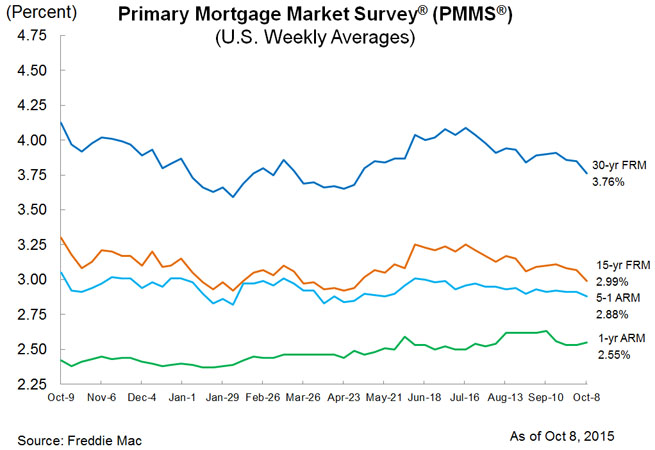 Conditions favor cash-out refinancing
Low mortgage rates and higher home values spurred a 68% increase in cash-out refinancing year over year, based on data compiled by Black Knight Financial Services through August.
"While this is the highest volume in cash-out refinances we've seen in five years, it's still nearly 80% below the peak in Q3 2005. Even so, it's clear that borrowers have been capitalizing on the increased equity available to them," Ben Graboske, Black Knight senior vice president, said in a release.
The company says total home equity is at its highest level since 2007, up nearly $1 trillion since last year. The average borrower has about $19,000 more home equity available than just one year ago and is tapping an average of $67,000 of the home's value through cash-out refis.
"What's really interesting, though, is that even after pulling out that equity, resulting average loan-to-values are at 68%, the lowest level we've seen in over 10 years," Graboske added.
By refinancing, borrowers are booking savings of an average $136 in principal and interest each month and cutting their interest rates by just over 1%, according to Black Knight data through the second quarter of this year.
And the mortgage loan momentum doesn't seem to be slowing just yet. Lenders saw a rush of activity in the past week, according to the Mortgage Bankers Association. Loan applications for the week ending Oct. 2, 2015, rose 25.5% over the previous week; refinance applications saw a similar increase, up 24%.
More from NerdWallet:
Hal Bundrick is a staff writer at NerdWallet, a personal finance website. Email: [email protected]. Twitter: @halmbundrick
---
Image via iStock.