Editorial Review
Better Mortgage Review 2018
Ideal for tech-savvy borrowers that prefer an online experience. Better Mortgage provides a seamless and easy-to-navigate application process. And best yet: Better charges no origination fee.
Better Mortgage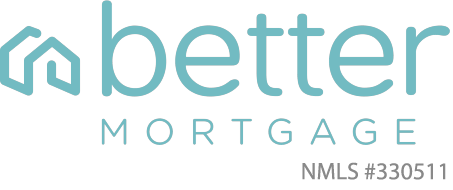 Better Mortgage
Loan types and products
Purchase, Refinance, Jumbo, Adjustable
See your personalized Better Mortgage rate
Pros & Cons
Pros
Claims a three-minute application process for initial preapproval
An online process with human help as needed
Loan officers aren't paid commissions, they are strictly available for "support, not sales"
For higher-value homes, offers 10% down with no mortgage insurance on jumbo loans
Offers an "underwriter-reviewed" preapproval letter in as little as 24 hours
Cons
Doesn't offer home equity loans or HELOCs
Doesn't do FHA, VA or USDA loans
Only available in just over a dozen states
Full Review
There's no lack of trying when it comes to simplifying the home-buying process. It seems a new startup aiming to "disrupt the mortgage loan industry" arrives on the scene almost weekly.
Better Mortgage (found at Better.com) has been working to simplify mortgage loans since 2014. Here's how it stacks up.
Compare Better Mortgage with other lenders.
A 'digital mortgage experience'
Vishal Garg is the founder of Better Mortgage, and like so many of us was frustrated by the difficulty of getting a home loan.
"I went through the mortgage process to buy an apartment, and it was a disaster; it took forever," Garg tells NerdWallet. "It took Citibank three weeks to get me a basic preapproval." He launched Better.com in an effort to create a "fast, transparent digital mortgage experience."
Better Mortgage handles purchase and refinance loans, with a variety of products available: from 3% down loans for first-time home buyers to 10% down jumbo loans with no mortgage insurance.
The typical Better Mortgage first-time home buyer has a 762 credit score, an annual income of $111,000 and is 32 years old, with an average loan of $383,000. That borrower has a debt-to-income ratio of 27%, and the loan typically equals 82% of the home's market value.

How Better Mortgage works
The process begins online with an interest rate quote. Click on the "Check Today's Rates" link, and, like most mortgage rate tools, Better.com asks for your ZIP code, a credit score range, home value and down payment — or current mortgage balance if you're refinancing.
Within seconds, a screen of different rates and terms appears.
Garg credits the tool's ability to match accurate interest rates with potential borrowers to machine learning technology similar to what Spotify uses to match music to users. Erik Bernhardsson, Better's chief technology officer, worked at Spotify for over six years and led the engineering team that developed the algorithms that power the music service's recommendation features.
Armed with a mortgage rate you like, you can proceed to the preliminary approval process. Here, you enter fresh info or confirm prepopulated data, including:
Property information
Borrower information (and co-borrower, if applicable)
Current mortgages, if the user is applying for a refinance
Cash-out details, if that's what you're looking for
With that, the system verifies the information and delivers a decision.
After what Better says is a three-minute process, you are shown a menu of the loan products you've qualified for, with an estimated monthly payment and annual percentage rate, as well as the fees or credits available with each option. Garg says there is no set origination fee.
"And then you can lock that loan in as little as 15 to 30 minutes. And you can do this without ever speaking to a human being, 24/7, online, all the time," he says.
However, Better has expanded beyond the strictly do-it-yourself model from which it began. The lender has added a human touch to its technology, answering "the need for advice." Licensed loan officers aren't paid commissions on loans and are available to "provide support, not sales," Garg adds.
Completing the full loan application is a "dynamic Q&A" process that adjusts with the information you provide, asking for additional info relevant to your particular situation. It feels a lot like using TurboTax to file your taxes.
Better now also offers an "underwriter-reviewed" preapproval letter within as little as 24 hours from document submission. That allows you to shop for a home with some confidence that you'll qualify for a loan at a particular purchase price.
Garg also offers a mortgage price guarantee: "We will match or beat any competitor's rate by $1,000, or we'll pay you $1,000," he says.
On the Better website, the offer is clarified: It's all about closing costs, not mortgage rate. Better is offering to be "at least $1,000 less in closing costs at the same rate and for the same loan terms."

What Better Mortgage does best
Users access a single platform through the entire mortgage loan process, from creating an application to uploading documents and monitoring their loan's status
Users can choose from various options in their loan pricing, adjusting fees and discount points for different interest rates
Better was originally built for the do-it-yourselfer but now offers dedicated loan consultants for as-needed help
Where Better Mortgage falls short
It's available only in Arizona, California, Colorado, Connecticut, Florida, Georgia, Illinois, Iowa, Michigan, Mississippi, New Jersey, North Carolina, Oregon, South Dakota, Pennsylvania, Tennessee, Texas, Washington and Washington, D.C.
Better doesn't offer home equity loans or lines of credit
Better doesn't handle FHA, VA or USDA loans
More from NerdWallet
Compare mortgage rates
Get a mortgage preapproval
Tips for finding the best mortgage lender
NerdWallet's star ratings for mortgage lenders are awarded based on our evaluation of the products and services that lenders offer to consumers who are actively shopping for the best mortgage. The six key areas we evaluated include the loan types and loan products offered, online capabilities, online mortgage rate information, customer service and the number of complaints filed with the Consumer Financial Protection Bureau as a percentage of loans issued. We also awarded lenders up to one bonus star for a unique program or borrower focus that set them apart from other lenders. To ensure consistency, our ratings are reviewed by multiple people on the NerdWallet Mortgages team.