Turmoil in the stock markets continues to shake things up on Wall Street, and the ripple effects are touching the lending industry as mortgage rates dip yet again for the fourth consecutive week.
Despite a skittish stock market, the Federal Reserve is leaving a possible rate hike on the table for March despite a slowing in U.S. economic growth — an announcement that stirred unrest among investors and caused stocks to drop on Wednesday.
Freddie Mac's just-released weekly survey of lenders shows the following average rates for the most popular home loan terms:
30-year fixed-rate mortgages averaged 3.79% with an average 0.6 point for the week ending Jan. 28, 2016.  A year ago, the rate averaged 3.66%.
15-year fixed rates averaged 3.07% with an average 0.5 point. The same term priced at 2.98% a year ago.
5-year adjustable-rate mortgages priced at 2.90% with an average 0.5 point. Last year at this time, the same ARM averaged 2.86%.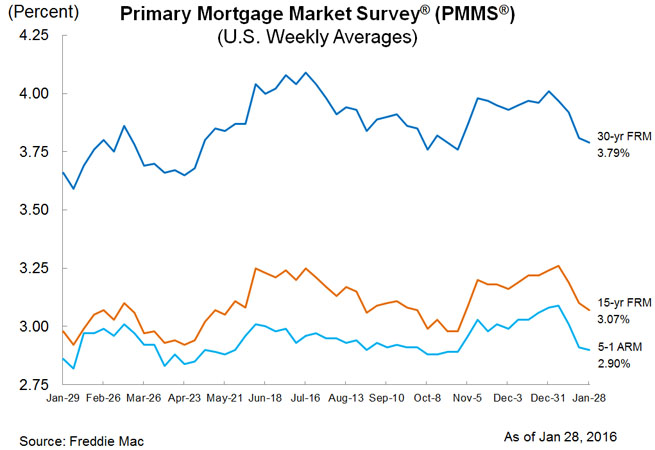 "The recent market turmoil has given the Fed pause; as was universally expected, the Fed stood pat this week but kept its options open for a rate increase in March," Sean Becketti, chief economist for Freddie Mac, said in a release. "This week's housing releases confirmed the momentum of home sales going into 2016. A hesitant Fed, sub-4% mortgage rates (at least for a little while longer), and strong housing fundamentals should generate a 3% increase in home sales this year."
Mortgage applications were up 8.8% for the week ending Jan. 22, according to the Mortgage Bankers Association weekly report.
Purchase applications were up 5% while refi applications surged 11%. Overall, home purchase mortgage applications remain 22% higher than the same week one year ago.
New construction sales end 2015 on an upswing
Low existing-home inventory and high buyer demand in many areas helped push sales of new single-family houses in December to a seasonally adjusted annual rate of 544,000, which outpaced analysts' forecasts, according to estimates released this week by the U.S. Census Bureau and the Department of Housing and Urban Development.
The jump in new-home sales was 10.8% above the revised November rate of 491,000 and 9.9% above the December 2014 estimate of 495,000. What's more: An estimated 501,000 new homes were sold in all of 2015, a 14.5% increase over 2014. The median sales price of new houses sold in December 2015 was $288,900; the average sales price was $346,400.
The unexpected increase in new construction sales during a month where the holiday season and weather conditions usually slow things down is surprising. In several fast-paced markets in the country, there simply aren't enough lower-priced traditional resales on the market that meet buyers' needs, so house-hunters are turning to new construction as a solution.
Deborah Kearns is a staff writer at NerdWallet, a personal finance website. Email: [email protected]. Twitter: @debbie_kearns.