Interest rates on home loans moved lower for the third week in a row in the latest weekly survey of lenders. Meanwhile, nearly 1 million more homeowners may now be able to sell or refinance their homes before mortgage rates begin to move higher, according to a new industry study.
Freddie Mac's just-released weekly survey of lenders shows the following average rates for the most popular home loan terms:
30-year fixed-rate mortgages averaged 3.93% with an average 0.6 point for the week ending Dec. 3, 2015.  A year ago, the rate averaged 3.89%.
15-year fixed rates averaged 3.16% with an average 0.5 point. The same term priced at 3.10% a year ago.
5-year adjustable-rate mortgages priced at 2.99% with an average 0.5 point. Last year at this time, the same ARM averaged 2.94%.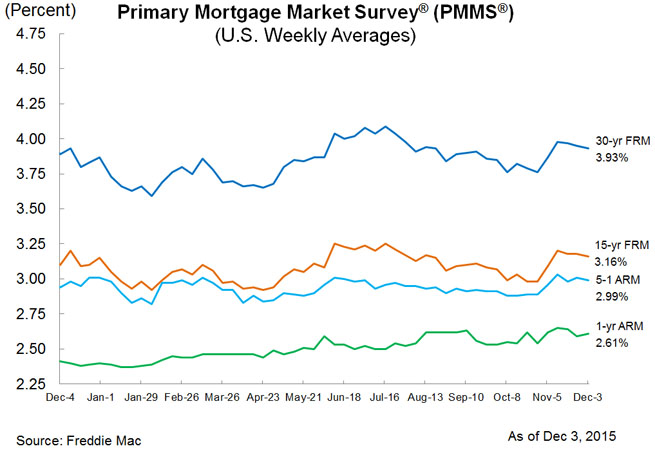 "Treasury yields ticked down 3 basis points after weak manufacturing data. In response, the 30-year mortgage rate dropped 2 basis points to 3.93%," Sean Becketti, chief economist for Freddie Mac, said in a release.
Mortgage demand was mostly unchanged for the week ending Nov. 27, which included an adjustment for Thanksgiving. Loan application volume dipped just 0.2% from the previous week, according to the Mortgage Bankers Association weekly report.
Purchase applications were up 8%, but refinancing was apparently not on the minds of Americans during the holiday, as refi applications fell 6%.
Overall, home purchase loan applications remain 30% higher than the same week one year ago.
Nearly 1 million homeowners now have new options
As home values have recovered from the housing crash, homeowners, especially in the most affected markets, have slowly been gaining equity in their homes. Owing more on your home than what it's worth is called negative equity.
Typically, negative equity rates range from 2% to 5%. Last year, the national rate was 16.9% but, with continued improvement over the period, the rate in the third quarter of 2015 was 13.4%, according to Zillow.
Zillow says the 1% improvement over the second quarter of this year, when the rate stood at 14.4%, means nearly a million new homeowners have emerged from negative equity. With that they now have new opportunities to sell their homes or refinance their mortgages.
"Negative equity has become almost an afterthought in a handful of the nation's hottest markets, but is holding back the recovery in dozens of large markets nationwide," Dr. Svenja Gudell, Zillow's chief economist, said in a release. "Despite steady declines in negative equity, many cities are still facing tight inventory, especially among entry-level homes. Those homes that are available are often not in demand and stay on the market for a long time. This can be extremely frustrating for buyers and sellers alike as they come face to face with the difficult side effects of negative equity."
Las Vegas, with a negative equity rate of 22%, has had the highest percentage of "underwater" homeowners in the country for the past four and a half years. San Francisco and San Jose are the largest metros where less than 5% of homeowners owe more on their homes than they are worth.
"Markets with high rates of negative equity rates tend to have fewer homes for sale, especially lower-priced homes favored by first-time homebuyers," the Zillow report says. "In markets with a lot of negative equity, homes generally take longer to sell than in other places."
Cities with the largest share of underwater homeowners:
Las Vegas, Nevada – 22.1%
Chicago, Illinois – 20.6%
Atlanta, Georgia – 18.6%
St. Louis, Missouri – 17.6%
Baltimore, Maryland – 16.9%

More from NerdWallet:
Hal Bundrick is a staff writer at NerdWallet, a personal finance website. Email: [email protected]. Twitter: @halmbundrick
---
Image via iStock.