Thirty- and 15-year fixed rates rose considerably on the heels of Donald Trump's victory in the U.S. presidential election, but 5/1 ARM loans remained unchanged on Wednesday, according to a NerdWallet survey of mortgage rates published by national lenders this morning.
---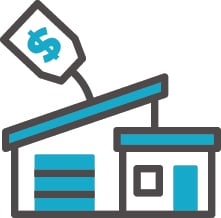 Homeowners' perception of home values close gap with appraisal values
Many sellers tend to think their home is worth more than the market dictates because they've invested so much — both financially and emotionally — over the years.
But new research from Quicken Loans shows that owners' expectations of their home's value is moving closer in line with actual appraisal values.
The average home appraisal was 1.15% lower than a homeowner expected, which narrows the gap from September, when the index was 1.26%, according to the Quicken Loans Home Price Perception Index.
Nationally, appraised values rose a strong 5.97% year-over-year in October, but slipped from September 2016, when home values rose 7.78% year-over-year from September 2015, according to a second Quicken Loans report, the Home Value Index.
"The monthly dips in home values are likely a result of the cooling demand for housing during the autumn months," Bob Walters, Quicken Loans chief economist, said in a news release.
"Fluctuations in monthly numbers are expected. Attention should always be paid to the annual measures to ensure positive growth compared to the same season the previous year. The yearly measure in October continues to show strong growth and a positive outlook for housing."
Homeowners looking to lower their mortgage rate can shop for refinance lenders here.
NerdWallet daily mortgage rates are an average of the published APR with the lowest points for each loan term offered by a sampling of major national lenders. Annual percentage rate quotes reflect an interest rate plus points, fees and other expenses, providing the most accurate view of the costs a borrower might pay.
More from NerdWallet
Calculate your mortgage payment
Compare mortgage rates
How much home can you afford?
Deborah Kearns is a staff writer at NerdWallet, a personal finance website. Email: [email protected]. Twitter: @debbie_kearns.