Last December, nearly 4.7 million people passed through Canada's major airports, according to data from the Canadian Air Transport Security Authority (CATSA). If you were among them, or if you've flown in December in years past, you've probably accepted that pricey tickets, crowds and stress are just part of the holiday travel deal. But that's not necessarily true.
While December is indeed a busy month at airports, some days are markedly busier than others. And since being busier often correlates to higher prices (good old supply and demand in action), it stands to reason you might want to avoid those days in particular. 
But what days are they? NerdWallet analyzed passenger screening data from CATSA[1], comparing numbers year over year. Four dates stood out — and they might not be the ones you'd expect.
The worst days to fly in December
By looking at CATSA's data for Canada's eight largest airports from 2019 to 2022, we were able to find each year's five busiest days in December (i.e., most passengers screened). We then identified any of those busy days that occurred across two or more years.
Next, we followed the same process but for Canada's 17 largest airports, which included the top eight, as well as the next nine biggest.
Whether looking at the smaller pool of eight major airports or the larger pool of 17, the dates are nearly identical. The worst days to travel historically are Dec. 15, 16, 17 and 21, with Christmas Eve (Dec. 24) coming in as a runner-up. 
Nerdy Tip: Christmas Eve falls on a Sunday this year, which is one of the busiest days of any given week to fly, so it could be an especially poor travel date this season.
When to travel instead
If you're flying during the holidays and want to avoid busy, potentially expensive and stressful days, the data is clear: skip Dec. 15-17 and 21. 
To figure out when you should fly instead, NerdWallet again analyzed CATSA screened passenger data for the years 2019 through 2022. However, this time we sought out the five days in December each year with the fewest passengers recorded. Regardless of whether we looked at the top eight airports or expanded to 17, the best days to fly were the same. 
Best days to travel in December in Canada:
Of course, this information isn't surprising, considering the winter holiday season often hasn't started in the first week of December. This year, the season kicks off with the first night of Hanukkah on Dec. 7 and runs through New Year's Day 2024, which is also the final day of Kwanzaa. In between is Christmas Eve (Dec. 24), Christmas Day (Dec. 25), Boxing Day (Dec. 26) and New Year's Eve (Dec. 31).
Knowing most people can't take a month off of work to travel, say, Dec. 6 through Jan. 6, 2024 just to avoid some busy days, we expanded the search. Including the next five dates in each respective year with the lowest number of passengers screened yielded some additional travel days that, while not the best possible, have tended to be less busy than the majority of the month.
The next best days to travel in December in Canada's eight largest airports:
Dec. 7, 9, 11, 12, 13, 22, 29.
The next best days to travel in December in Canada's 17 largest airports:
Dec. 7, 9, 11, 12, 13, 22, 26, 29.
Last year, Dec. 9, 12, 26 and 29 were actually some of the busiest days of the month for flights at Canada's top 17 airports. But in the previous three years, that wasn't the case. It remains to be seen if they are good, bad or somewhere in between for travel in 2023.
To err on the side of caution, you may want to avoid flying Dec. 29 because it falls on Friday this year, and Friday is typically a busier and far pricier day to fly. To that point, Dec. 22 also falls on a Friday, so despite it being a decent travel day the last three years, it could lose its hot streak.
Nerdy Tip: Of the next-best dates listed above, Dec. 7 and 13 are the safest if you're looking to save money on your vacation. Those have been decent travel dates the last four years and neither fall on a traditionally busy day of the week this year.
More things to consider when booking your flights
Here are some additional things to keep in mind as you plan this and any future holiday travel:
If you spend the holidays in a different country, keep in mind regionality. Boxing Day isn't observed in the U.S., for instance. Ethiopia observes Christmas on Jan. 7 each year, and Chinese New Year can fall somewhere in January or February depending on the year. Be sure to do a little research before booking any travel.
Don't be afraid to fly the day of a holiday if it works best for you. These dates can sometimes be cheaper since most people want to arrive at their destination in the days preceding.
Realize a good or bad travel day last year might not be the same this year, especially because some holidays, like Hanukkah, change dates annually.
Know that prices will always vary depending on your departure and arrival cities, number of connections, seat class, airport, airline and more. Always shop around to find the best price irrespective of which days have historically been most or least busy.
Use these tips to keep holiday flight costs down and maximize your travel savings.
DIVE EVEN DEEPER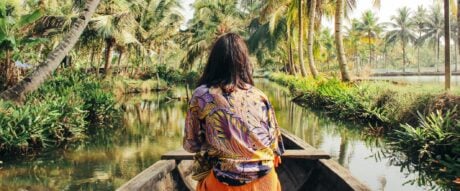 With so many cards, rewards programs and benefits available, choosing the right travel credit card can be overwhelming. However, once you've got one in your wallet, you can reap the rewards on your next trip.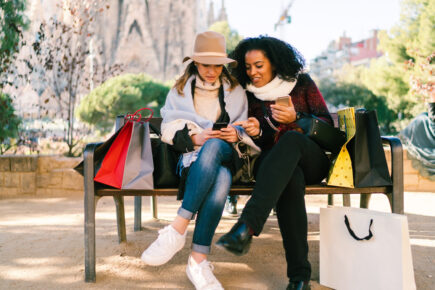 Plan your holiday spending now, or plan to spend January wondering what happened.