Advertiser Disclosure
New Comparison Tool Provides Free, Anonymous Car Insurance Quotes to Save Hundreds
Is shopping online for car insurance so easy that a caveman can do it?
Most drivers don't think so. In a NerdWallet survey, 88% of drivers find shopping for car insurance a frustrating experience, one that's time-consuming, difficult to compare prices, or encroaches on their privacy.
To help drivers easily compare car insurance rates and save money, NerdWallet has launched a new price-comparison platform that offers free, no-obligation anonymous car insurance quotes within seconds.
NerdWallet's tool is independent, allowing drivers in all 50 states to get unbiased estimates of quotes without submitting any personal information, such as social security numbers or email addresses. Drivers need to enter only their zip code and the year, make and model of their car to instantly see estimates of insurer rates in their state.
To refine their quote in real-time, drivers can enter their age, average mileage, violations and level of coverage. When they're ready to buy a policy, shoppers are redirected to an insurer's website.
Online car insurance quotes frustrating for shoppers
Price continues to be the most important factor in car insurance satisfaction and over half of drivers begin their comparison shopping by going online, according to a NerdWallet survey. However, 50% find car insurance shopping time-consuming, 33% find it difficult to compare prices and another 5% distrust advertised prices or have privacy concerns.
To get an auto quote, drivers have to give their address, level of education, number of household members, when they bought their car and other information. Going to individual insurers' websites to answer all these questions is time-consuming, especially if drivers have to enter information for multiple cars.
Drivers also are frustrated by being forced to give up their contact info just to receive a quote.
Prospective buyers who submitted email addresses or phone numbers will be contacted by insurance agents even if they're no longer interested in buying a policy. Insurance companies that collect contact information can also sell it to third parties for marketing or soliciting purposes.
A fast and anonymous price comparison tool
For users worried about privacy, NerdWallet's tool requires only zip code and car information to access a broad range of quotes from insurers in their area. Additional filters include age, mileage and level of coverage to help get a better approximation of what they would pay, but none of the information is personal, identifiable information.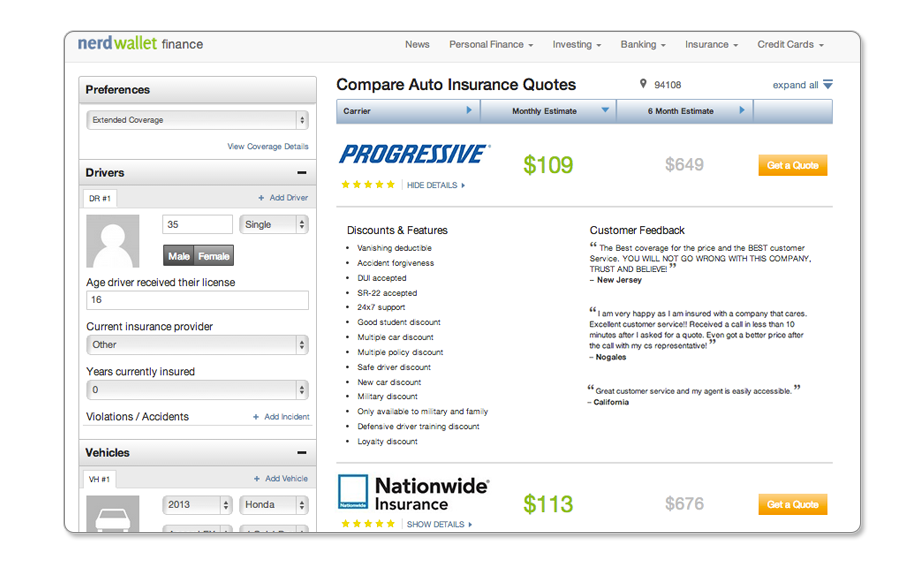 Shoppers who have more than one car to insure can save time by entering information about each car once, instead of multiple times for each insurer's website.
As an independent online price comparison platform, NerdWallet offers unbiased quotes from the largest insurers in each state. Shoppers not only receive the best approximate quotes, but can select quality insurers by looking at their star ratings that are based on customer feedback, discounts and other benefits.
Methodology
NerdWallet's survey polled a nationally representative sample of 500 American adults who are the primary policyholders of their auto insurance policies. The poll was done in October 2013, asking each respondent 12 questions about their car insurance policies, car insurance satisfaction and experience with car insurance shopping.