Cheap Car Insurance for College Students
You might be able to save some cash on car insurance when in college with these tips and strategies.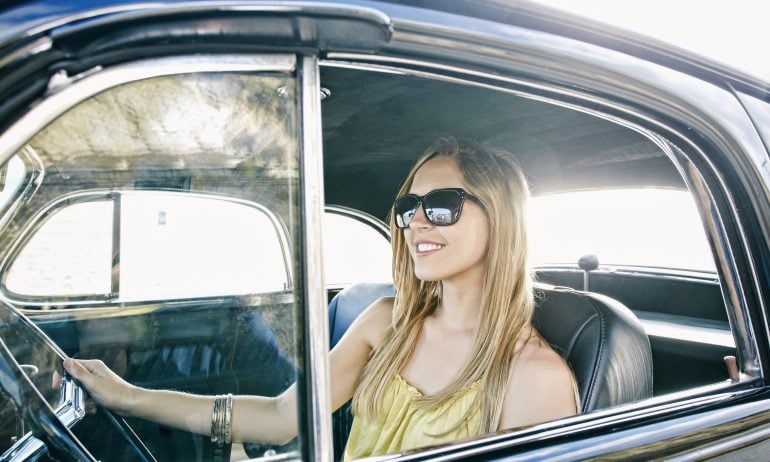 Many or all of the products featured here are from our partners who compensate us. This influences which products we write about and where and how the product appears on a page. However, this does not influence our evaluations. Our opinions are our own. Here is a list of our partners and here's how we make money.
Congratulations! You've graduated from high school and are heading off to college. But your list of expenses is starting to grow with tuition, books and on-campus housing, and you're looking for ways to cut costs. Is it possible to get cheap car insurance as a college student?
The answer is yes, but you'll have to weigh your options and shop around for the best discounts. Here are a few ways college students can find cheap insurance.
Key terms in this article
Stay on your parents' insurance
In most cases, staying on your parents' car insurance policy will yield the cheapest rates. Insurers hike up rates for young adults because they have shorter driving histories and greater probability of getting into an accident. By remaining on your parents' policy instead of getting your own, you can take advantage of their lower rates and multiple drivers or loyalty discounts.
As a college student, insurers will likely allow you to stay on your parents' policy as long as your permanent address is the same as theirs, but if you plan to live near campus year-round, you may need to get your own coverage.
If your parents have a history of traffic violations and accidents on their driving record, it's possible that buying your own policy could be less expensive. And since insurers consider ZIP codes to price rates, a standalone policy could be cheaper if your parents live in a city and your college is in a rural or suburban area. Keep in mind that the title of the car needs to be in your name, not your parents', if you plan to buy your own policy.
Reconsider collision and comprehensive coverage
If you're planning on driving an old car to college, make sure to not overinsure it with collision and comprehensive coverage you don't need. These types of coverage pay out only up to the cash value of the car, minus the deductible. If your car's value is $1,000 and you also have a $1,000 deductible, you're better off dropping collision and comprehensive insurance.
Try usage-based car insurance
College campuses offer a lot of conveniences that may reduce your need for a car, which means usage-based insurance could save you money.
With this kind of insurance, you pay only for the miles you drive, and some of these insurers — like Metromile and Nationwide's Smartmiles — don't charge after 250 miles or more, so you can take day trips without paying extra.
Some insurance companies, like Geico and Progressive, offer programs that price rates based on your driving habits, such as speeding and hard braking, monitored by a mobile app or tracking device in your car's diagnostic port. These programs typically result in a discounted rate, but if you're an aggressive driver, your rate could increase.
Ask about car insurance discounts for students
Depending on your state and insurance company, you could be eligible for a variety of discounts while you're off at school. Here are some common college student car insurance discounts.
Good student. If you're a full-time student who gets good grades (typically a B average or higher), has high standardized test scores or are on your school's dean's list or honor roll, many insurers offer discounts. You'll need to provide school transcripts or test scores and be within the age requirements.
Student away from home. If your college is more than 100 miles away, consider leaving the car at home. Some insurers offer discounts to college students who drive the family car only when they're home for breaks or holidays. Plus, by leaving the car behind, you'll reduce your risk of getting tickets or causing accidents that increase your premiums, which can keep your insurance costs down in the long run.
Fraternity, sorority and honor society. If you're a member of a qualified fraternity, sorority or honor society, you may be eligible for a discount.
Military. If you're part of an ROTC program, you could get a discount on car insurance.
Student and alumni organizations. Discounts may be available to members of college organizations, such as the American Medical Student Association, or alumni associations.
Safe driving. While this discount won't take effect until you've proven yourself a safe driver for at least three to five years, avoiding traffic violations and car accidents could mean a discount.
Young driver training. If you complete an educational program to improve your driving skills and are within an allowed age range, some insurers will provide a discount.
Young volunteer. You could qualify for a discount if you complete a required number of volunteer hours and are within the age requirements.
College student discounts from the 10 largest car insurance companies are in the table below.
Which of the 10 largest car insurers offer it

Allstate, American Family, Farmers, Geico, Liberty Mutual, Nationwide, Progressive, State Farm, Travelers and USAA*

Allstate, American Family, Liberty Mutual, Progressive, State Farm and Travelers

Geico, Liberty Mutual and USAA*

American Family, Geico, Nationwide, State Farm and Travelers

Allstate, Geico, Travelers and USAA*

*USAA is available only to military, veterans and their families.
Finding cheap car insurance for college students
Rates for college students can be expensive, but generally decrease as you get older and practice safe driving. If you do plan to purchase your own insurance policy, don't pick the first company you come across — shop around and compare quotes to ensure you get the cheapest rate available.
To see what rates college-age drivers can expect, NerdWallet analyzed annual car insurance rates nationwide for 20-year-old young adult drivers compared to 35-year-old drivers with no tickets or traffic violations, for both minimum and full coverage insurance policies. Take a look at the table below to see average rates for your age, and how rates can decrease as you get older.
| | Average annual minimum coverage rate | Average annual full coverage rate |
| --- | --- | --- |
| | | |
| | | |
The cheapest car insurance company for any one college student will depend on factors beyond your age, including the state your school is in, your driving history and how much coverage you plan to buy.
NerdWallet analyzed rates for a 20-year-old driver with a good driving history for nine of the largest car insurance companies by market share. Take a look at the table below to see how much you can expect to pay for your own policy as a college student.
*USAA is available only to active military, veterans and their families.
Frequently asked questions
How much is car insurance for college students?
Can I stay on my parents' policy if I move out of state?
Do I need to get car insurance if I won't have a car at school?
NerdWallet averaged rates based on public filings obtained by pricing analytics company Quadrant Information Services. We examined rates for 35-year-old men and women for all ZIP codes in all 50 states and Washington, D.C. Although it's one of the largest insurers in the country, Liberty Mutual is not included in our rates analysis due to a lack of publicly available information. Poor credit rates from The Hanover were removed in both Connecticut and New York.
In our analysis, "good drivers" had no moving violations on record; a "good driving" discount was included for this profile. Our "good" and "poor" credit rates are based on credit score approximations and do not account for proprietary scoring criteria used by insurance providers. These are average rates, and your rate will vary based on your personal details, state and insurance provider.
Sample drivers had the minimum required coverage by law in each state. Some policies include additional coverage at the insurer's discretion.
We used a 2020 Toyota Camry L for all drivers and assumed 12,000 annual miles driven.
Get more smart money moves – straight to your inbox
Sign up and we'll send you Nerdy articles about the money topics that matter most to you along with other ways to help you get more from your money.