The holidays are the season for giving. While most people think about giving presents to others, giving yourself a financial gift this season can be even more rewarding.
They may not come in shiny wrappings, but gifts like a solid shopping budget, Guaranteed Investment Certificates and a low-interest balance-transfer credit card will help you create a solid financial future.
1. Guilt-free boundaries
Just about everything has increased in price due to inflation. This may mean setting new boundaries about how much you can afford to spend, and not feeling bad about it.
Check your list twice
There's no denying that giving gifts can spark joy, but when your finances are tight, you need to rethink who you're buying for. That distant cousin you see once a year or your auto mechanic likely aren't expecting a gift, so there won't be any hurt feelings if they don't get one. By keeping your list short, you'll feel less pressure to spend.
Set your holiday budget
Even if you're only buying gifts for a few loved ones, you still need to set a budget. Doing so can help you think more practically about the types of gifts you can buy. For example, say you have a budget of $250, but you want to buy gifts for 10 people. That's $25 a person. Of course, you could spend more on one person, but you'll need to cut back elsewhere. Having a defined budget allows you to make smarter holiday shopping decisions.
Learn to say 'no'
Holiday parties were mostly absent in the last few years due to the pandemic. However, with most restrictions lifted, many people are ready to host again. Attending all of these parties could be costly as you'll need to pay for gas, transit, gifts, and possibly even new outfits. Make peace with the fact that you probably don't have the time, energy or money to say 'yes' to every invite — and that's OK.
2. Cash for your future
While setting up your holiday budget, don't forget to set aside some funds for yourself. Instead of buying a physical gift for yourself, consider a cash gift that can help out your finances.
Open a HISA
Even though every brick-and-mortar bank offers a savings account, the interest rate paid is typically low, and you might get limited transactions. Consider opening a high-interest savings account, or HISA, at a online-only bank to maximize your savings. Digital banks typically offer higher interest rates than traditional banks and have lower fees.
Opening an account is easy since everything is done online. Once your account is opened, you can link it to your regular bank to easily move money between accounts. If you want to take things a step further, you can set up automatic transfers to your high interest savings account, so you're tucking money away on a regular schedule.
Buy a GIC
Guaranteed investment certificates, or GICs, have become a more popular investment option in the second half of 2022. Now that the bank of Canada has steadily increased interest rates, you can find 1-year GICs that pay out 5%+. That's even more than what high-interest savings accounts are paying.
GICs are attractive since the principal portion of your investment cannot be lost. Depending on what type of GIC you purchase, the interest rate may also be guaranteed. The catch is that many GICs are locked-in, so you won't be able to access your funds until the end of its full term.
3. A debt pay-off plan
If you have any outstanding consumer debt, be extra careful about adding to it this holiday season. You may even want to opt for DIY-only gifts or no gifts at all. That doesn't make you a Scrooge; it's just prioritizing a debt-free future for yourself. When it comes to paying down your debt, you have a few options.
Get a low-interest, balance transfer credit card
Some low-interest credit cards offer a balance transfer option. This can help you reduce your debt significantly as it allows you to transfer an existing balance on a high interest credit card over to your new low interest credit card. In addition, these balance transfers usually come with a promotional low interest rate for a limited time, like 0% for 12 months. If you focused on debt repayment during this introductory period, you could significantly reduce how much interest you're paying overall.
Apply for a line of credit
Another way to reduce your debt is to apply for a line of credit with your financial institution. The interest you'll be charged will depend on your bank's prime rate and your personal situation. That said, it'll likely be lower than what credit cards traditionally charge. If approved, you could withdraw funds from your line of credit and immediately pay off all your high-interest balances. You'd be left with a single payment at a lower rate, allowing you to reduced the total debt more quickly.
DIVE EVEN DEEPER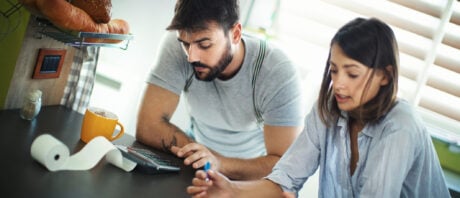 Consolidating credit card debt often means combining multiple debts into one larger debt. For example, if you have five credit cards and have unpaid balances on all of them, you're likely accumulating high amounts of interest on each one and trying to keep on top of five different bills. If you consolidated it, you would […]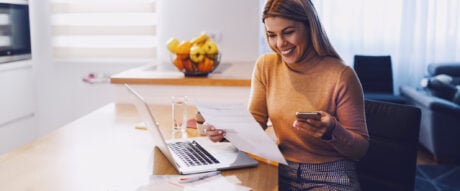 Use a short-term GIC to earn interest on your savings and keep a strategic distance between yourself and that hard-earned cash.