Options to 'buy now, pay later' (BNPL) at checkout are available almost everywhere you look — at your favourite online store, as well as the brick-and-mortar retailer down the street.
Just 8% of 2023 holiday shoppers say they'll use 'buy now, pay later' services to buy holiday gifts this year, according to a survey of over 1,000 Canadian adults conducted by The Harris Poll on behalf of NerdWallet Canada.
But many predict this payment method will become more popular in years ahead. In fact, BNPL adoption is expected to achieve a compounded annual growth rate of more than 36% in Canada between 2022 and 2028, according to ResearchandMarkets.com[1].
Before using BNPL this holiday season, it's worth weighing the benefits against the potential risks, and keeping a couple of guidelines in mind to ensure a smooth repayment process.
What is 'buy now, pay later?'
With BNPL, you can spread the cost of an item out over a set amount of equal payments, and on-time payments are often interest-free.
One of the most common BNPL models you'll encounter is known as 'pay-in-4,' meaning repayment is done in four bi-weekly installments at 0% interest. So let's say you wanted to purchase a $40 jacket. Instead of paying $40 up front to the retailer, you would pay a third-party provider $10 every two weeks, and that would happen four times, until the cost of the jacket was covered.
Some providers also offer monthly payment options for larger items that come with a set annual percentage rate (APR).
Common BNPL providers include Klarna, Shop Pay, AfterPay, Affirm, Sezzle and more. You may see the option to use one of these providers during checkout.
How to use BNPL for holiday shopping
When buying gifts this holiday season, you'll likely have the chance to use BNPL. Here are some do's and don'ts to keep in mind, before you use it:
1. Do: Give yourself some breathing room
More than 4 in 5 Canadians (88%) plan to purchase gifts for loved ones this holiday season, according to NerdWallet's survey. Of those people, 48% plan to spend $500 or more on gifts.
Spending hundreds of dollars in a short period of time can be taxing on your budget — especially with inflation still high. Using BNPL at checkout can allow you to spread your purchases out over multiple weeks or pay periods, which might make the cost more manageable.
Depending on the terms offered by the BNPL provider, your payment method and how disciplined you are in making payments, this approach may also be less costly than putting holiday gifts on your credit card, because you won't pay interest.
Of course, there are 0% interest credit cards, but to get one, you need to meet eligibility requirements, fill out an application and, assuming you're approved, wait to receive it in the mail to use it. The process also includes a hard credit check, which can affect your credit score.
2. Do: Lock in low prices
This year, 40% of Canadians plan to shop Black Friday deals and nearly the same amount (37%) will shop on Cyber Monday, according to Statista[2].
Holiday sale days like Black Friday can be great opportunities to score gifts for loved ones at lower prices. The problem with sales, though, is that they last a limited time — sometimes a matter of hours or until an item sells out. BNPL allows you to take advantage of deals as they are happening, instead of having to wait until you have the full amount in cash.
3. Don't: Lose track of payments
Making only a small installment payment up front, rather than covering the entire cost of your purchase, may give you a false sense of affordability and lead to overspending.
If you want to use BNPL on your holiday purchases this year — and especially if you plan to use it with multiple retailers — be sure to keep track of your transactions. Note the number of payments you'll need to make, including the amounts and due dates, so that you understand the overall impact on your budget.
4. Don't: Forget about interest and fees
With many BNPL platforms, purchases are interest-free, as long as you make all payments within the timeframe set out by the provider. However, some BNPL providers — especially those that allow the consumer to make monthly payments instead of bi-weekly payments — may charge an interest rate between 0–30% APR, depending on the purchase amount or merchant.
Make sure you understand the terms of each BNPL purchase before you make it. You want to ensure you can stick to the provider's repayment plan before you're locked in, especially if it comes with anything other than 0% interest. Interest and fees can easily lead to a debt spiral.
Nerdy Tip: If an installment payment is missed for any reason, you may be blocked from making new purchases with the BNPL provider, your credit score may be affected, you may incur reactivation fees or your unpaid debt might be sent to a debt collector. Scheduling a payment in advance, even if it will be late, can help reassure the BNPL provider that you're not going to default on the loan.
Survey Methodology
This survey was conducted online within Canada by The Harris Poll on behalf of NerdWallet Canada from October 3 – 5, 2023 among 1,021 Canadian adults ages 18 and older. The sampling precision of Harris online polls is measured by using a Bayesian credible interval. For this study, the sample data is accurate to within +/- 3.6 percentage points using a 95% confidence level. For complete survey methodology, including weighting variables and subgroup sample sizes, please contact Bria Weaver, [email protected].
"Holiday shopper" refers to Canadians who plan to purchase gifts during the 2023 holiday season. "Holiday season" refers to the period of time between October and the end of 2023.
DIVE EVEN DEEPER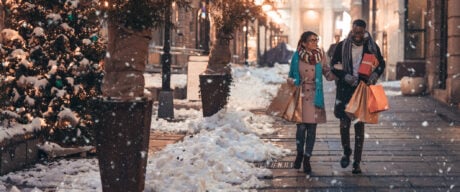 When shopping for holiday gifts this year, create your own discounts, use credit card rewards and consider alternative payment options.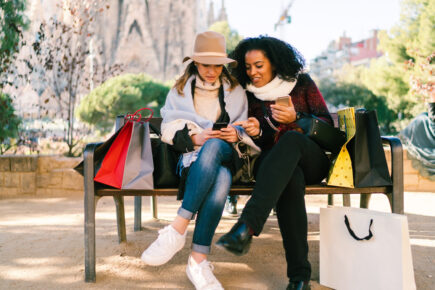 Plan your holiday spending now, or plan to spend January wondering what happened.