By Jason Van Steenwyk
Get comfortable with that bag of Doritos, because this is going to be a doozy.
It's high time the country took a more realist and less hysterical approach to the regulation of marijuana. THC, the active ingredient in marijuana, has demonstrated its effectiveness as an anti-seizure and anti-nausea drug, potentially valuable in treating epilepsy and to help mitigate the side effects of chemotherapy for cancer patients.
And the potheads seem to enjoy it.
So while marijuana remains on the federal Schedule I list of controlled substances – making its possession and use illegal under federal law, 21 states and the District of Columbia already allow the use of marijuana for medicinal purposes. Florida is in the process of joining their ranks.
That number could rise as high as 35, as 14 additional states are considering legislation to legalize marijuana use with a prescription.
States That Have Legalized Marijuana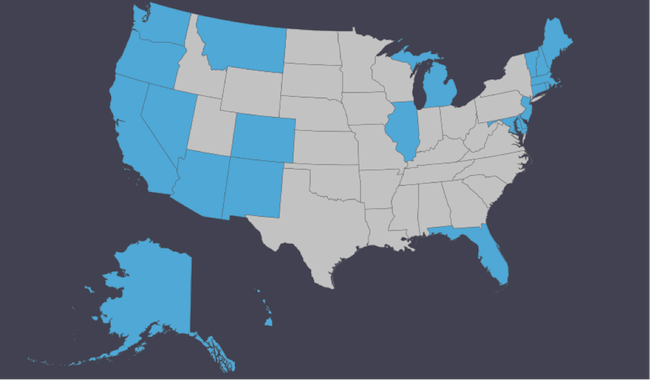 The patchwork of states that have at least partially legalized medical marijuana has created quite a conundrum for life and health insurance carriers. The fact that some states, like Colorado, have actually gone far beyond legalizing marijuana is lending more urgency to the problem: How does one underwrite the marijuana user on a health or life insurance application?
Underwriting
Under the old rules – when marijuana was illegal pretty much everywhere except among cancer patients who were more or less uninsurable anyway – underwriters could apply some blanket rules across the country. For example, we knew that casual marijuana use was not in and of itself a big deal, perhaps, but it could be correlated with other risky behaviors. At the very least, underwriters knew that marijuana users were engaging in petty criminal behavior.
Even so, many life insurance carriers were willing to take on casual marijuana users at smoker rates – provided there was no arrest record. An arrest record, however, was a serious strike against the applicant as evidence of problem use and likely correlation with other drug issues as well.
But now we have two states, Colorado and Washington, that have allowed not just the medicinal use of marijuana, but have specifically legalized the recreational use of the drug, as well. So national carriers must deal with two definite segments of marijuana users: Users who are willing to break state law – and therefore engage in criminal behavior in order to use marijuana, on the one hand, and users for whom marijuana is perfectly legal for them under state law.
One thing is for sure: If you're a marijuana user and you apply for life insurance, be up front about it when you apply. Your agent can write a letter to the underwriter explaining your situation and use patterns and forward it with the application.
If you're up front about it, underwriters are a lot less troubled by that than by anything that comes up in your medical records or drug tests that you didn't disclose. If it shows up in your medical exam, expect to be declined.
As it happens, even recreational marijuana use in states where it is illegal is not a deal-killer, by a long shot. In some cases, carriers are even granting preferred non-smoker rates to occasional tokers.
Marijuana-friendly Carriers
According to Jeff Root, a life insurance agent and broker who has tracked how life insurance companies underwrite applicants who use marijuana, here are some prominent carriers who do write policies for users:
American General: Offers best non-smoker rates if you use less than twice per year. Less than twice per month gets you standard smoker rates. More than that and you go to the table, meaning premiums vary, but expect them to be high.
Banner Life: Standard smoker for occasional users; substandard Table B Smoker for daily users.
Genworth: Standard Smoker for use 8 times/month or less.
ING Reliastar: Daily users get Table 4 smoker rates.
Lincoln National: Up to 2x per week gets standard non-smoker. Declines anyone using over 4 times per week.
MetLife: Up to preferred-plus nonsmoker rates if you use less than 1 time per week. 2x per week or more receive smoker rates. Daily use is Table 4 rating and worse.
Mutual of Omaha: Standard non-smoker rates up to weekly, subject to lab results.
Minnesota Life: Will underwrite occasional recreational use at preferred non-smoker – provided you have no THC in your exam.
Prudential: Marijuana use up to 2x per month with negative lab results can get you standard-plus non-smoker ratings. Anything over 4x per week will be declined.
Transamerica: Standard smoker.
Medical Insurance
The Affordable Care Act now prohibits health insurance carriers from rejecting marijuana users provided they sign up with a qualified policy through the exchanges during the open enrollment period. Otherwise, expect to be underwritten as a smoker at best, outside of open-enrollment periods. Again, individual companies vary.
Don't expect your medical plan to authorize medical marijuana anytime soon. Even in states where it's legal for medicinal purposes, it is still an illegal controlled substance under federal rules. No insurer to date has been willing to attract federal regulators attention by placing marijuana on the formulary of approved drugs. So you'll have to pay for any medical marijuana you buy out of your own pocket. However, 15 states allow you to grow your own plants.
Read More from NerdWallet