Get to Work on Building Your Unemployment Fund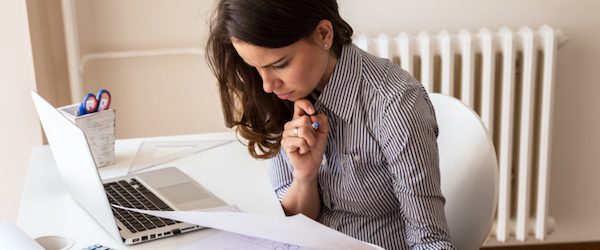 Many or all of the products featured here are from our partners who compensate us. This influences which products we write about and where and how the product appears on a page. However, this does not influence our evaluations. Our opinions are our own. Here is a list of our partners and here's how we make money.
As if being laid off weren't stressful enough, most Americans don't have enough money saved to pay monthly bills if they're jobless for more than a few weeks.
But you can avoid that added stress: Create an emergency fund now for potential unemployment.
A recent NerdWallet study found that Americans don't save enough to weather several common emergencies, the most expensive being unemployment. Even factoring in state unemployment benefits and average annual savings, most people come up thousands of dollars short.
Among those who lose their jobs in the U.S., the average length of time spent unemployed is 26 weeks. Coincidentally, most states' unemployment benefits are paid out for up to 26 weeks. Even the most generous state benefits aren't very high and won't cover most Americans' bills.
The study shows that Americans save on average 5.85% of their income, or approximately $2,540 per year, based on an average disposable income of $43,408 for 2016. This amount of savings plus unemployment benefits — which average $444 per week — would still leave Americans who are unemployed for 26 weeks around $8,500 short of their usual income.
That gap is even greater for those who live in states with lower than average unemployment benefits, such as Arizona, Louisiana and Mississippi, or a high cost of living. And while being frugal can help, cutting back $8,500 over 26 weeks — more than $1,400 per month — poses significant constraints for many people.
How much to save for unemployment
The best time to save money is when you don't need it; in other words, you should save while you're employed. Having an emergency fund means you won't have to turn to debt to get through a rainy day — or 26 rainy weeks.
Experts recommend saving enough to cover three to six months of basic expenses. Whether you save closer to three or six months depends on factors including the unemployment benefit offered by your state. Maximum state unemployment benefits range from $235 to $742 per week, for 12 to 30 weeks. Search your state's unemployment benefits to see how much you could expect.
Also consider your life circumstances. If you live in a dual-income household and you don't own a home, which means extra costs for maintenance, three months' savings might be enough. However, if you're self-employed or work in a volatile industry where layoffs are common, you need to save more.
Remember, you're saving three to six months of expenses, not income. So if you can eliminate some expenses while you're unemployed, you can lower your monthly savings amount. In other words, if your current monthly expenses are $3,000 but you can cut $500 when you're not working, then your monthly emergency savings would be $2,500.
How to save an unemployment fund
Saving a three- to six-month cushion could take months or even years. But don't get discouraged; your efforts will add up. To free up cash for emergencies, you need to spend less, earn more, or both. Save consistently and contribute at least part of any windfall, such as tax refunds, bonuses or inheritances, to your emergency fund.
You can increase your income and decrease your expenses in small and significant ways, from cutting out cable and selling things at a yard sale to getting a cheaper place and asking for a raise. It's also a good idea to set up an automatic transfer from your checking to a high-yield savings account, whether you transfer $50 or $500 a month.
Saving thousands or tens of thousands of dollars for an emergency and unemployment fund may seem overwhelming, but even small amounts now will add up over time and — if you lose a job — help reduce some of the stress.
APY
0.50%
With $0 minimum balance
Bonus
$250
Earn up to $250 with direct deposit. Terms apply.
Get more smart money moves – straight to your inbox
Sign up and we'll send you Nerdy articles about the money topics that matter most to you along with other ways to help you get more from your money.