Many or all of the products featured here are from our partners who compensate us. This may influence which products we write about and where and how the product appears on a page. However, this does not influence our evaluations. Our opinions are our own. Here is a list of our partners and here's how we make money.
Use the free savings calculator below to understand how your money can grow over time. When you put money in a savings account, the interest you earn builds on itself.
First, run the numbers without a monthly deposit. Then try it again with $25 or $100 per month to see how regularly adding even a small amount can move you closer to your savings goal.
Starting balance: This is the amount you plan to deposit in the savings account initially.

Monthly contributions: This is the amount you will deposit on an ongoing monthly basis. It's an optional field.

Time to grow: This is the period of time your money will be in savings without a withdrawal. You can select a number of years or months.

Annual interest rate: This is the yield you expect to earn. The national average savings rate is 0.06%, though some high-yield savings accounts earn much more.
Discover Bank Online Savings

APY
0.40%Advertised Online Savings Account APY is accurate as of 02/12/2021
Nationwide My Savings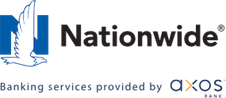 APY
0.20%Earn up to 0.30% APY with My Savings when you open a My Checking account and set up a $1,000 direct deposit. You can still earn 0.20% APY with a My Savings account if you are not ready for a My Checking account.
Frequently Asked Questions
How much should I save each month?
There is no one answer, but the general standard is to build your savings to cover three to six months' worth of basic expenses. If you are able to save 20% of your take-home income each month, you may be well on your way. But even if you save a smaller amount, be consistent, and you can reach your savings goal.
How do you calculate interest on a savings account?
Multiply the account balance by the interest rate for a select time period. The result is the amount of interest the account earns in that time period.
How much will a savings account grow?
A balance of $5,000 can grow by more than $50 in a couple of years at a rate of 0.50% APY, even if you don't make any extra deposits. The higher the rate, the faster a savings account will grow. Also, because of compounding, the more often your bank deposits interest into your savings account, the more the overall balance will grow.
Frequently asked questions