Curso básico de presupuestos: Cómo hacer un presupuesto con su dinero
Separe sus ingresos entre necesidades, deseos, ahorros y pagos de deudas, utilizando la regla para presupuestos 50/30/20.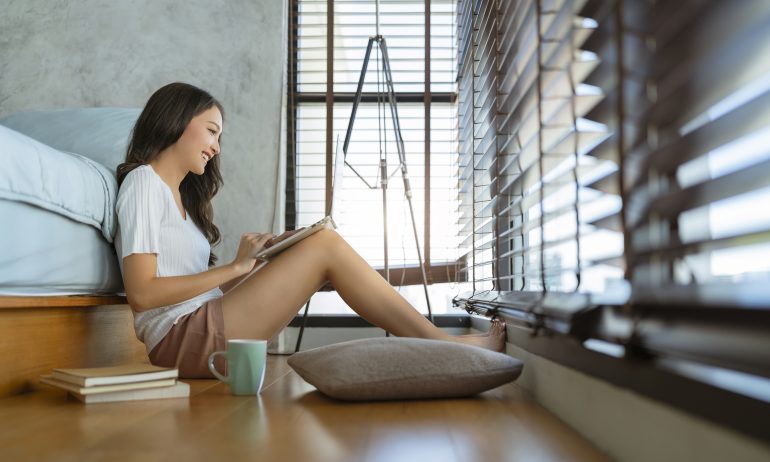 Many or all of the products featured here are from our partners who compensate us. This influences which products we write about and where and how the product appears on a page. However, this does not influence our evaluations. Our opinions are our own. Here is a list of our partners and here's how we make money.
Si tengo un sueldo neto de, digamos, $3,000 al mes, ¿cómo puedo pagar la vivienda, la comida, el seguro, la atención médica, los pagos de las deudas y la diversión sin quedarme sin dinero? Son muchos los gastos para cubrir con una cantidad limitada: y en esta situación lo es todo o nada.
La respuesta es hacer un presupuesto.
¿Qué es un presupuesto? Un presupuesto es un plan para cada dólar que usted tenga. No es magia, pero brinda mayor libertad financiera y una vida con mucho menos estrés. A continuación, le explicamos cómo hacer y cómo administrar su presupuesto.
Cómo hacer un presupuesto
Calcule sus ingresos mensuales, elija un método presupuestario y lleve el control de su progreso.

Ponga a prueba la sencilla regla presupuestaria 50/30/20.

Destine hasta el 50% de sus ingresos para cubrir las necesidades.

Deje el 30% de sus ingresos para los deseos.

Dedique el 20% de sus ingresos al ahorro y al pago de deudas.

Revise y administre su presupuesto haciendo revisiones frecuentes.
Cómo comprender el proceso presupuestario
Calcule sus ingresos después de impuestos: "Un término clave a la hora de crear un presupuesto es el ingreso neto, es decir, la cantidad de dinero que uno recibe de su sueldo una vez se descuentan los impuestos y otras deducciones; también se denomina sueldo neto", como lo explica la Oficina para la Protección Financiera del Consumidor en esta hoja de cálculo educativa (en inglés).
Si usted tiene deducciones automáticas por 401(k), ahorros y seguro médico o de vida, vuelva a sumarlas para hacerse una idea real de sus ahorros y gastos. Si cuenta con otros tipos de ingresos (quizá gane dinero con trabajos paralelos), reste todas las deducciones, como impuestos y gastos del negocio.
Elija un plan presupuestario: Cualquier presupuesto debe incluir todas sus necesidades, algunos de sus deseos y (esto es fundamental) ahorros para emergencias y el futuro. Algunos ejemplos de planes presupuestarios son el sistema de sobres y el presupuesto basado en cero.
Revise su progreso: Lleve un registro de sus gastos o utilice herramientas online para hacer presupuestos y planificar el ahorro.
Automatice sus ahorros: Automatice todo lo posible para que el dinero que haya destinado a un fin específico llegue a su destino con el mínimo esfuerzo de su parte. Un compañero o un grupo de apoyo en línea pueden ayudarle a rendir cuentas y dar una explicación por las decisiones que se salgan del presupuesto.
Practique la administración del presupuesto: Sus ingresos, gastos y prioridades irán cambiando con el tiempo, así que administre activamente su presupuesto revisándolo con regularidad, como, por ejemplo, cada tres meses. Si no logra seguir el plan al pie de la letra, intente probar con los siguientes consejos presupuestarios.
Intente hacer un plan presupuestario sencillo
Muchos expertos recomiendan el popular presupuesto 50/30/20 para maximizar su dinero. Es un método para "equilibrar su dinero" popularizado por la senadora Elizabeth Warren y su hija en el libro de 2005 "All Your Worth".
"Cuando su dinero está en equilibrio, quiere decir que usted ha diseñado sus finanzas de manera que siempre tenga lo suficiente para cubrir sus necesidades", escribió Warren. "Existe una categoría para sus cuentas y facturas mensuales regulares, una segunda categoría para el dinero que se gasta "solo por diversión", y una tercera categoría para los ahorros. Todo esto quiere decir que siempre tiene suficiente para pagar sus facturas y cuentas sin preocupaciones".
En concreto, usted gasta aproximadamente el 50% de su dinero después de impuestos en necesidades, no más del 30% en deseos y al menos el 20% en ahorros y pago de deudas.
Este plan ofrece simplicidad y, a largo plazo, alguien que siga estas pautas tendrá deudas manejables, margen para darse algún capricho ocasional y ahorros para pagar gastos irregulares o imprevistos y para jubilarse con comodidad.
Destine hasta el 50% de sus ingresos a cubrir sus necesidades
Sus necesidades (alrededor del 50% de sus ingresos después de impuestos) deben incluir:
Cuotas mínimas del préstamo. Todo lo que supere el monto mínimo entra en la categoría de ahorro y pago de deudas.

Cuidado de niños u otros gastos que usted necesite para poder trabajar.
Si sus gastos esenciales superan la marca del 50%, es posible que tenga que recurrir a la categoría de "deseos" de su presupuesto durante un tiempo. No se va a acabar el mundo, pero tendrá que hacer ajustes a sus gastos.
Aunque sus necesidades estén por debajo del límite del 50%, es prudente revisar de vez en cuando estos gastos fijos. Puede que encuentre un plan para su teléfono móvil que le convenga más, una oportunidad para refinanciar su hipoteca o un seguro de vehículo menos costoso. Estos cambios le darán mayor flexibilidad para hacer ajustes.
Deje el 30% de sus ingresos para los deseos
Separar los deseos de las necesidades puede resultar difícil. Pero, en general, las necesidades son esenciales para vivir y trabajar. Los deseos por lo general incluyen cenas en restaurantes, regalos, viajes y actividades de diversión.
No siempre es fácil decidirse. ¿Las visitas a un spa (incluidas las propinas por un masaje) son un deseo o una necesidad? ¿Y los alimentos orgánicos? Las decisiones varían de una persona a otra.
Si está ansioso por salir de las deudas lo más rápido posible, puede que decida que sus deseos pueden esperar hasta que tenga algunos ahorros o sus deudas estén bajo control. Pero su presupuesto no debe ser tan austero como para que jamás pueda darse un gusto.
Todo presupuesto necesita cierto margen de maniobra (quizá usted se olvidó de un gasto o era mayor de lo que había previsto) y algo de dinero para gastar como desee. Si no tiene dinero para divertirse, es menos probable que se ajuste a su presupuesto.
Comprometa el 20% de sus ingresos al ahorro y al pago de deudas
Utilice el 20% de sus ingresos después de impuestos para imprevistos, ahorrar para el futuro y pagar deudas. Asegúrese de pensar en el panorama financiero general: eso puede significar alternar entre el ahorro y el pago de deudas para cumplir con sus objetivos más urgentes.
Este artículo fue publicado originalmente en NerdWallet en inglés.

Find and move all your old 401(k)s — for free.
401(k)s left behind often get lost, forgotten, or depleted by high fees. Capitalize will move them into one IRA you control.