What Factors Drive Car Insurance Rates? 63% of Americans Got It Wrong
Just half of Americans think credit history is used by insurance companies to calculate auto insurance rates, according to a new NerdWallet survey.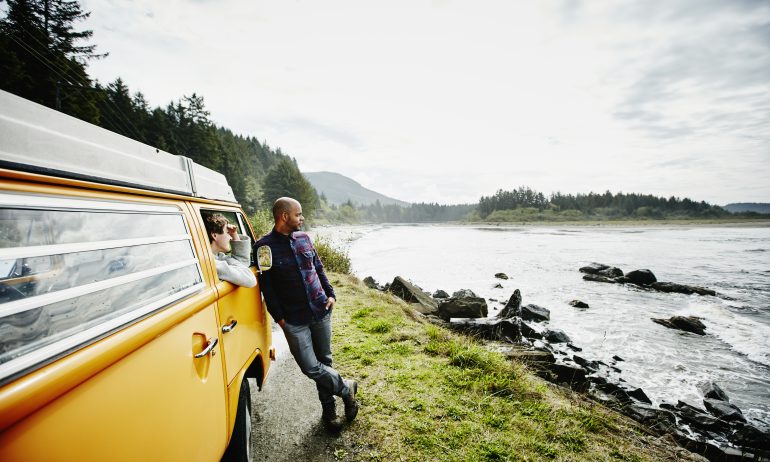 Many or all of the products featured here are from our partners who compensate us. This influences which products we write about and where and how the product appears on a page. However, this does not influence our evaluations. Our opinions are our own. Here is a list of our partners and here's how we make money.
Credit scores are pervasive in our society, used to determine whether you can get a credit card, a personal loan or even rent an apartment. But just half of Americans (50%) think credit history is used by insurance companies to calculate auto insurance rates, according to a new NerdWallet survey. In fact, credit can be used by auto insurance companies to calculate premiums in the vast majority of states.
In a NerdWallet survey of more than 2,000 U.S. adults conducted online by The Harris Poll, we asked Americans what factors they think are used by insurance companies to calculate insurance rates. We also asked them what they think about credit history being included in these calculations, when they shop around for insurance rates and whether they consider insurance costs when shopping for vehicles.
Many don't know what factors are used to set auto insurance premiums: Around two-thirds of Americans (63%) chose at least one false response when asked which factors are used by insurance companies when calculating auto insurance rates. Just 16% are aware that the likelihood that you'll shop around for better rates can actually impact how much you pay in premiums, according to the survey.

Consumers are split on whether credit history should impact insurance rates: When asked about the inclusion of credit history to determine auto insurance rates, just over half of Americans (51%) say it makes sense, 38% say it doesn't make sense and the remaining 11% aren't sure. Around 1 in 8 Americans (12%) say it doesn't make sense because it could be discriminatory against those from certain racial/ethnic backgrounds.

A majority don't shop around for auto insurance rates regularly: Of Americans who have ever shopped around for auto insurance rates, the survey found just 35% say they have done so because they shop for better rates regularly. This could impact how much they're paying in monthly premiums.

Most auto shoppers consider insurance costs when buying a vehicle: Among Americans who have ever shopped for a vehicle, two-thirds (67%) say insurance costs impact how they shop at least somewhat.
Not all drivers know how their insurance rates are determined
With so many factors that can be included in your auto insurance premiums, it's no wonder that many Americans aren't totally sure what's going into their rates. In our survey, when given a list of factors and asked which ones are used by insurance companies when calculating auto insurance rates, close to two-thirds of Americans (63%) chose at least one false response.
Different car insurance companies can have their own proprietary formulas for calculating rates, which is why we say certain factors may be included. Other factors may vary by state; for example, credit history isn't legally allowed to be used when calculating premiums in certain states, including California, Hawaii, Massachusetts, Michigan and Washington. This is why you might not have the same rates as someone with a similar overall profile but a different ZIP code or insurance company.
One factor that isn't used to determine insurance premiums, but can be linked to factors that do impact rates, is race. It's not legal for insurance companies to use a person's racial background to calculate rates, but Black Americans are disproportionately impacted by higher premiums by the inclusion of factors like ZIP code and credit history.
A 2015 report from the Consumer Federation of America found that "ZIP codes with predominantly African American residents face premiums that are 60% higher than predominantly white ZIP codes, after adjusting for population density." And then there's the issue of including credit history.
FICO scores are a popular measurement of creditworthiness. They take several factors into account, with payment history and the amount you owe making up 65% of a person's credit score, though the score your insurance carrier uses is probably slightly different. Insurers use proprietary models, so the ratios of the major factors that go into your FICO scores likely aren't exact. But in general, it's likely that if your credit scores are low, your insurance scores are probably low as well.
While income isn't factored in to a person's credit score, lower income could mean you owe a larger percentage of your income or have a higher likelihood of missing a payment because there's less of a financial buffer. This may specifically hurt Black Americans because of the racial income gap — as of 2020, the median Black household earned 62 cents for every dollar the median white household earned, according to the U.S. Census Bureau.
This credit scoring model also doesn't take into account things like on-time rent payments, which can disproportionately impact Black Americans because they have lower homeownership rates than white Americans — 45% compared to 74%, as of Q2 2021, according to the U.S. Census Bureau. There are now rent-reporting services you can look into, but you have to pay for them, and these on-time rent payments still aren't taken into account for FICO scores.
"Studies show that renters pay more for car insurance than homeowners do, even if the renter has a good driving history. Homeowners can benefit from discounts renters don't have access to, but insurers might view homeowners as having financial stability and lower rates accordingly," says Ben Moore, a NerdWallet insurance specialist.
Consumers disagree on whether credit history should be a factor
Just over half of Americans (51%) think it makes sense to include credit history in calculating auto insurance rates, with the top reason being that financial responsibility could indicate overall responsibility (29%). Meanwhile, 38% say the inclusion of credit history doesn't make sense, with a quarter of Americans (25%) saying this because credit history doesn't impact a person's driving record.
Younger Americans are more likely than older generations to say including credit history in calculating premiums makes sense — 65% of Gen Zers (ages 18-24) and 63% of millennials (ages 25-40) say this, compared to 43% of Gen Xers (ages 41-56) and 41% of baby boomers (ages 57-75). But in addition to potential racial discrimination, this practice penalizes those without credit history or who have low credit due to financial hardship.
"It's true that studies have found a correlation between poor credit and how likely it is a driver will file a claim," Moore says. "But insurers may be able to gauge this regardless, as companies already use a customer's previous claims history to price rates. Plus, poor credit can be temporary, since someone in financial hardship can take action to improve it. And once a driver improves their credit, they can ask their insurer to reevaluate their rate at renewal time, or shop around for better rates somewhere else."
Most don't shop around for insurance rates regularly
Only around 1 in 6 Americans (16%) identified likelihood of shopping around for auto insurance regularly as a factor that could impact their rates, but there's evidence that it can, at least in states where the practice of price optimization is legal. In other words, if you check insurance prices with some sort of regularity, you might pay a lower rate than someone who doesn't bother. But according to our survey, just over one-third of Americans who have ever shopped around for auto insurance (35%) say they have done so because they shop around for better rates regularly.
Plenty of shoppers looked at different carriers due to insurance costs. Of Americans who have ever shopped around for auto insurance, 36% say it's because their existing premium increased and 24% say it's because their insurance was no longer affordable.
Insurance costs impact vehicle shopping for most
Most Americans who've shopped for a vehicle have considered insurance rates, at least somewhat. While a third (33%) say insurance rates don't impact their auto shopping at all, more than 2 in 5 (42%) say they impact somewhat and a quarter (25%) say insurance rates impact their car shopping greatly.
"Insurance companies consider the vehicle you'll be driving when pricing rates, so pay attention to a potential new car's features if you're worried about a high premium," Moore says. "Expensive upgrades like top-of-the-line safety equipment or a revved-up engine may trigger a rate increase since an insurer will need to cut a larger check in the event of a claim."
Shop around for auto insurance annually. We know that a propensity to shop around for insurance rates may help lower your premiums, but you don't need to constantly reevaluate your insurance company and policy. Shopping around about once a year is sufficient. Set up a reminder in your phone or planner and compare auto insurance rates on NerdWallet if you aren't sure where to start.
Know what to expect insurance-wise when purchasing a car. Even if you wouldn't choose a different car to get lower insurance rates, it's a good idea to know how much your premiums will cost for budgeting purposes. Same goes for knowing average maintenance and fuel costs. That way, you can see the true cost of auto ownership and decide if it's worth it for you to get the vehicle you have your eyes on.
As discussed, there are a lot of factors that may go into your car insurance costs, some of which you have control over and others you don't. Use a coverage estimator to see what you can expect from your insurance bill.
Work on your credit. This advice is directed toward those who live in the states where credit history may be taken into account for premiums, but regardless of where you live, it doesn't hurt to improve your credit. Two things that significantly impact your credit are payment history and credit utilization, and as we said before, your credit scores are likely indicative of your credit-based insurance scores.
Credit utilization is the amount of your available credit you're using. So if you have $10,000 in credit card limits and you carry balances totaling $2,000, your utilization is 20%. As a general rule, you should aim to keep your utilization under 30% for each account and for all of your accounts as a whole. You can take steps to build credit and then shop around for insurance rates to see if you can find more affordable premiums once your credit has improved.
This survey was conducted online within the United States by The Harris Poll on behalf of NerdWallet from Sept. 7-9, 2021, among 2,062 adults ages 18 and older. This online survey is not based on a probability sample and therefore no estimate of theoretical sampling error can be calculated. For complete survey methodology, including weighting variables and subgroup sample sizes, please contact Chloe Wallach at [email protected].
Get more smart money moves – straight to your inbox
Sign up and we'll send you Nerdy articles about the money topics that matter most to you along with other ways to help you get more from your money.