Does Home Insurance Cover AC Units?
Home insurance typically helps cover damage to your AC unit due to scenarios such as storms or theft.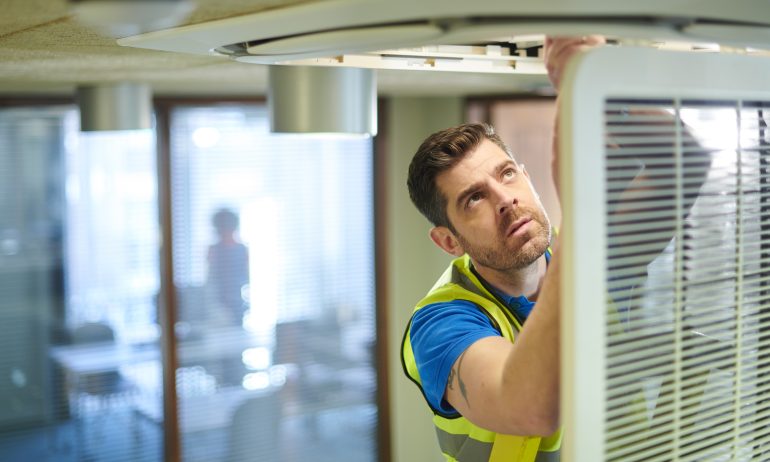 Many or all of the products featured here are from our partners who compensate us. This influences which products we write about and where and how the product appears on a page. However, this does not influence our evaluations. Our opinions are our own. Here is a list of our partners and here's how we make money.
Home insurance typically helps cover damage to your AC unit due to scenarios such as storms or theft.

If your AC unit is damaged by flooding or lack of maintenance, standard home insurance likely won't cover it.

You can add equipment breakdown coverage to your policy to help cover unexpected mechanical failures.
Your air conditioner is crucial, especially during scorching hot days. But what happens if your AC unit breaks down? Will your home insurance cover the cost to repair or replace it? Here's what you need to know.
Does home insurance cover AC units?
Home insurance will cover your AC unit if it's damaged by fire, lightning, vandalism, storms or other scenarios, or "perils," your policy covers.
For instance, if a tree lands on your AC unit during a storm, your home insurance will likely cover the cost to repair or replace it. Similarly, if someone steals your AC unit, your insurance can help pay for a new one.
Get home insurance quotes in minutes
Answer a few questions to see custom quotes and find the right policy for you.
Your coverage also depends on what type of AC unit you have. Central air conditioning systems are typically covered under the dwelling portion of your home insurance policy because they're attached to the home. Dwelling coverage is usually offered on an "open perils" basis, which means your central AC unit is probably covered unless it was damaged by an event specifically excluded from your policy.
However, if you own a portable or window AC unit, that likely falls under your personal property coverage, which pays for damage to movable belongings. Because personal property coverage is typically covered on a "named perils" basis, your policy may only cover damage to your window AC unit if it's caused by a specific event named in your policy.
Insurance companies use precise language to describe what is and isn't covered, so review your policy carefully and contact your carrier if you have questions about your coverage.
When does home insurance not cover your AC unit?
Home insurance typically won't cover damage to your AC unit in these cases:
Wear and tear. Home insurance doesn't cover damage caused by gradual wear and tear or aging. If your AC breaks down due to normal use over time, you'll likely have to handle the repair or replacement costs on your own.

Lack of maintenance. Your insurer may deny your claim if the damage happened because you neglected your air conditioner's regular maintenance.

Flood damage. Standard home insurance generally excludes coverage for damage caused by flooding, including damage to your AC unit. You'll need separate flood insurance for that.

Mechanical breakdowns. Mechanical breakdowns usually aren't covered under standard home insurance unless you've added equipment breakdown coverage to your policy.
Do you need equipment breakdown coverage for your AC unit?
Equipment breakdown coverage is an optional add-on to your home insurance policy that protects you financially against unexpected mechanical failures of essential household equipment, including your AC unit. It goes beyond standard home insurance by covering mechanical breakdowns that aren't normally included in regular policies.
Think of it like this: Home insurance pays for AC unit damage due to fire, lightning, wind, hail and other covered perils. Equipment breakdown coverage pays for damage from sudden and accidental breakdowns caused by a faulty motor, circuit breaker or compressor.
How to file a claim when your AC breaks down
If your AC unit is damaged and needs repair or replacement, follow these steps to file a claim:
Document the damage. Take photos or videos of the damaged AC unit and any other affected areas to support your claim.

Decide if you want to file a claim. If your loss is covered by your policy, you now have to decide whether to file a claim. Take your home insurance deductible into consideration when deciding whether to file a claim, as it may be higher than the cost to repair the AC unit. Also consider the possibility that filing a claim may increase your premiums, which means you may not want to file a claim for a smaller payout.

Contact your insurer. If you decide to file a claim, you can usually do so online or over the phone. Be prepared to share photos, receipts and other documents. Keep copies of all of it.

Get an estimate. Ask a licensed contractor how much it will cost to repair or replace the AC unit. 

Work with the adjuster. Your insurance company will assign an adjuster to your claim to assess the damage. Work with the adjuster to get your claim processed as quickly as possible. 

Wait for payment. Once your claim is approved, your insurance company will provide payment for the repair or replacement of the AC unit. Follow up with your insurance company if you have any questions or concerns about the payment.
Get more smart money moves – straight to your inbox
Sign up and we'll send you Nerdy articles about the money topics that matter most to you along with other ways to help you get more from your money.