Personal Loan vs. Home Equity Loan: Which Is Best?
The best loan depends on your financial situation, including your income, credit and how much home equity you have.
Last updated on Feb 14, 2022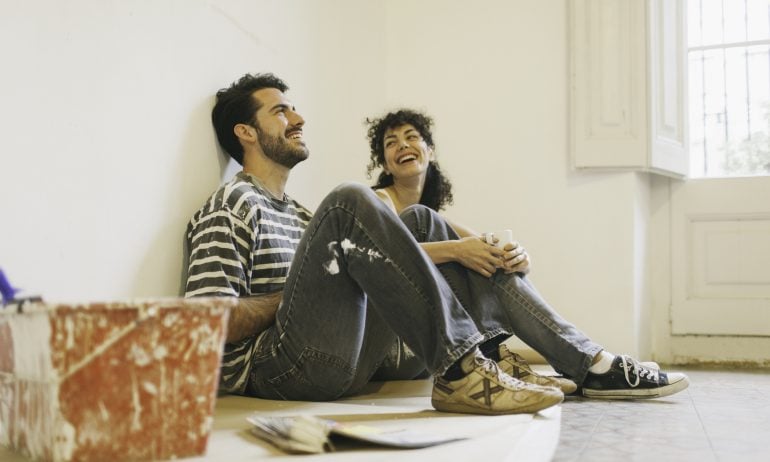 Many or all of the products featured here are from our partners who compensate us. This influences which products we write about and where and how the product appears on a page. However, this does not influence our evaluations. Our opinions are our own. Here is a list of our partners and here's how we make money.
Home equity loans typically have lower rates and longer repayment terms than personal loans, but you need enough available equity to use them, and they require your home as collateral for the loan.

Personal loans are typically funded more quickly than home equity loans. They often have higher rates and shorter repayment terms but don't require collateral.

If you're not sure which option will fit best in your budget, compare offers from multiple lenders before you decide.
Home equity loans and personal loans are both fixed-rate, lump-sum financing options, but deciding which is right depends on your financial situation, including your income, credit and how much equity you have.
Also, consider what you're financing. Personal loans are often a better choice for debt consolidation, while home equity loans include tax incentives if you're doing a home improvement project.
Here's what sets these two loan types apart.
Home equity takes time to build
If you're a new homeowner, you might not yet have enough equity in your home to borrow from, says Ryan Greiser, owner and certified financial planner at Opulus, a financial advisory firm based outside of Philadelphia.
Equity is the amount you owe on your home subtracted from its current value. Building it can take years, depending on how quickly you pay down your mortgage and how much your home value increases.
Lenders typically let you borrow up to about 80% of your equity with a home equity loan.
The amount you get with a personal loan, on the other hand, is often based solely on your creditworthiness and finances. These loans are available in amounts up to $100,000, but you'll need strong credit and low debt compared to your income to qualify for the largest loans.
Both personal and home equity loans come in lump sums, so having a good idea of how much you'll need before you apply is important. You can't easily go back and borrow more if you misjudge.
Personal loans are often funded faster
You'll wait longer to get the funds from a home equity loan than a personal loan.
Deka Dike, a mortgage loan officer with U.S. Bank, says a home equity loan takes three to six weeks from application to funding.
With a personal loan, you may be approved and receive the funds within a week. Some online lenders say they can fund a loan the business day after you're approved.
The fast funding time makes personal loans ideal if you need your funds quickly for something like an urgent home repair.
See if you pre-qualify for a personal loan – without affecting your credit score
Equity comes with low rates, tax incentives
Home equity loans typically have lower monthly payments because their rates are lower than personal loans, and they're repaid over a longer period.
Home equity loan rates fluctuate between about 5% and 6%, while personal loan rates start around 6% and go up to 36%. Rates on home equity loans are lower because they're secured with your home, while personal loans don't usually require collateral. With either loan, your credit score, income and the loan term factor into the rate you receive.
Because personal loans and home equity loans both have fixed rates and payments you'll know when you get the loan how much your monthly payment will be over the life of the loan. If you're financing a home improvement project, you can usually deduct interest from a home equity loan or HELOC on your taxes, which isn't the case for personal loans.
Greiser says personal loans can work for homeowners who don't want to use their equity or haven't built up enough equity but do have enough cash flow to make the monthly payments.
Repayment terms are another factor in the loan's affordability. Repayment terms on home equity loans can be up to 15 years, while the typical personal loan term is two to seven years. Some personal loan lenders offer longer repayment terms of 12 or 15 years on home improvement loans.
With a long repayment term, you get lower monthly payments, while a short repayment term reduces the total interest you pay. Use a personal loan calculator to see the loan's monthly payments and total cost based on the amount, interest rate and repayment term you choose.
Here are other financing options to consider.
Home equity lines of credit: Consider a HELOC if you have enough equity but are uncertain how much money you need to borrow. With this type of financing, you borrow a certain amount but repay only what you use.
Credit cards: A credit card can help you transfer balances to consolidate debts or cover a small DIY home improvement project, but be mindful of your credit limit and utilization. Unlike personal and home equity loans, you can make interest-free purchases on a credit card — if you pay the balance before interest has a chance to accrue.
Cash-out refinance: Cash-out refinance makes sense when current mortgage rates are lower than what you're paying. You refinance your mortgage for a higher amount than you owe, and then "cash out" the rest to pay for the renovation. Cash-out refinance often comes with closing costs and requires an appraisal, so your timeline and budget should be pretty concrete before you choose this option.
Mix and match: You can split a project up between multiple types of financing, says Greiser. For example, you could pay for the bulk of the project with a personal loan, but use your credit card or savings to cover any unexpected costs. Just keep an eye on how much debt you take on overall.
Get more smart money moves – straight to your inbox
Sign up and we'll send you Nerdy articles about the money topics that matter most to you along with other ways to help you get more from your money.