Personal Loan vs. Home Equity Loan: Which Is Best?
The best loan depends on factors like your credit and how much home equity you have, as well as your reason for borrowing.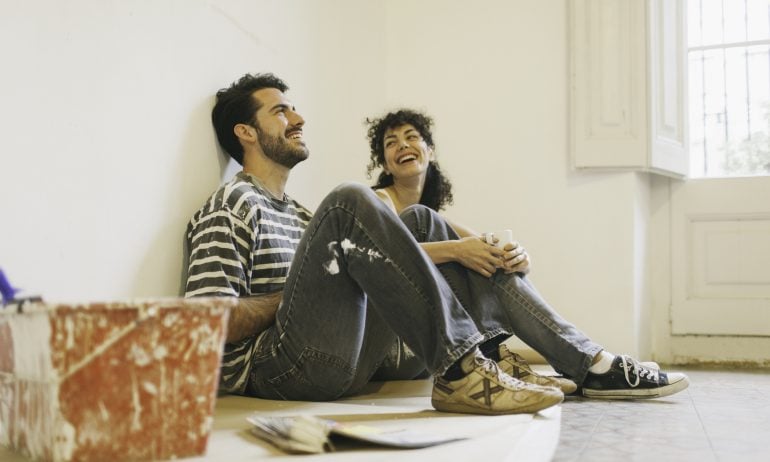 Many or all of the products featured here are from our partners who compensate us. This influences which products we write about and where and how the product appears on a page. However, this does not influence our evaluations. Our opinions are our own. Here is a list of our partners and here's how we make money.
Home equity loans and personal loans are both fixed-rate, lump-sum financing options.

Personal loans are unsecured and your rate is tied to your credit and income.

Home equity loans usually have lower rates, but your home is collateral for the loan.

Personal loans may be a better choice for debt consolidation, while home equity loans include tax incentives if you're doing a home improvement project.
Personal loans and home equity loans are both fixed-rate financing options that you get in a lump sum and repay in equal monthly installments over a predetermined repayment period.
That's about the extent of their similarities. Knowing the differences between personal loans and home equity loans will help you choose the right one for your plans.
Personal loans from our partners
Personal loans vs. home equity loans: What's the difference?
The biggest difference between personal and home equity loans is that personal loans are unsecured, meaning there's no collateral, while home equity loans are secured by your home. 
The two financing options also have different borrowing amounts, rates and qualification requirements.
Here are some differences between personal loans and home equity loans.
| | | |
| --- | --- | --- |
| | | Up to 80% of your home's value, minus your outstanding mortgage. |
| | | Average range is 4% to 8%. |
| | | |
| | | |
| Credit score requirements | Minimum 560; higher scores are more likely to qualify. | |
When a personal loan is best
Personal loans can work for homeowners who don't have enough equity or don't want to use their equity, as long as they have enough cash flow to make the monthly payments, says Ryan Greiser, owner and certified financial planner at Opulus, a financial advisory firm based outside of Philadelphia.
They're also an option for urgent expenses because approval and funding take a few days rather than a few weeks. 
Strong credit and income are key to qualifying and getting a low rate, so a personal loan will be more expensive if you have bad credit.
Personal loan pros and cons
No equity or collateral: New homeowners and those with little equity can get a personal loan because lenders don't consider equity on an application. You also don't have to provide collateral to get an unsecured loan, and the lender can't take your property if you fail to repay.

Fast funding: Most lenders can send funds to approved borrowers within a week of approval — some lenders can even fund a personal loan the same or next day.

Pre-qualification: Many lenders let borrowers pre-qualify to preview their loan amount, rate and repayment term with a soft credit pull.
Rates may be high: Personal loan annual percentage rates are from 6% to 36%, and those who qualify with fair or poor credit (scores below 690) will likely get a rate on the high end of that range.

Monthly payments may be high: High rates and short repayment terms can make monthly payments higher on personal loans than on home equity loans.
When a home equity loan is best
Home equity loans have low rates and long repayment terms that keep monthly payments low. Your home's value is considered on a home equity loan application, meaning your credit score doesn't weigh as heavily as it does with a personal loan.
The big question is whether you're comfortable using your home as collateral. Because a home equity loan is a second mortgage, failure to repay gives the lender the right to take your house. If that thought bothers you, this may not be the financing option for you.
Home equity loan pros and cons
Low rates: The average home equity loan rate is 4% to 8%. The collateral on a home equity loan keeps rates low.

Fair-credit borrowers may qualify: Stellar credit isn't required to get a home equity loan, and borrowers with fair credit scores may get a lower home equity loan rate than on a personal loan.

Interest may be tax-deductible: If you use the funds from a home equity loan for a home improvement project, the interest is tax deductible. This isn't the case if you use the funds for other expenses.
Approval could take weeks: Deka Dike, a mortgage loan officer with U.S. Bank, says a home equity loan takes three to six weeks from application to funding.

Your home is at risk: If you can't repay the loan, your house will be in jeopardy.

Not ideal if you plan to sell soon: If you sell your home before the loan is repaid, the balance of the home equity loan will be due.
Reasons to get a personal loan vs. home equity loan
The reason you're borrowing is another factor to consider when choosing between personal and home equity loans. In most cases, comparing different financing options gives you a chance to find the lowest rate. 
Here's how personal and home equity loans work for different expenses.
Large home improvement projects: Low monthly payments on home equity loans make them a common financing option for kitchen remodels and swimming pool additions. It doesn't hurt to check your personal loan rate to see which option is more affordable, but you can't deduct interest on a personal loan like you can with an equity financing option.
Emergencies and small repairs: A personal loan will come through faster in an emergency than a home equity loan. With underwriting and appraisal included, you could wait a month or longer to get a home equity loan. But don't discount affordability. If the roof is leaking but not ready to blow, take the time to compare home equity loans, personal loans and other financing options (more on those below).
Debt consolidation: Personal loans are commonly used for debt consolidation because they can have lower rates than credit cards and they don't require collateral. If you don't qualify for a low-rate personal loan, consider other debt-payoff options before tapping equity.
Here are other financing options to consider.
Home equity lines of credit: Consider a HELOC if you have enough equity but are uncertain how much money you need to borrow. With this type of financing, you borrow a certain amount but repay only what you use.
Credit cards: A credit card can help you transfer balances to consolidate debts or cover a small DIY home improvement project, but be mindful of your credit limit and utilization. Unlike personal and home equity loans, you can make interest-free purchases on a credit card — if you pay the balance before interest has a chance to accrue.
Cash-out refinance: Cash-out refinance makes sense when current mortgage rates are lower than what you're paying. You refinance your mortgage for a higher amount than you owe, and then "cash out" the rest. Cash-out refinance often comes with closing costs and requires an appraisal, so your timeline and budget should be pretty concrete before you choose this option.
Mix and match: You can split an expense up between multiple types of financing, Greiser says. For example, you could pay for the bulk of a home improvement project with a personal loan, but use your credit card or savings to cover any unexpected costs. Just keep an eye on how much debt you take on overall.
Comparing options? See if you pre-qualify for a personal loan - without affecting your credit score
Just answer a few questions to get personalized rate estimates from multiple lenders.
Get more smart money moves – straight to your inbox
Sign up and we'll send you Nerdy articles about the money topics that matter most to you along with other ways to help you get more from your money.