5 FAFSA Tips to Save You Time When Applying
Save time on the FAFSA by preparing documents and getting your FSA ID.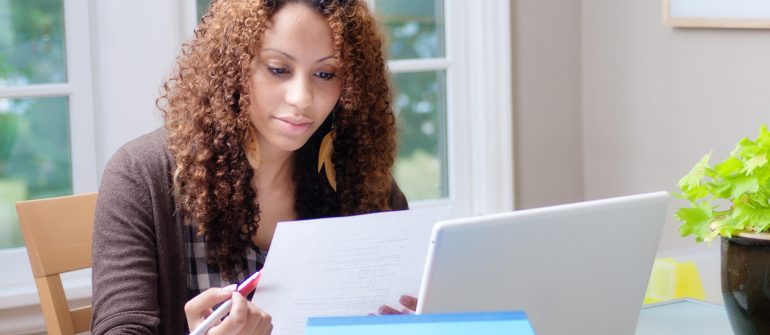 Many or all of the products featured here are from our partners who compensate us. This may influence which products we write about and where and how the product appears on a page. However, this does not influence our evaluations. Our opinions are our own. Here is a list of our partners and here's how we make money.
Your senior year of high school is a busy time. You have to fill out college applications and visit colleges, plus homework and extracurriculars. The one thing you can't afford to neglect: filling out your Free Application for Federal Student Aid, or . It's the form all college students need to be considered for federal grants, loans and work-study programs.
The start date for the FAFSA application for the 2022-23 school year is Oct. 1, 2021. To be eligible for the most aid, you should fill it out as early as possible — even before you find out which schools accept you. Here are five FAFSA tips to help you save time.
You'll need a Federal Student Aid ID — a fancy term for a username and password — to submit your FAFSA online. If you're a dependent student, your parent will need one too. You can both create one on the Federal Student Aid .
Creating the ID should take only about 15 minutes, says Amy Jarecki, dean of students at Indiana University East. But you'll have to wait one to three days for the Social Security Administration to verify your ID before you can make changes to your FAFSA or use the IRS Data Retrieval Tool (more on this below).
The fastest way to get through the FAFSA is by gathering the information you need before you start, including these important documents for students and parents:
For an exhaustive list, check out this .
The IRS Data Retrieval Tool lets you transfer information from your prior-prior year tax returns directly to your FAFSA. If you can use it, it'll save you time, prevent mistakes and lower your chances of being selected for the tedious FAFSA verification process, which increases the time it takes to get your financial aid award.
Using the IRS Data Retrieval Tool "doesn't completely keep you immune from the verification, but it can help," Jarecki says.
You don't have to wait until you file your taxes to submit the FAFSA. Parents and students are able to use their tax information from the previous year to fill it out. For example, for the 2021-22 school year, the FAFSA will open in October 2020, and parents can use their 2019 tax information instead of waiting to file 2020 taxes. This allows more students and parents to submit the FAFSA sooner.
NerdWallet's FAFSA guide has a resource that walks you through the FAFSA questions related to your family circumstances. Choose the option below that best applies to you for guidance on how to answer each question on the FAFSA.
It may be tempting to submit the FAFSA as soon as you complete it, but check it for errors and missed questions first — it'll save you time in the long run. Your FAFSA could be rejected if there's a mistake, and you'll have to correct it before you can receive your aid offer. Errors or missed questions also increase your chances of being selected for , which involves additional paperwork.
Make sure all the numbers you enter on the FAFSA are correct, and spell your name exactly as it appears on your Social Security card.
"If your name doesn't match up, it can delay the whole process," says Lauren Heatherly, regional recruitment manager of New Jersey and New York for Ohio State University. "That accuracy is paramount to us being able to process the FAFSA."