What to Know About Buying a Manufactured Home
Manufactured homes are built in factories to federal government standards and in some cases can be financed with low-down-payment mortgages.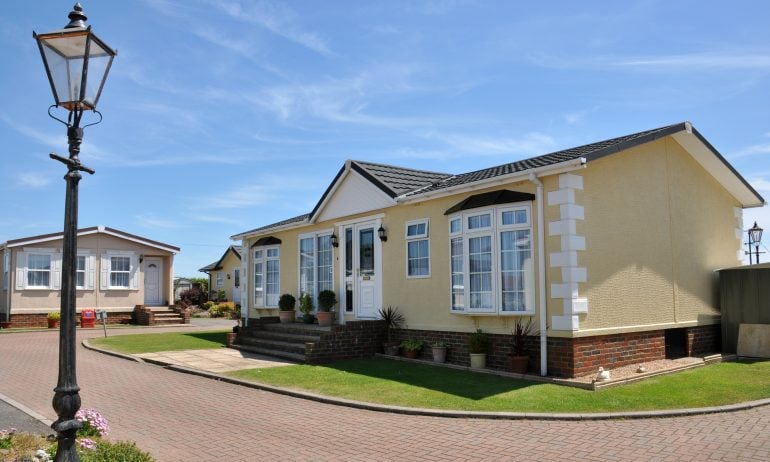 Many or all of the products featured here are from our partners who compensate us. This influences which products we write about and where and how the product appears on a page. However, this does not influence our evaluations. Our opinions are our own. Here is a list of our partners and here's how we make money.
Formerly known as mobile homes, manufactured homes are sold mostly through retail dealerships and can be customized to fit your needs and budget.
Manufactured homes are an affordable alternative for home buyers, and some of today's options feature amenities that might surprise you, such as walk-in closets, fireplaces, stainless steel appliances — even vaulted ceilings.
Here's what to consider if you're thinking about buying a manufactured home.
What is a manufactured home?
Manufactured homes are built in factories according to construction and safety standards set by the U.S. Department of Housing and Urban Development, or HUD. The homes are built on permanent chassis — base frames with wheels — and then professionally transported in one or more sections and installed on site. The wheels and axles are removed, and the homes are anchored in place. They can be set on permanent or semipermanent foundations.
A new class of manufactured homes has emerged in recent years, dubbed "CrossMod" by the Manufactured Housing Institute, a trade group. These homes are factory-built to HUD standards and then placed on permanent foundations. They can include features such as drywall interiors, garages and covered porches that make them almost indistinguishable from site-built homes.
Modular homes are cousins to manufactured homes. They, too, are factory-built, but modular homes are constructed according to local and state building codes like site-built single-family homes. Sections of the homes, or modules, are transported to home sites, then assembled by local contractors and placed on permanent foundations.
"Tiny houses" are not considered manufactured homes, which must be at least 320 square feet under HUD standards.
The terms mobile home and manufactured home are sometimes used interchangeably, but there's a big difference. Mobile homes are factory-built homes that were built before June 15, 1976, when the federal HUD standards went into effect. Manufactured homes are those built after that date.
The manufactured home industry has come a long way in 40-some years, so new models are a far cry from the mobile home stereotype.
Buying a manufactured home
Most manufactured homes are sold through retailers, which offer new and pre-owned options. You may also find existing manufactured homes through real estate agents, on some general real estate listing websites and through online manufactured home marketplaces. And in some states, you can buy from the owner of a manufactured home development.
Purchasing a manufactured home from a retailer is a little like buying a car but without the haggling. You can look at model homes on the sales lot, choose the customized features you want and apply for manufactured home financing all in the same day. Single-, double- and triple-section floor plans are available ranging from one-bedroom, one-bath homes of less than 500 square feet to four-bedroom, three-bath homes of more than 2,500 square feet. The retailer will usually coordinate the transport and installation.
Most manufacturers offer warranties to cover the structure as well as the plumbing, heating and electrical systems for a certain period, usually one to five years, according to the Manufactured Housing Institute. Some appliances may also be covered by warranties. Ask the seller for details.
Choosing a manufactured home lot
Besides selecting a home, you'll need to find a place to put it. That may be on a leased lot in a manufactured home community or on land that you rent or buy.
Manufactured home communities vary widely. Some communities are restricted to residents ages 55 and older, while others are open to all ages. Amenities in newer communities run the gamut and can include such features as expansive lawns and gardens, clubhouses, golf courses, pools and waterfront lots.
If you want to buy land, first check with your local government about zoning restrictions for manufactured homes. Other things to consider include septic, electrical and building permit requirements, site preparation, access to the property, and soil quality and stability.
Cost of a manufactured home
The average sales price of a manufactured home in November 2019 was $81,600, according to the latest available data from the U.S. Census Bureau.
But the basic home price isn't the only cost to consider. There are also upfront costs for land if you purchase a lot and for adding any features, such as steps or patios, or siting the home on a permanent foundation. Sometimes the cost of transporting and setting up the home is included in the price. Make sure you understand everything that's required and include those costs in your budget.
Residents in manufactured home communities typically pay ongoing ground rent as well as fees for shared amenities, services and utilities. Factor in those costs when thinking about living in a community.
It's often assumed that manufactured houses don't increase in value as much as site-built homes do. But some manufactured homes, along with the land on which they're permanently installed, may appreciate at similar levels, according to an Urban Institute analysis of 2018 Federal Housing Finance Agency house price data. However, the value of a manufactured home alone probably wouldn't increase in value as much as a site-built home because generally, structures don't appreciate as much as the land under them.
You can find a lender through a manufactured home retailer, similar to the way you apply for financing through an auto dealer. Manufactured home lenders and retailers have agreements to work with one another. Or you can find a lender on your own that's willing to finance a purchase from that retailer.
Two main types of loans are used to finance a manufactured home: mortgages and chattel loans. Generally, manufactured homes must be permanently fixed on a foundation and titled as real property with the land to be eligible for financing with a mortgage. Other manufactured homes are titled as personal property and are eligible for chattel loans.
Most manufactured homes are financed by chattel loans, according to the Consumer Financial Protection Bureau. Chattel loans generally have higher interest rates than mortgage loans, but lower upfront origination costs and quicker closing times. The loan terms are typically 10, 15 or 20 years versus the common 30-year term of a regular mortgage.
Manufactured home mortgages
Government-backed mortgages, including those from the Federal Housing Administration, and U.S. Departments of Agriculture and Veterans Affairs, are available for newer manufactured homes. These home loans feature low down payment requirements and are issued by private lenders. FHA Title I loans are unique because they can be used to buy or refinance a manufactured home or lot or both. The borrower does not have to own the land.
You may also be eligible for a conventional mortgage, one that isn't backed by the government. Two conventional mortgages are designed specifically for manufactured homes that have features typical of site-built homes — the Fannie Mae MH Advantage and the Freddie Mac ChoiceHome mortgage. Both have down payment requirements as low as 3%.
Manufactured homes: Pros and cons
No type of home is perfect for every buyer. Here are some of the things to keep in mind when thinking about whether to buy a manufactured home.
Affordability: Manufactured homes are less expensive than other houses. Excluding land, the cost of a new manufactured home is up to 47% less per square foot than for a similar site-built home, according to the Urban Institute.

Choice: You can choose from a variety of amenities and upgrades, allowing you to customize the home.

Energy-efficient and safe: Manufactured homes must meet HUD's standards for energy efficiency and safety.
Financing: Manufactured homes that are not fixed to permanent foundations and listed with land as real property are not eligible for most traditional mortgages. The loans that can be used to finance homes titled as personal property have higher interest rates than traditional mortgages.

Location limitations: Some cities don't allow manufactured homes or require larger lots than for site-built homes, according to the Urban Institute. These zoning restrictions limit your location choices and are why a disproportionate number of manufactured homes are in rural or unincorporated areas.
Get more smart money moves – straight to your inbox
Sign up and we'll send you Nerdy articles about the money topics that matter most to you along with other ways to help you get more from your money.