The Cost to Build a Deck in 2023
A typical deck costs between $9,000 and $20,000, with the national average at $14,000.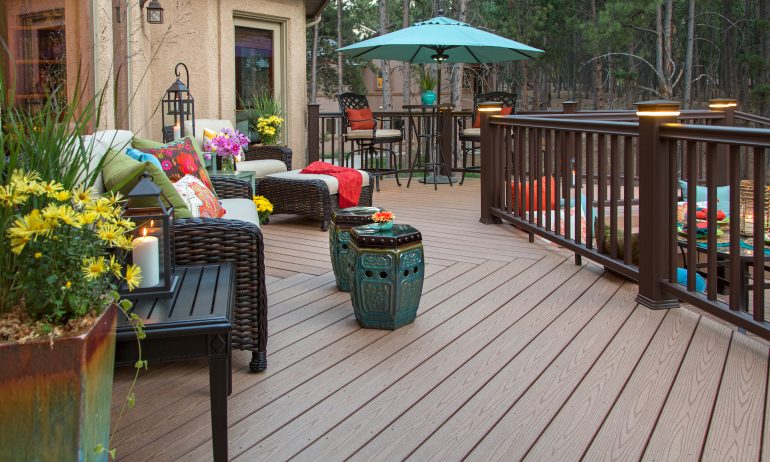 Some or all of the mortgage lenders featured on our site are advertising partners of NerdWallet, but this does not influence our evaluations, lender star ratings or the order in which lenders are listed on the page. Our opinions are our own. Here is a list of our partners.
Your visions of dining alfresco and planting elaborate container gardens can come with a big cost: building a backyard deck.
The average cost to add a professionally built deck to your home is between $30 and $60 per square foot, according to the home project hiring platform Angi. One of the most significant price factors is the size of the deck, with larger decks costing more in both materials in labor. For example:
A 12x12 deck is likely to cost between $4,320 and $8,640.

A 14x20 deck is likely to cost between $8,400 and $16,800.

A 20x20 deck is likely to cost between $12,000 and $24,000.
According to Fixr, a platform for comparing home improvement project pricing, the national average cost for building a deck is $14,000, with an average range of $9,000 to $20,000.
The size of your planned deck, the materials you plan to use and who builds it will all affect how much you ultimately spend. Knowing deck costs in advance — as well as ways to finance its construction — can help you build a deck without destroying your budget.
How much does it cost to build a deck?
In addition to size, the type of material used has a major influence on the overall price of a new deck.
Better Homes and Gardens pegs wood as the most popular deck material, and recommends washing and restaining wood decks every two to three years. Pressure-treated wood is generally the most affordable lumber option, while premium varieties like redwood and composite decking (made of recycled plastics and wood byproducts) can be more expensive. Wood decks typically cost between $3 and $20 per square foot, not accounting for labor expenses.
Vinyl or polyvinyl chloride (PVC) decks typically cost between $5 and $13 per square foot, not accounting for labor expenses. Homeowners may choose this option because vinyl doesn't stain, rot or face the risk of insect damage, since it is entirely synthetic.
Metal decks typically cost between $6 and $20 per square foot, not accounting for labor expenses. Metal decks are most commonly made of aluminum or steel, and like vinyl decks, don't rot or get damaged by insects. Metal is more fire resistant than wood or plastic. However, some potential drawbacks include the metal getting hot in the sun (which could be especially dangerous for households with children or dogs) and the fact that it may easily dent.
Material expenses are only half of the total cost of having a deck installed. According to Angi, homeowners can expect to spend between $15 and $35 per square foot for professional labor.
These costs can be inflated during peak season, when contractors are busiest. In order to get the best deal, you may consider putting off the project until off-peak season, when demand has slowed. As always, you should shop around and get multiple professional estimates before making your selection.
According to the National Association of Realtors 2023 Remodeling Impact Report, homeowners were able to recover 89% of the cost of a new wood deck in the value added to the home. On a scale from one to 10, homeowners who installed a new wood deck gave it a "joy score" of 9.8.
How to pay for a new deck
If you aren't paying out of pocket, you have several options for financing your new deck.
Home equity loan or HELOC
If you have at least 15% to 20% equity in your home (meaning that your remaining mortgage balance is 85% or less than the home's current value), you may consider a home equity loan or home equity line of credit, also called a HELOC.
These second mortgages convert some of your equity back into debt in exchange for cash, which you can reinvest into the home by boosting its value with a new deck. Because your home is acting as collateral (and can be repossessed if you don't keep up with your payments), home equity products like home equity loans and HELOCs usually have lower interest rates than unsecured loans like personal loans.
Home equity loans deliver a lump sum all at once, which you pay back at a fixed rate. HELOCs are open lines of credit that enable you to borrow here and there as necessary, up to a certain limit. You typically have 10 years to make these withdrawals and make interest-only minimum payments; once this period is over, you can't borrow any more, and you have to pay back interest and principal. HELOC rates are usually variable, though risk-averse borrowers may explore lenders that offer a fixed-rate option.
Personal loans will often have higher interest rates than home equity loans or HELOCs, but they are also less risky because failure to pay won't result in foreclosure. A personal loan can also be the ideal choice for borrowers who haven't built up enough equity to qualify for a home equity product.
If your mortgage rate is higher than the current rate, you could consider refinancing to a new, larger home loan, using the extra cash to pay for a new deck. This is called a cash-out refinance, and, as with your first mortgage, you'll be obligated to pay closing costs. The refinance will also come with a new set of terms, potentially extending the length of your mortgage. Be aware that if rates have risen since you first purchased your home or since you last refinanced, this is not likely to be your best option.
If you don't want to pay for the deck entirely upfront, but you anticipate that you will be able to pay it off over the next 15 months, you may consider paying for materials with a credit card that has a 0% introductory APR or otherwise has a low-interest period. This could be a risky move, however, as the rate can rise dramatically after this period is over if you have not paid off the balance.
Your chosen deck contractor may offer financing through a partner lender. While this can be worth exploring if they are able to provide an exclusive deal, it's still smart to shop around and compare your options with other lenders.
NerdWallet's Best-Of Award Winner
Best Mortgage Lender For Home Equity Line of Credit
Bethpage Federal Credit Union: NMLS#449104
at Bethpage Federal Credit Union
Bethpage offers a home equity line of credit with a high borrowing limit, no annual fee and a fixed-rate option. It's easy to see HELOC qualifications, too.
Get more smart money moves – straight to your inbox
Sign up and we'll send you Nerdy articles about the money topics that matter most to you along with other ways to help you get more from your money.