What to Do After a Disaster Hits Your Home, Mortgage
When a disaster strikes your home, contact FEMA, your homeowners insurance company and your mortgage servicer.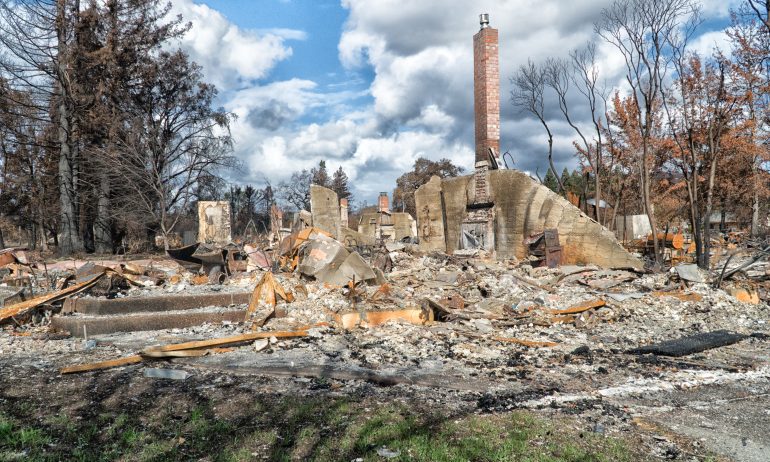 Some or all of the mortgage lenders featured on our site are advertising partners of NerdWallet, but this does not influence our evaluations, lender star ratings or the order in which lenders are listed on the page. Our opinions are our own. Here is a list of our partners.
If you're affected by a wildfire, flood or another natural disaster, what does it mean for your mortgage? This is an urgent question for homeowners seeking to recover from Hurricane Idalia or the wildfires in Hawaii. Here are frequently asked questions and answers.
Get in touch with the following entities:
The Federal Emergency Management Agency. You can register with FEMA online, in person at a disaster recovery center or by calling 800-621-3362.

Your homeowners insurance company, plus your flood or earthquake insurance company, if either applies to your situation.

Your mortgage servicer. That's the company that you send your monthly payments to; it might not be your original mortgage lender.
I can't pay my mortgage. What are my options?
If the disaster makes it impossible to make your monthly house payments, ask your servicer for mortgage forbearance. A forbearance "allows you to stop making your payments for an agreed-upon time," a Freddie Mac spokesperson said.
"

Ask for a mortgage forbearance if a disaster stops you from making payments.

"
In a forbearance agreement, you might make partial payments or stop making payments for a specific time. Generally, a forbearance lasts up to six months and can be extended up to another six months. Interest still accrues during the time you aren't making full monthly payments. But under a forbearance agreement, the lender won't charge late fees or report you to credit bureaus.
The lender will want you to catch up on your missed payments after the forbearance period is over. That might involve paying extra every month for a few years, modifying the loan or reaching some other negotiated agreement.
To talk with a Department of Housing and Urban Development-approved housing counselor before agreeing to forbearance, call 800-569-4287.
Direct federal aid consists mostly of loans from the Small Business Administration. As odd as that may seem, the SBA is in charge of delivering disaster-related loans to individuals and families.
"

FEMA offers grants to fill in gaps between insurance payouts and SBA loans.

"
The SBA extends loans at favorable interest rates to replace or repair primary residences. You can borrow up to $200,000 to cover renovation or construction costs. Whether you're a renter or a homeowner, the SBA will lend you up to $40,000 to replace personal property such as clothing, furniture, appliances and vehicles.
FEMA offers grants to fill in gaps between insurance payouts and SBA loans. The current maximum grant is $37,900 per household for disasters that happen on or after Oct. 1, 2021. Grants can be used for expenses such as basic home repairs that aren't covered by insurance, temporary rent and disaster-caused medical and child care.
The Federal Housing Administration has a program that's designed to help disaster survivors rebuild or buy replacement homes. Under the Section 203(h) program, the FHA insures mortgages for people whose homes were destroyed or damaged in disasters. Borrowers don't have to make a down payment.
My house was destroyed. Should I keep paying the mortgage?
Keep paying the home loan — if you can afford to — until you have talked with the servicer and have reached a settlement with the insurance company.
"Safety and peace of mind are most important," a Fannie Mae spokesperson said in an email. "If the borrower is able to continue making their monthly payment they should continue to do so. They should also know that there are relief options available to individuals and families who have been impacted by natural disasters."
Note: If you apply for a loan from the SBA, it runs a credit check before inspecting your property. That's one reason to preserve your credit score by paying your bills on time as best you can.
What happens if I stop mortgage payments without telling my servicer?
If you stop making payments without permission from your mortgage servicer, you could be charged late fees and your credit score could fall.
Homeowners "should call their lender," says Brian Sullivan, supervisory public affairs specialist for HUD. "Don't stop answering the phone. Don't stop opening your mail."
Talk with your mortgage servicer before you miss a payment. The servicer might offer forbearance.
What if I can't contact my mortgage servicer?
Whether your loan is guaranteed by Fannie Mae or Freddie Mac, insured by the FHA or guaranteed by the Department of Veterans Affairs, the servicer is expected to reach out to you.
In response to past hurricanes, for example, Freddie Mac allowed servicers to "verbally grant" 90-day forbearances, and Fannie Mae let servicers grant 90-day forbearances, even if they couldn't contact the impacted homeowner immediately.
Even so, you should call the servicer or answer the mortgage company's calls.
What happens if I'm in foreclosure?
Mortgage servicers receive foreclosure guidance from federal agencies, and the recommendations vary depending on the disaster.
The house I was buying was destroyed or damaged. What happens now?
If a disaster happens between appraisal and closing, "the lender is expected to take prudent and reasonable actions to determine whether the condition of the property may have materially changed since the effective date of the appraisal report," according to Fannie Mae's guide to lenders.
If the damage is relatively minor and covered by insurance, the mortgage can be closed. But if the damage is uninsured, or if it's major, then the house must be repaired before the mortgage can go through.
Get more smart money moves – straight to your inbox
Sign up and we'll send you Nerdy articles about the money topics that matter most to you along with other ways to help you get more from your money.