What Is Redlining?
Redlining denied mortgages to creditworthy borrowers because of their race or where they lived.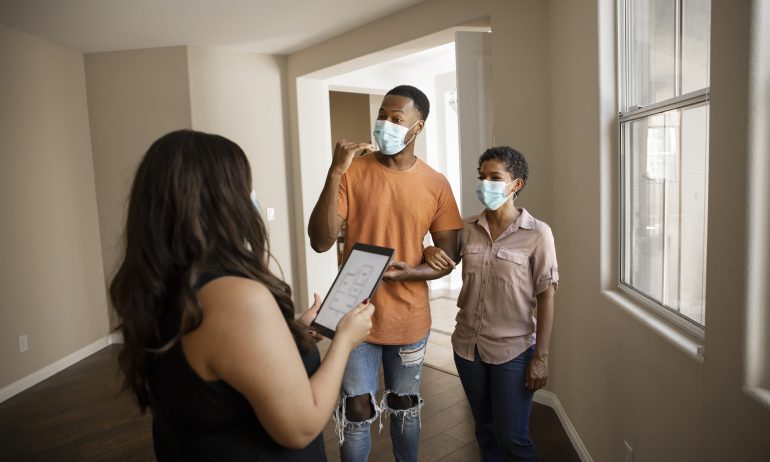 Some or all of the mortgage lenders featured on our site are advertising partners of NerdWallet, but this does not influence our evaluations, lender star ratings or the order in which lenders are listed on the page. Our opinions are our own. Here is a list of our partners.
Homeownership is a major goal for many people. Not only is a house the biggest purchase many will ever make, but owning a home is a way to build and transfer wealth.
While nearly 75% of non-Hispanic white Americans were homeowners in 2020, the homeownership rate was almost 60% for Asian Americans and just over 49% for Hispanic Americans, according to the Census Bureau. Black Americans were the least likely of all minority groups to own a house, at just over 44% in 2020.
Why the stark disparity? The answer, in part, is redlining, a discriminatory housing policy that made it difficult for Black, immigrant and poor families to buy homes for several decades. While redlining was banned more than 50 years ago, its negative effects are still felt today.
Getting ready to buy a home? We'll find you a highly rated lender in just a few minutes.
Enter your ZIP code to get started on a personalized lender match
Redlining is a term that describes the denial of mortgage financing to otherwise creditworthy borrowers because of their race or where they want to live.
The term was coined by sociologist John McKnight in the 1960s. It refers to areas marked in red on maps where banks would not lend money, but the discriminatory practice began much earlier.
In the 1930s, as part of the New Deal, the federal government created the Home Owners' Loan Corporation and the Federal Housing Administration to stabilize the housing industry.
The HOLC was designed to provide low-interest, emergency loans to homeowners in danger of foreclosure, while the FHA replaced high-interest loans of the early 20th century with longer-term, government-insured mortgages at lower interest rates.
To guide lending decisions, the HOLC instituted color-coded "residential security" maps. These maps separated areas the HOLC considered safe for lending from areas that should be avoided. Although the HOLC said the maps would help lenders assess risk and property values, racial biases were clearly at play.
Neighborhoods that were predominantly white were usually colored in green or blue and considered the least risky. It was easier to get home loans in these areas.
Areas with a high number of Black, Jewish and Asian families, which often had older homes or were closer to industrial areas, were typically shaded in red and labeled "hazardous." Almost no lender would provide mortgages in these areas.
Areas that bordered Black neighborhoods were colored yellow and were also rarely approved for loans.
The grading of neighborhoods based on perceived credit risk restricted the ability of Blacks and other minority groups to get affordable loans or even to rent in certain areas.
Exclusion from government lending programs
The FHA, as well as private banks and insurers, used the HOLC's redlining practices to guide their underwriting decisions.
As a result, it was almost impossible for nonwhite Americans to gain access to the affordable loans offered by agencies like the FHA and Veterans Administration — programs supposedly intended to expand homeownership.
In fact, nonwhite people received just 2% of the $120 billion in housing financed by government agencies between 1934 and 1962, historian George Lipsitz notes in his book "The Possessive Investment in Whiteness."
Racially restrictive covenants
Racially restrictive covenants are agreements, often included in a property deed, that prevent property owners from selling or leasing to certain racial groups.
These covenants reinforced redlining by prohibiting Blacks and other groups from buying or occupying property in various cities throughout the country.
Although the GI Bill promised low-cost home loans to veterans of World War II, lending discrimination and racially restrictive covenants meant Black soldiers couldn't buy homes in developing suburbs, for example.
Racially restrictive covenants remain in some real estate deeds, though a 1948 Supreme Court ruling says they aren't enforceable.
Even so, decades later, Black and Hispanic Vietnam War veterans and their families encountered similar racial discrimination when trying to buy and rent homes in certain areas.
Angered by the inability of Vietnam War veterans of color to obtain housing, groups like the National Association for the Advancement of Colored People pressured the government to pass the Fair Housing Act of 1968.
As part of the Civil Rights Act, the Fair Housing Act made it illegal for mortgage lenders and landlords to discriminate against someone for their race, color, religion, sex or national origin.
Redlining maps may no longer be in use, but more than 50 years after the law was passed, housing discrimination still exists, says Andre M. Perry, a senior fellow in the Metropolitan Policy Program at the Brookings Institution.
Paired testing studies using equally qualified home seekers of different races have found that some real estate agents discriminate against people of color by not showing them properties in white neighborhoods or showing them fewer homes in general.
Perry also says research he published in 2018 shows homes in Black majority areas are undervalued by $48,000 on average, resulting in $156 billion in cumulative losses.
"Just because a law changed, it doesn't mean the practices and procedures that still may devalue homes in Black neighborhoods, aren't still there," he says. "Ultimately, it's the reduction of wealth that is the most harmful aspect of redlining."
How redlining reinforced the racial wealth gap
The racial wealth gap is a term that describes the difference between the median wealth of whites compared with other groups. The median and mean net worth of Black families are less than 15% that of white families, according to Federal Reserve 2019 data.
The disparity exists today because Blacks were locked out of homeownership by redlining and were unable to build generational wealth, says Nikitra Bailey, an executive vice president at the Center for Responsible Lending.
"This persistent gap in homeownership opportunities between white families and families of color literally is rooted in the fact white families got a head start," Bailey adds.
In fact, the homeownership divide between Blacks and whites is back to where it was in 1890, according to the National Fair Housing Alliance. And the gap is even larger than it was in 1968 when the Fair Housing Act was enacted.
Sheryl Pardo, a spokesperson for the nonprofit research organization Urban Institute, stresses that national, state and local policies are needed to address the homeownership and racial wealth inequities redlining has left behind.
The Urban Institute's proposals include zoning laws to improve access to affordable housing, counseling before and after purchasing a home to prepare borrowers for the costs of homeownership, the expansion of down payment assistance programs and the development of financial products for homeowners to repair, maintain and improve their homes.
"Homeownership is still the most significant wealth-building tool in this country," Pardo says. "If you want the Black community to make up that distance, homeownership has to be a key piece of it. It's almost like you need a shock-and-awe response. It's not going to happen by tweaking one little lever."
Getting ready to buy a home? We'll find you a highly rated lender in just a few minutes.
Enter your ZIP code to get started on a personalized lender match
Strategies for today's Black home buyer
Because of systemic discrimination, it has been more difficult for people of color to buy a home. Black prospective homeowners can prepare to overcome these systemic challenges by:
Even with a strong financial profile, housing discrimination can still occur. Black home buyers who suspect discrimination can file a complaint with the Department of Housing and Urban Development at www.hud.gov or call its Housing Discrimination Hotline at 800-669-9777. Reaching out to a local Fair Housing Assistance Program agency can also help.
Get more smart money moves – straight to your inbox
Sign up and we'll send you Nerdy articles about the money topics that matter most to you along with other ways to help you get more from your money.